pple season is one of our favourite times of year. It's that transition between summer and fall that makes you start to feel cozy and crave some of those fall comfort foods you all of a sudden start craving as the leaves change.
Living in the Fraser Valley, we are so fortunate to live in farm country, so spending time at some of the local farms is one of our favourite things to do as a family especially during harvest season. Taves Family Farm (The Apple Barn) has always been a family favourite to visit especially during apple picking season. Their homemade apple products are delicious and the U-pick apple orchards are beautiful to walk through to chose your own varieties to try. Our kids absolutely love picking the apples straight off the tree, and Mark and I love that they get to see exactly where those delicious apples really come from and how they are grown! Taves also has an amazing play space and a petting zoo for kids, so it really makes the day a full fun-filled experience and worth the trek for those of you travelling from the city. 
Another favourite place of ours out here in the valley is the Chilliwack Corn Maze. Our beautiful friends Mariah and Danielle owners of The Habit Project (one of our favourite places for staff meeting treats) have made this a must for fall family traditions. The farm is so beautiful and where we actually took these photos! The corn maze is different each year and being in the food industry, of course, the treats there are amazing. The Chilliwack Corn Maze is full of fun fall activities for the whole family and we especially love it here as we have had the privilege of doing some stunning events and weddings here in the past. Including The City Dream Centre Gala and the highly anticipated Cultivate. See a few of those events on our past blogs here and here. A huge thank you to the Family at the corn maze for allowing us to pick apples and shoot on-site at your farm. It really is one of our favourite places to be in the fall. 
Apple Crisp has always been a favourite fall treat for both Mark and I. So as the food contributors to I Like Her Style Vancouver magazine, it wasn't a question when thinking of our fall contribution last year (see article below). We especially like this recipe because the cranberries add a nice tartness and more depth in flavour to the sweet apple blend. With having the cranberries in this recipe it is also a great dessert option to carry on through Thanksgiving and even into the winter season. It's also an easy enough recipe to make that you can have the kids part of the whole process from picking the apples to making the crisp and scooping that fresh ice cream on top! We like to serve it in a large pie dish that you can display on a dessert station or in individual ramekins for each person to enjoy.  Happy harvest season!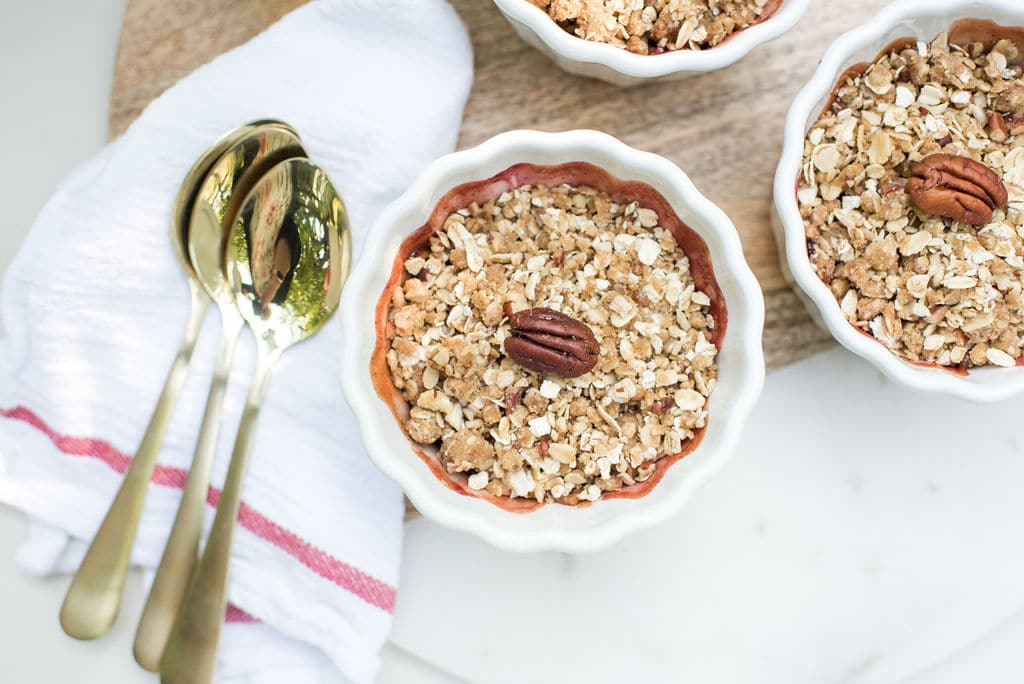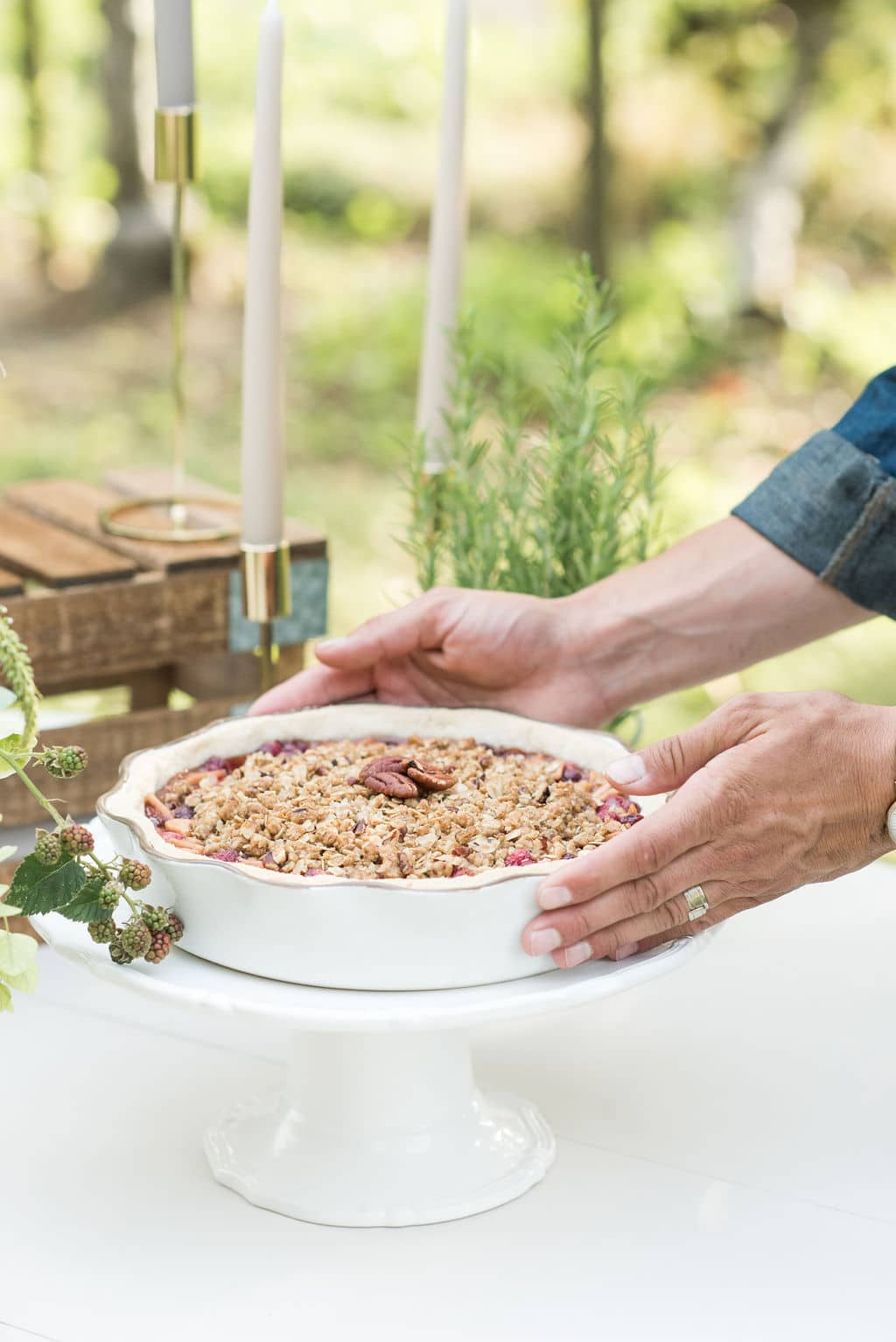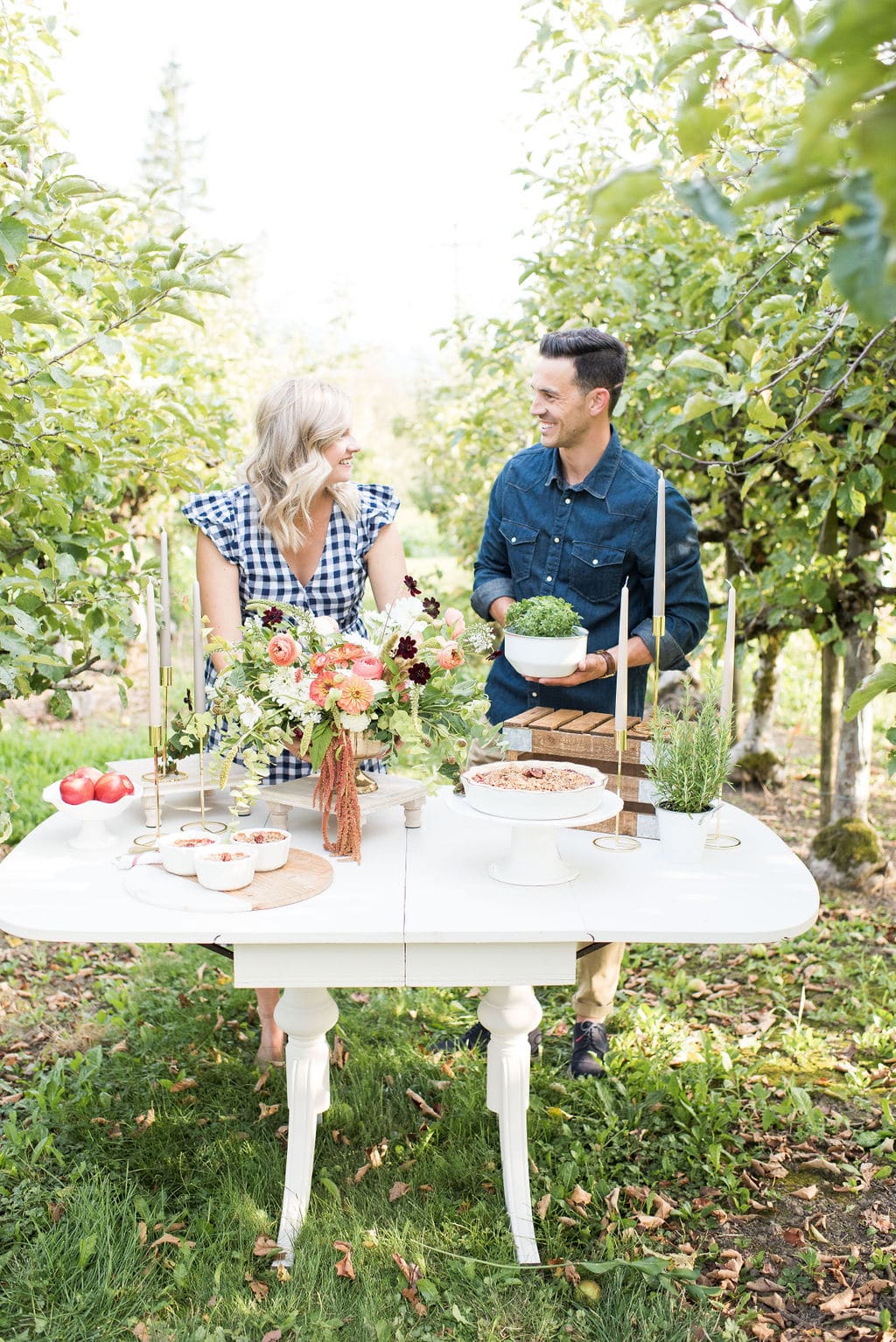 APPLE CRANBERRY PIE WITH PECAN CRUMBLE TOPPING 
SERVES 6-8
Ingredients:
360g All Purpose Flour
½ Teaspoon Salt
227g Unsalted Butter
90ml ice water
2 Tbsp Vinegar
4 Cups Roughly Cut Apple
2 Cups Cranberries
1 Tsp Cinnamon
½ Tsp Sea Salt
¼ Tsp Grated Nutmeg
1 Cup White Sugar
½ Cup Packed Brown Sugar
Juice of 1 Lemon
2 Tbsp Cornstarch
4 Tbsp Unsalted Butter
Pecan Crumble Topping
1 Cup Rolled Oats
¼ Cup Flour
½ Cup Brown Sugar
½ Cup Softened Unsalted Butter
Pinch of Sea Salt
¼ Tsp Cinnamon
⅓ Cup Crushed Pecans
Directions:
Mix all purpose flour, salt and unsalted butter until it resembles pea size crumbs. Add ice water and 2 tbsp vinegar until just combined, but do not over mix. Wrap dough in saran wrap and chill for at least 15 minutes before rolling out and placing over pie dish. In a large bowl, add all filling ingredients, but reserve the butter. Mix ingredients together and then pour into unbaked pie shell. Add small knobs of butter evenly around top of filling. Mix crumble ingredients together and place on top of filling in pie. Bake for 45-50 minutes @ 350 degrees fahrenheit. Garnish with fresh cranberries or pecans and enjoy!