hristmas is now a box! All of the warm feels and traditional meals, without any of the stress. follow our simple instructions to guide you through your next memorable Christmas Dinner! 
COOKING STEP BY STEP GUIDE
Approximate Total Heating Time: 60 minutes.
1. Preheat your oven to 400 degrees Fahrenheit.  
2. Place 2 large pots or 3 medium pots of water on the stove and bring to a simmer.
3. Set up separate trays lined with parchment paper for turkey, brussel sprouts, stuffing, butternut squash and the baguette.
4. Next cut open the bags of brussel sprouts, stuffing, butternut squash and baguette and place them on their own trays. Drizzling a little olive oil on top of the stuffing is an optional extra. (leave turkey in the bag, tray is setup for a later step)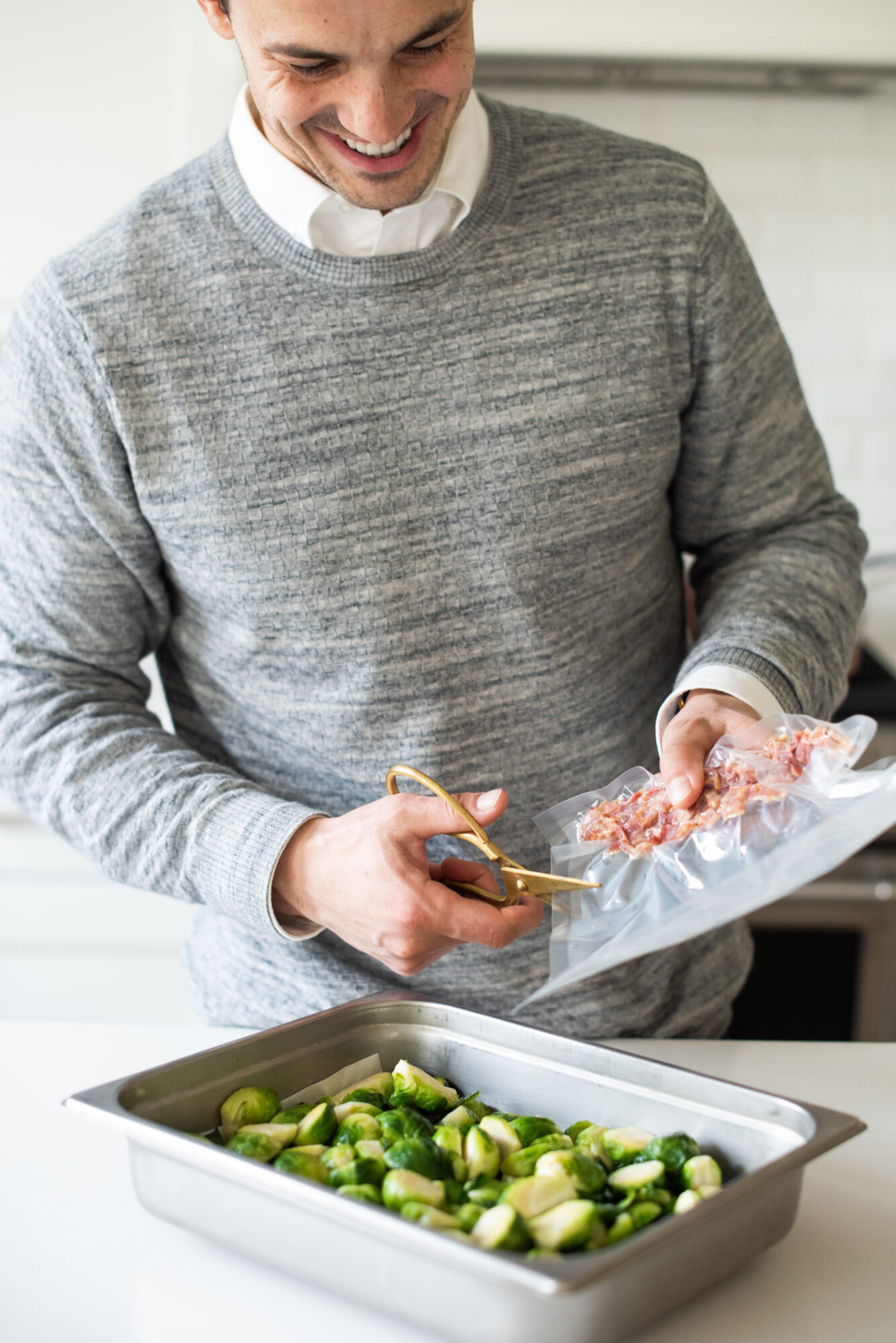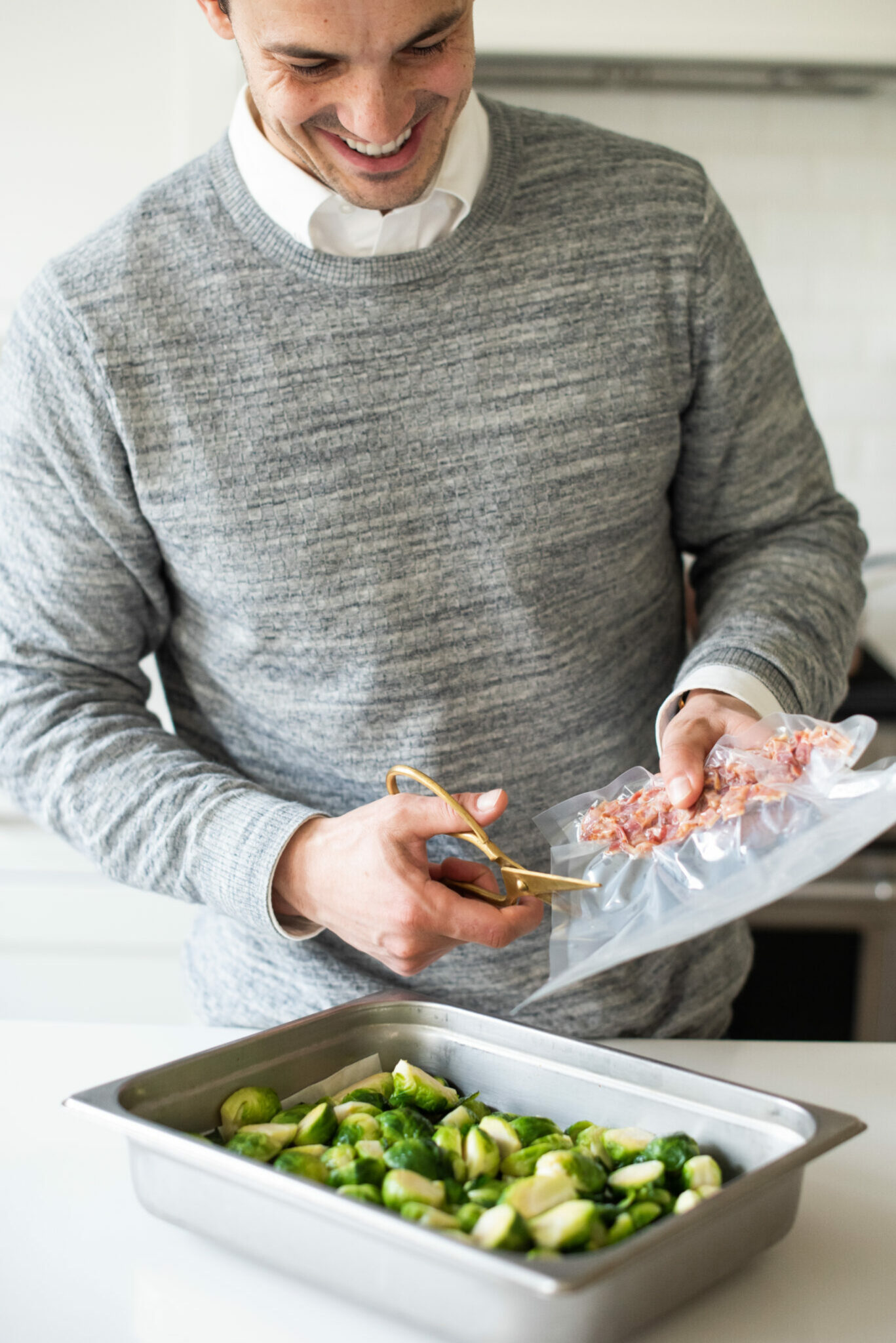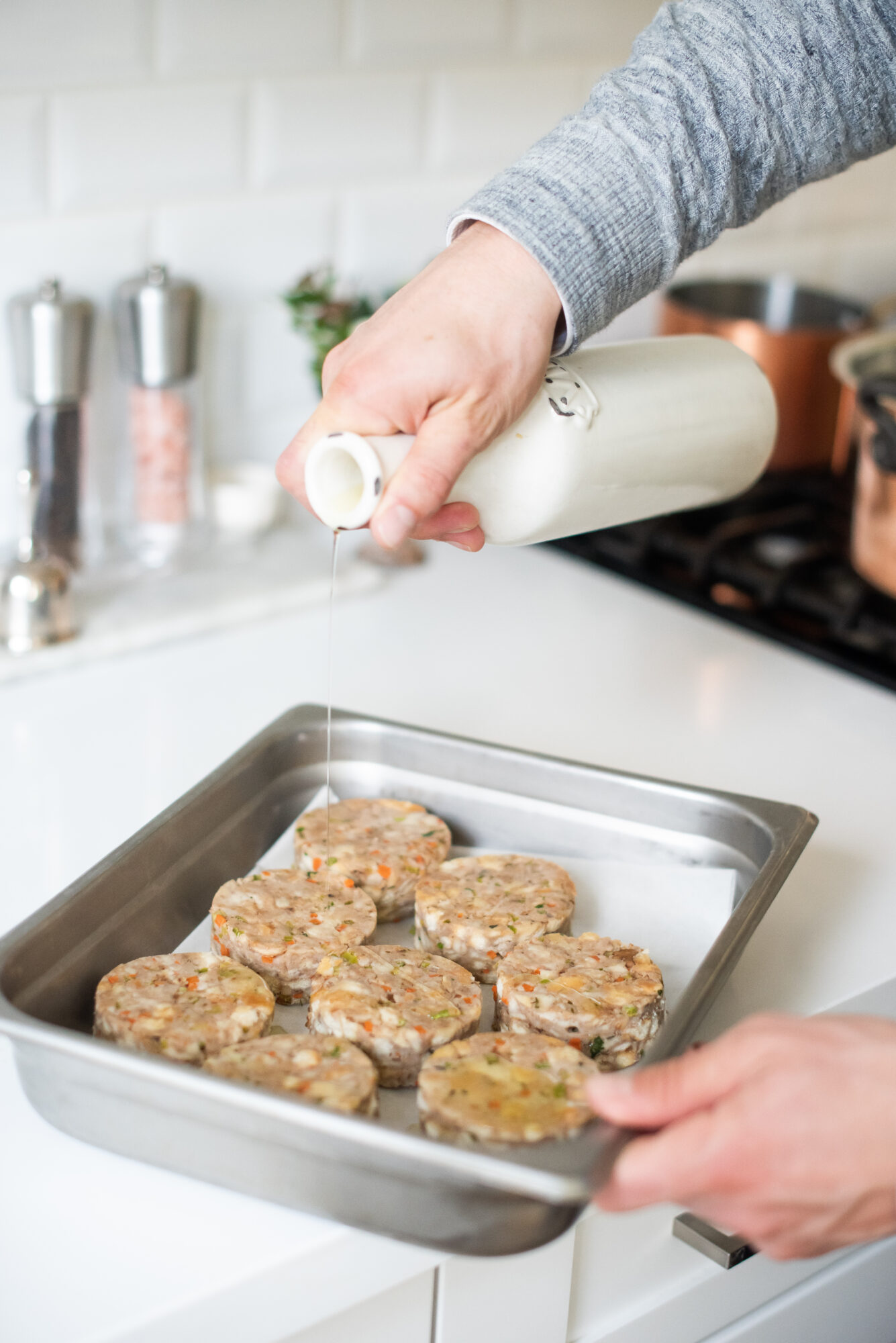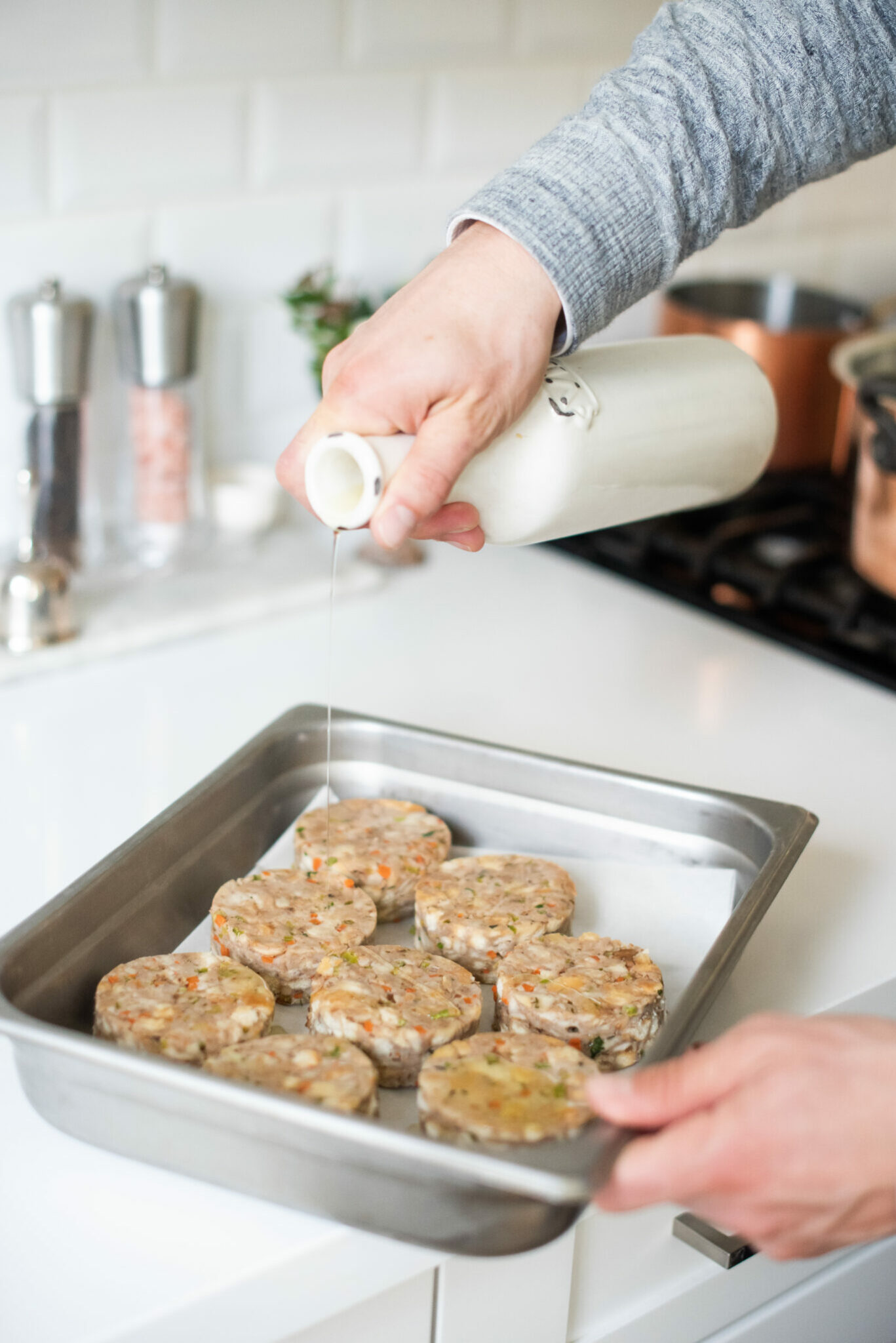 5. Keeping them all still in the bag, place the turkey, whipped potatoes, gravy, (braised beef and demi-glace if included in your package) into the pots of water. Completely submerge all items and turn the temperature down to low. Keep them in the water for 20-25 minutes. The water should be hot enough to continue steaming and just maintain a gentle simmer. Do not allow water to boil.
6. Massage the bag of whipped potatoes with a wooden spoon or another cooking utensil to ensure even cooking throughout.

8. Place brussel sprouts, stuffing and butternut squash into the oven to roast for 20 minutes. *Cover stuffing with tin foil for more moisture, or leave uncovered for more crisp.

9. When the items in the oven are 5 minutes from being done, place the baguette into the oven to toast for 5 minutes.

10. Remove, brussel sprouts, butternut squash, stuffing and baguette from the oven and set aside.
11. Turn oven onto high broiler.
12. Remove only the turkey from the water, cut open the bag, pour excess liquid down sink, and place the turkey onto pre-prepared parchment paper and tray. Place into the oven on the top rack and broil until the skin is crisp and golden brown. (Approximately 4-8 min.) Remove from oven and set aside.

13. *Chef tip: place brussel sprouts, butternut squash and stuffing under the broiler for a deeper roast and colour to finish. Keep an eye on it, it goes fast.



14. Plate brussel sprouts, dress with vinaigrette, crumble goat cheese and finish with microgreens.



15. Plate stuffing and garnish with microgreens.


16. Finish butternut squash with candied walnuts. Slice chives and sprinkle onto whipped potatoes.

17. Finish braised short ribs with demi-glace, pomegranates and microgreens.



18. Slice turkey and garnish with sage and dehydrated citrus. 
19. Cut open bag of turkey gravy and place in serving dish.
20. Cut open the bag of cranberry chutney and squeeze into a serving bowl.

Serve with charcuterie to start, pair with wine and finish with dessert.
Enjoy and Merry Christmas!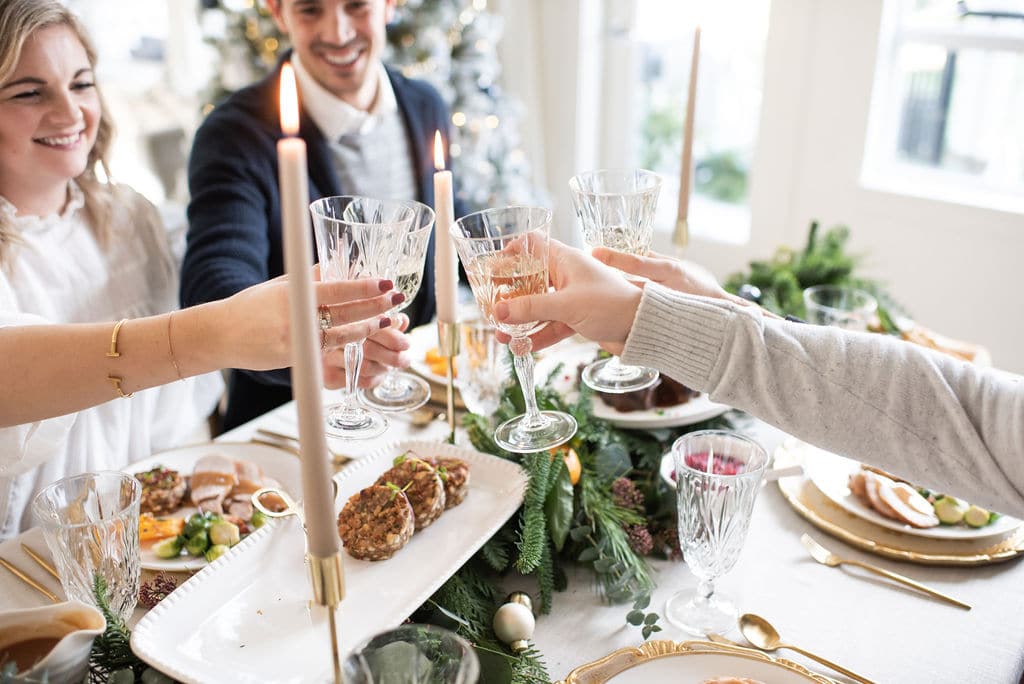 Photo Credits: Brooklyn D Photography
Table Rentals: Pedersens, Winstons, Ruffled Rose
Florals, garland, and candles: White Table Catering