igs are one of our favourite items to create dishes with. whether fresh or cooked they taste delicious and look beautiful as a garnish too. We are finally sharing one of our favourite crowd-pleaser desserts to serve in both the spring and Fall seasons. 
One of the biggest challenges when creating recipes for both catering and home is seasonality. We love working with local produce especially and need to work around when items are both in season and in stock. One of those items that can be a challenge is figs. There are two seasons for domestic fresh figs; the first or "breba" season is the first few weeks in June. The second or "new wood" season typically runs from August through October making this the perfect treat to serve in the early fall or late spring.
We have loved serving this outside on the patio in the late spring and for a beautiful long table rustic farm to table dinner to welcome the fall season in mason jars. It's not too sweet and is the perfect combination of smooth and creamy but still light and not too heavy. It also can be made the day before, so it's perfect for events and entertaining to help relieve the stress of making dessert the day of! When Chef Barry makes these for an event you better believe there's extra for us to enjoy as a staff! haha  
It's always a hit both at home and in the White Table Kitchen so we hope you love it as much as we do!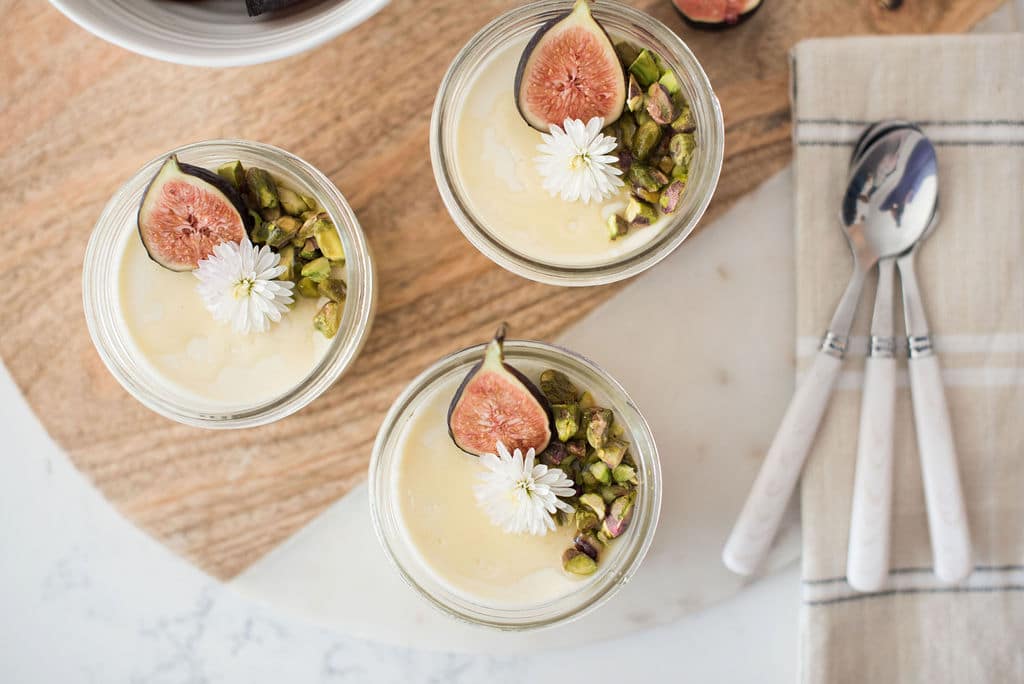 FIG & PISTACHIO PANNA COTTA 
Yield – 6 stemless wine glass servings or mason jars for that more rustic feel.
INGREDIENTS 
1 tablespoon unflavored powdered gelatin
3 tbsp water
3 cups heavy whipping cream
1 cup whole milk
½ fresh vanilla pod (or 1 tbsp vanilla extract)
5 tablespoon sugar
Pinch salt
1/2 lb fresh mission figs
Toasted pistachios
2 tbsp lemon zest
2 tbsp organic wildflower honey.
DIRECTIONS
Place the water in a small bowl and sprinkle the gelatine on top to hydrate. Let stand until needed. 

Pour milk, cream, salt and sugar into a saucepan and place over medium low heat. 

Split the vanilla pod with a knife and scrape seeds adding both the pod and the vanilla seeds to the milk & cream mixture

Simmer gently for 5-7 minutes to dissolve the sugar and allow the vanilla to impart it's flavour

Add the gelatine and stir well to dissolve and disperse evenly

Remove from the heat and strain into a measuring jug or pitcher for pouring

Pour into 6 stemless wine glasses so that they are just about 1/2 full. 

Refrigerate until set – 8 hours or preferably overnight
BEFORE SERVING
Slice fresh figs into quarters and add to a bowl. Add lemon zest and wildflower honey and toss to combine

Top each panna cotta with the fresh fig mixture

Garnish with toasted pistachios and serve