Carbs make the world go round…at least at White Table, we are mega fans of it! We especially love a good bread basket, and our beloved focaccia bread is the perfect starter to any meal. It's soft, deliciously tasty, and pretty to look at. Our recipe below will make anybody a bread maker. Check it out below & give it a whirl!
White Table Tip: Cut bread into generous chunks, place a sprig of rosemary on the top, and tie with kitchen twine. Place it on a wooden board or arrange it in a stacked pyramid on a footed cake stand. Serve with balsamic vinegar and olive oil for an extra zing!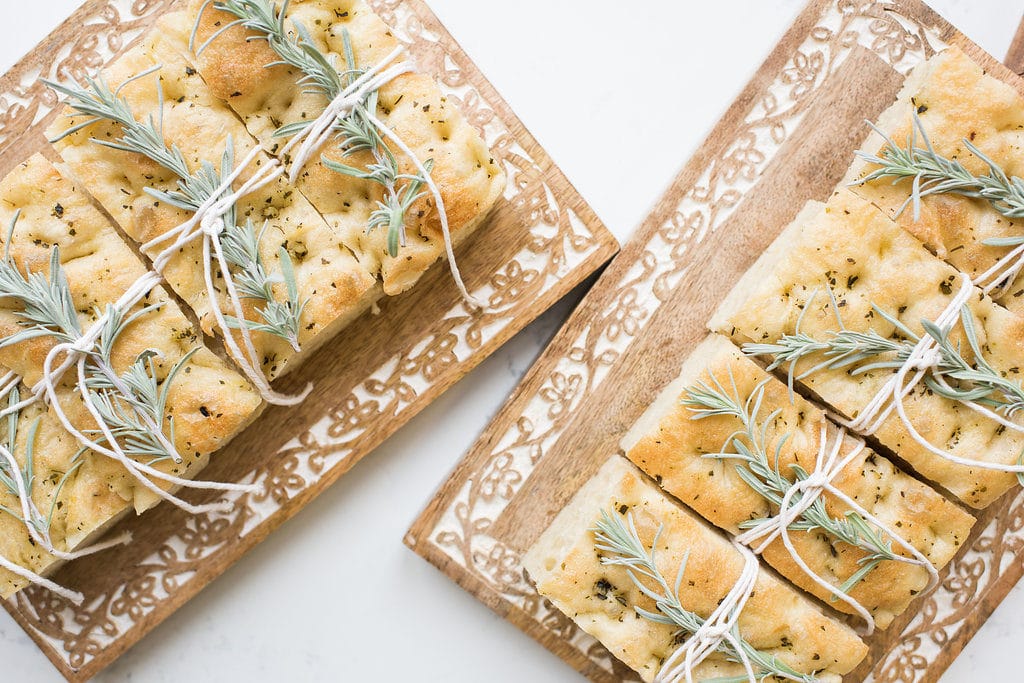 Focaccia Bread Recipe
Ingredients:
3 1/2 cups flour
2 tsp honey
1 1/3 cup warm water
1 package active dry yeast
2 tsp salt
2 tsp coarse sea salt (for top)
3 sprigs rosemary
1/4 cup olive oil (have extra for the bread top)
Method:
Place warm water, roughly 110 degrees Fahrenheit to activate the yeast, together with the honey and yeast. Mix lightly and let stand in an equally warm place.

In a separate mixing bowl place together flour and salt.

Once yeast mixture has fully activated, mix together with the oil and the flour and salt mixture.

Mix and knead the dough for 4 minutes, adding flour to the table as necessary. (You can use a mixer with a dough hook for this step)

Roll out focaccia and place with parchment paper on a baking sheet. Allow to proof in a warm place, roughly 95 degrees Fahrenheit.

Once the dough has doubled in size, press holes into the bread with your forefingers across the top. Drizzle olive oil on top of the bread and sprinkle chopped rosemary and coarse sea salt across the top.

Allow to proof again while the oven preheats. Bake at 405 for 20 minutes or until golden brown and cooked.

Cut, serve and enjoy!
Photography: Brooklyn D Photography
————-
Check out this recipe feature on I Like Her Style Vancouver