In the heart of The Okanagan, amidst the blossoms of Jillian Harris' Flower Farm, an extraordinary culinary experience unfolded. The White Table Catering Team was invited to curate a custom experience for those in the Jilly Academy community at The Academy At The Farm event. 

This event was more than just a gathering; it was a testament to the beauty of design, sustainable practices, and a celebration of local food producers. When developing the menu for this incredible day, we drew inspiration from Jillian's cookbook style. The day was a perfect blend of elegance, wellness and nostalgia. 
"I've been following Carly and Mark from @whitetablecatering for a while now and admiring their work from afar.

When we started planning The Jilly Academy at the Farm, I knew we HAD to team up with them for this event."- Jillian Harris
A Morning of Grazing and Green Vitality
The day commenced with a Breakfast Grazing station that set the tone for what was to come. Attendees were greeted with refreshing Cold Pressed Green Juice, lovingly bottled in custom-branded vessels.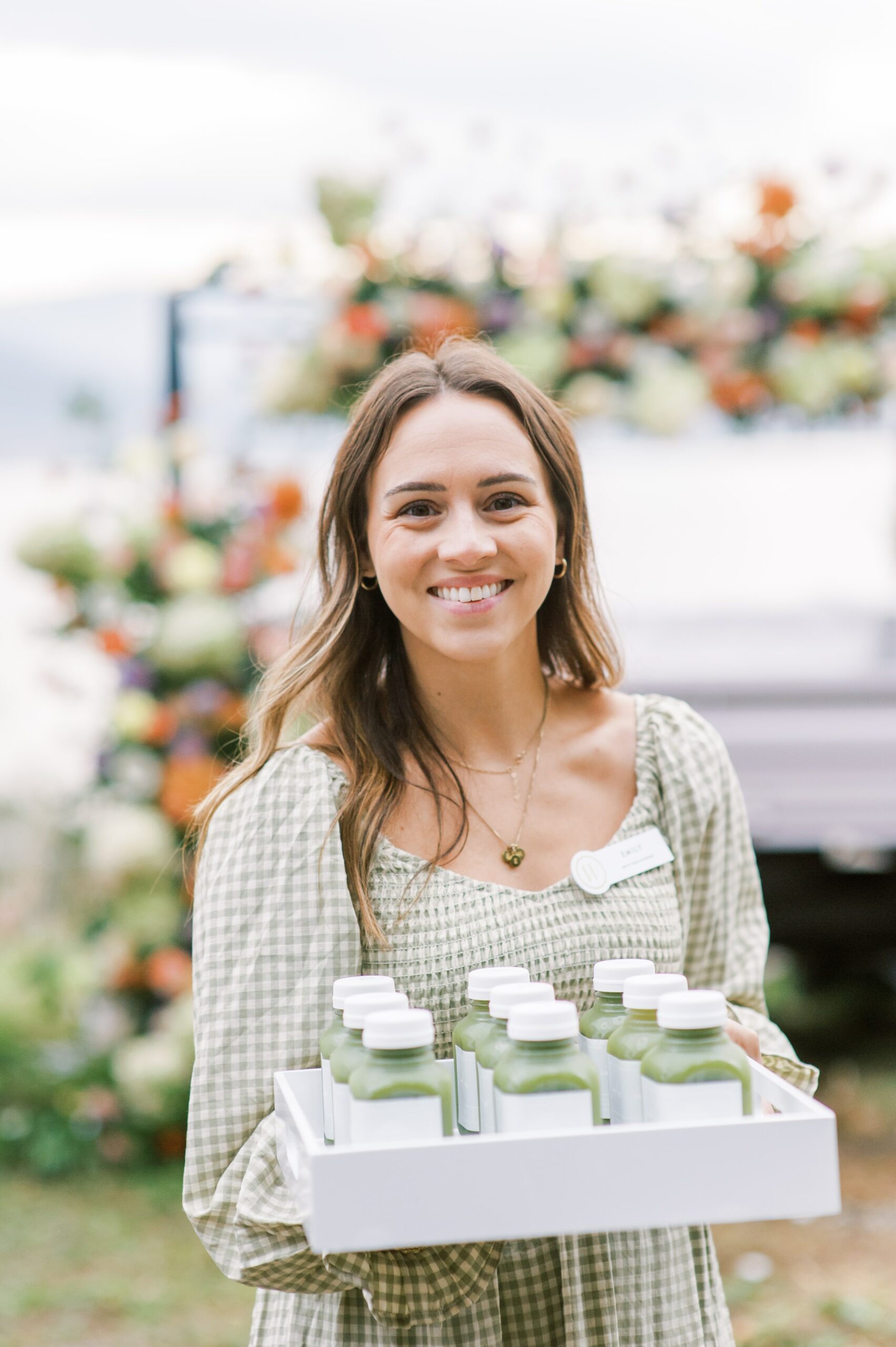 The Nostalgic Grown-Up Lunch Box
As a homage to the background of the event being an Academy Event, we thought it would be fun to evoke a sense of nostalgia and take the attendees back to school with 'The Grown-Up Lunch Box.' Delivered with care in Kraft gable boxes, each box was tied together with a ribbon and a custom-branded tag. The contents of each lunch box were carefully curated to reflect the essence of homegrown goodness – a fresh farm apple, a vegan cookie baked with love, and just like the traditional "note from mom", a handwritten note from Jillian Harris herself was included in each lunch box.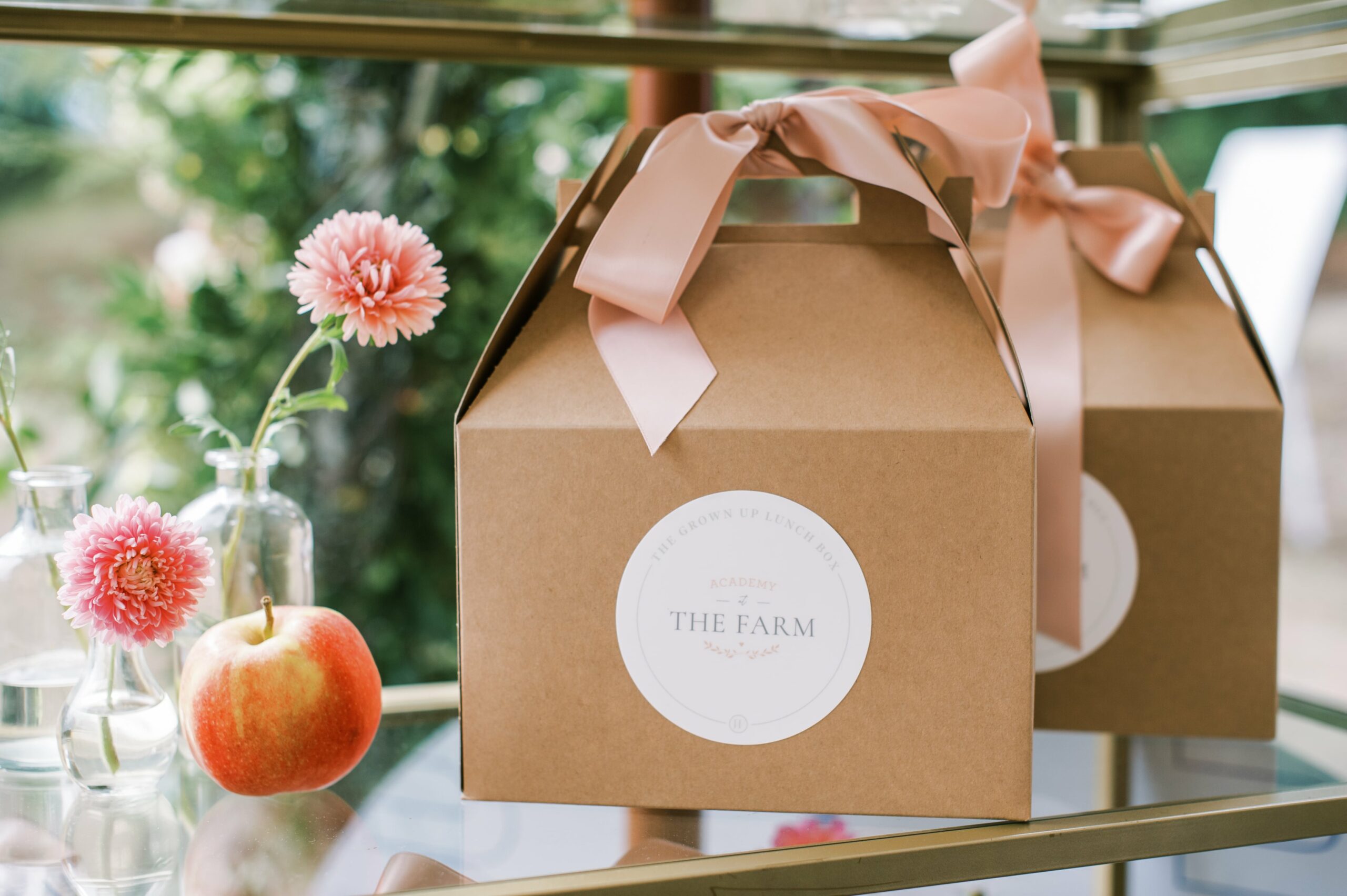 A Glimpse Inside The Grown-Up Lunch Box
Eat Your Greens Salad Jar & Sandwiches
The 'Eat Your Greens Salad Jar' included local baby lettuces and herbs draped in a white balsamic and champagne vinaigrette. The addition of Okanagan peaches and dates provided a touch of regionality to this delicious course.
Guests had the choice between the Garden or Roasted Chicken Sandwiches. Both options were nestled in seeded loaves of bread that housed a harmony of flavours and textures. 
Signature Refreshment: Lavender Lemonade
A sip of White Table's Signature Lavender Lemonade transported guests into fragrant lavender fields. The infusion of fresh lemonade with lavender simple syrup was a delicate dance of flavours and the perfect source of hydration for the attendees.
Homemade Oreo: A Sweet Treat
The Homemade Oreo was a tribute to a tradition treat and innovation. We created classic chocolate shortbread cookies and filled them with an all-American buttercream.
The Apple, A Lunch Box Staple
A simple Okanagan apple, a lunch box staple, was a nod to the land, to the farm, and to the vision that had brought everyone together to learn at The Jilly Academy. 
Nourishing Bites For Nourishing Minds
Family Style Grazing Boards
The afternoon brought forth an array of delights during workshops in the form of Family Style Grazing Boards. An assortment of imported and locally made cheeses were complemented by fresh local and dried fruits and gently warmed Marinated Olives.
Country Drinks: A Toast to Tradition
The day's journey through culinary delights was complemented by country drinks – the Honey Berry Punch and the comforting embrace of Country Sweet Tea. 
Happy Hour At The Farm
Cocktails, Canapés, and Connection
As the day progressed, a cocktail hour unfolded, accompanied by Sandhill Wines, creating an ambiance of networking and celebration. The canapés were a hit and showcased a variety of local textures and flavours. From The French Onion Tartlettes to The Okanagan Stone Fruit & Ricotta Crostini, each canapé was a masterpiece of creativity and skill by our culinary team.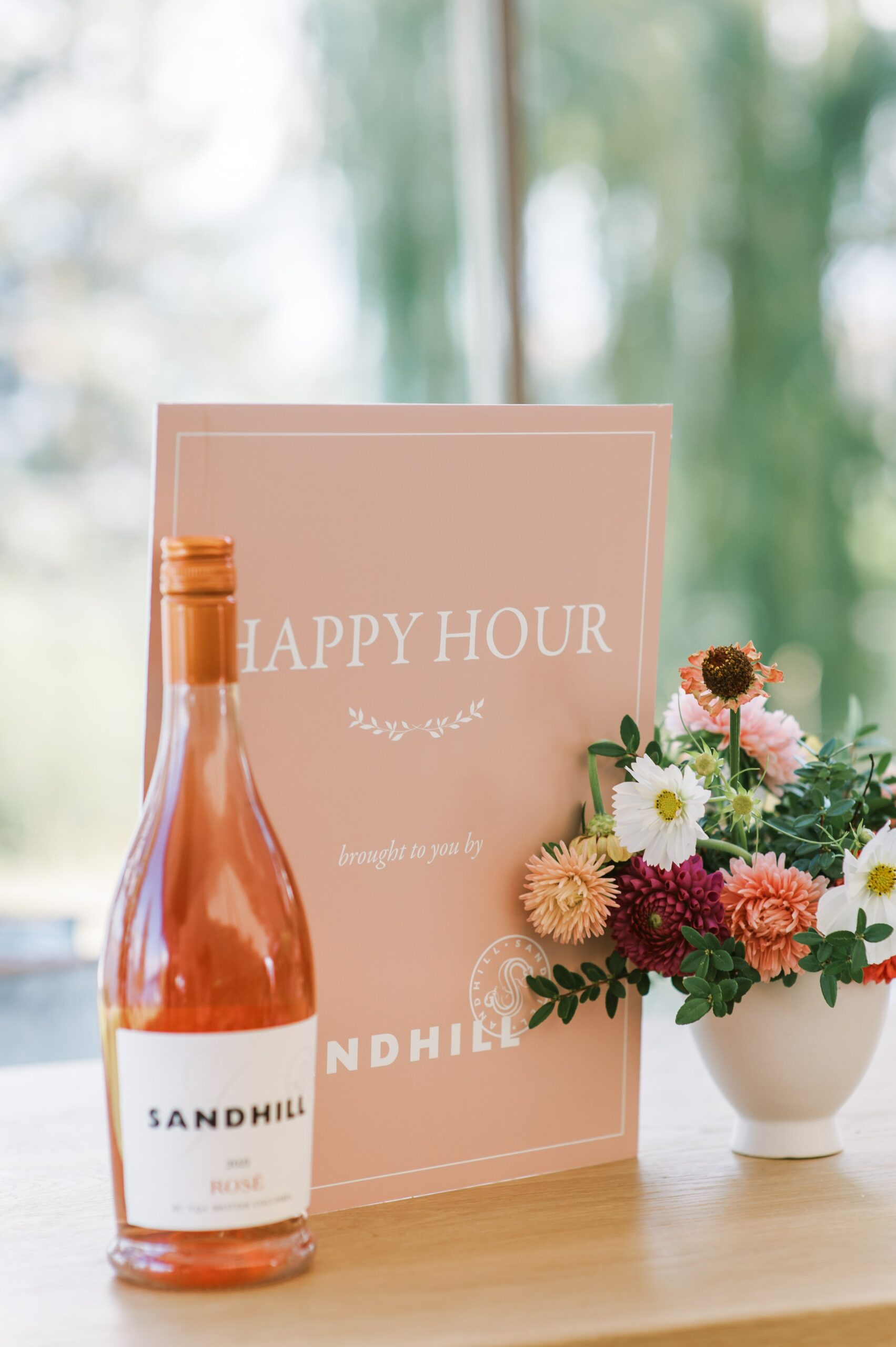 A Sunset Feast on the Lake: The VIP Plated Dinner
The pinnacle of the day was an intimate VIP dinner held on the custom-built dining deck, nestled on the lake at the bottom of the farm property. The Long Table Dinner was an opulent affair and a celebration of the gathering.
The breads were a prelude to the carefully curated menu that followed. House-baked baguettes were served alongside rosemary-whipped butter. Black Sesame Challah was a symphony of flavours and textures and was served with whipped butter and a sprinkle of Maldon salt.
Salads emerged as vibrant compositions, the Zucchini & Asparagus Salad a true ode to freshness. Tuscan white beans mixed with thinly shaved zucchini, asparagus ribbons, and shaved fennel, were all harmonized by ladolemono dressing. To top it off, toasted macadamia nuts and a poached quails' egg crowned the vibrant salad.
Two courses were served as the main affair. The first course was a Carrot & Citrus Salad, which showcased glazed and roasted carrots, citrus segments, beets, and cashew crema, crowned with a pistachio dukkah. Course two offered a trio of exquisite choices, each a culinary journey. From the Miso Glacé Salmon with its delicate miso glaze, to the Lemon & Cauliflower Chicken Breast with its infusion of citrus and pan-roasted perfection, and finally, the rosemary-infused butternut Squash, a symphony of earthy flavors and aromatic herbs.
Dessert was a Vegan Rose Blossom Panna Cotta, delicately set with coconut milk, revealing wild rose tapioca pearls, a berry consommé, and a medley of freeze-dried and fresh raspberries. The delicate crumb of olive oil cake added the final touch to this sweet masterpiece. Each course, a work of culinary artistry, spoke of a passion for flavour and an unwavering commitment to perfection.cust
"to close off this extraordinary day, there was the lakeside VIP dinner, which I am STILL dreaming about! By using local ingredients and mouth-watering flavour combinations, White Table WOW'ed our guests! Meticulous with every detail, including the individual menu cards, this dining experience was one that I will forever cherish". -Jillian Har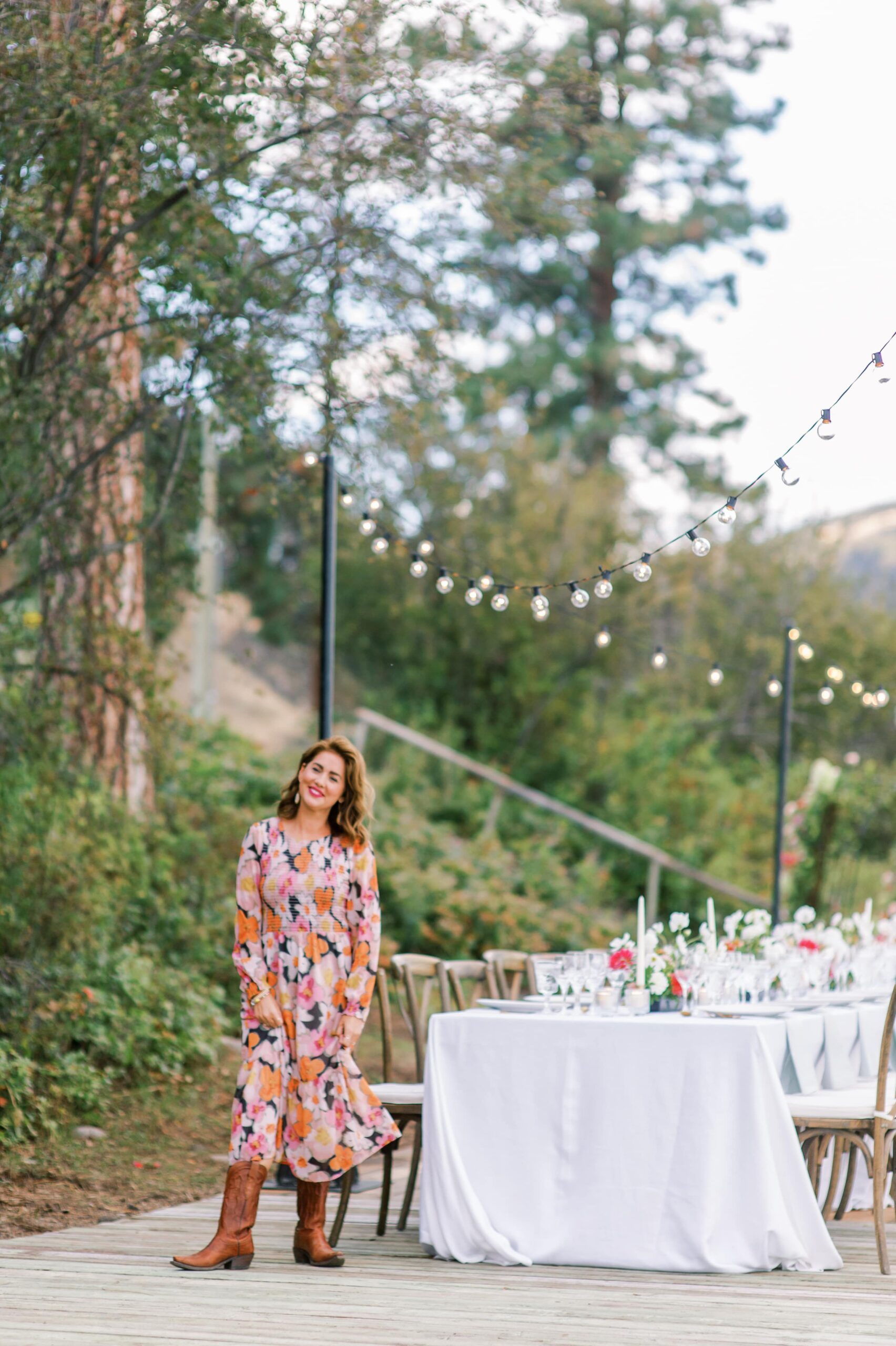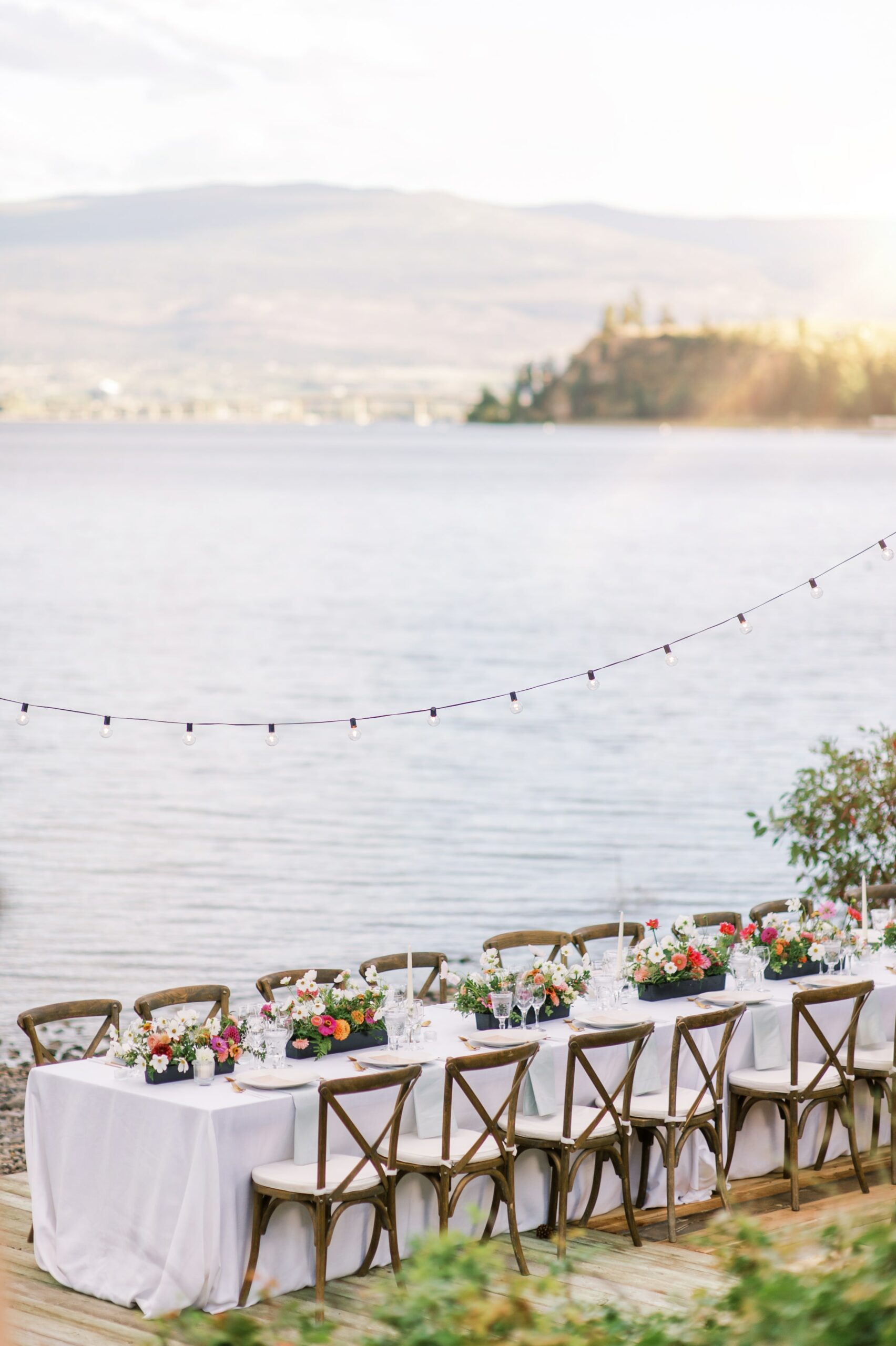 Reflecting on the Academy At The Farm
The day's highlights, from the Morning Grazing station and Passed Green Juice to the Grown-Up Lunch Box and the VIP plated dinner on the lake, were moments that our team will cherish for time to come. Each dish, each sip, and each interaction were threads in the tapestry of an event that celebrated not only culinary excellence but also the spirit of community and sustainability. Inspired by Jillian Harris and the beauty of The Okanagan, this day was a testament to the power of vision and the magic that unfolds when it is shared. We were so honoured to work with Jillian Harris and Team Jilly on this event and look forward to working together to create magic again!