Tablescape is the centre of the party. It's what sets the tone for the meal to come and the feel of the occasion. 
Hosting Christmas Dinner does not have to be stressful! I recommend you choose a menu
you can prep ahead of time as much as possible so you can enjoy your time with your guests. I always try to set the table the night before, that way you can really have fun cre-ating and not have to worry about trying to fit it in the day you are hosting. A MUST…empty the dishwasher before you host. This way your dirty dishes and go straight in and leave your counter tops clear and your kitchen a bit more mess-free.
When choosing what to do for your tablescape there are some simple things that can help you create a table that complements the rest of the home and decor as well as helps set the tone for how you want your guests to feel and experience their meal. Here are 5 tips to help set your table for the holidays:
Pick a base to ground the colour palette. We chose the runner (actually wrapping paper from homesense!) as our base for this table setting. It had black, taupe, and navy tones and I knew I was going to use it to wrap some accent gifts under the tree, so I thought it would look beautiful to coordinate the table with the tree. We chose navy as our main accent colour as it runs throughout the house from our tree ornaments, couch pillows, vases on the fireplace mantel and other room accents. We also chose navy accent plates to bring colour to each individual setting. Lastly, I tied the colours together (pun -intended ;0 ) through our oatmeal coloured linen napkins with a navy stripe tied with a navy velvet ribbon. These same ribbons are also tied on branches on our tree. 
 Use metallics to glam up neutrals and a simple esthetic. I usually like to mix metals, but because all our kitchen accents are polished nickel, I decided to just do gold on the table for this. I incorporated it throughout the settings from the flatware, to the gold-rimmed wine goblets to the candle holders and then a Christmas bauble in different gold tones and finishes on each place setting. 
Mix glassware and plates for a modern look. Because of the occasion, I wanted this table to feel more elevated, so I incorporated our champagne flutes and gold-rimmed wine glasses along with our more casual every-day stemmed water goblets. We mixed our gold-rimmed modern coup dining plates with a navy charger and side plate to tie in the main accent colour (navy). These seemed glasses are from IKEA and are super inexpensive. We use them all the time and even let our kids use them often as they are virtually indestructible. I totally recommend them for every home, but especially if you are looking for some glassware to elevate your table and be kid-friendly.
Blend your greenery for a more modern and elevated feel. Deborah Li helped create the beautiful greenery runner down the table. She layered in seeded eucalyptus, olive branches and snowberries with the cedar to create more texture and depth to the traditional seasonal greens. Then we layered bud vases throughout with simple white buds and more white snowberry branches.
 Create a warm dining environment with candles. We all know candles warm-up space and add a nice ambiance. Candles are also a great way to subtly tie in an accent colour or the feature colour you want to bring out on your table. Because Christmas decor is not just focused on the table, but throughout the home, for this tablescape, I chose to tie in the colour from our main ornaments on our tree to really pull the whole room together and create a cohesive took that transferred across all our living spaces. 
6. Add place cards for a personal touch. Although you are most likely celebrating with close family and friends that all know each other, having place cards really give an intentional feel to the tablescape showing each person was thought of and purposefully placed. It also helps you reserve a place for you as the host to be able to get up and out easily while serving and preparing the meal. 
Wishing you and your loved ones a beautiful time of celebrating together the gift of spending time with those you love this Christmas season! 
(Table sources below)
**Want to just focus on the fun stuff? or need help with your table decor and meal? Contact us today to hear about our Christmas holiday packages including table setting rentals if needed. 
Merry Christmas!
Love, Carl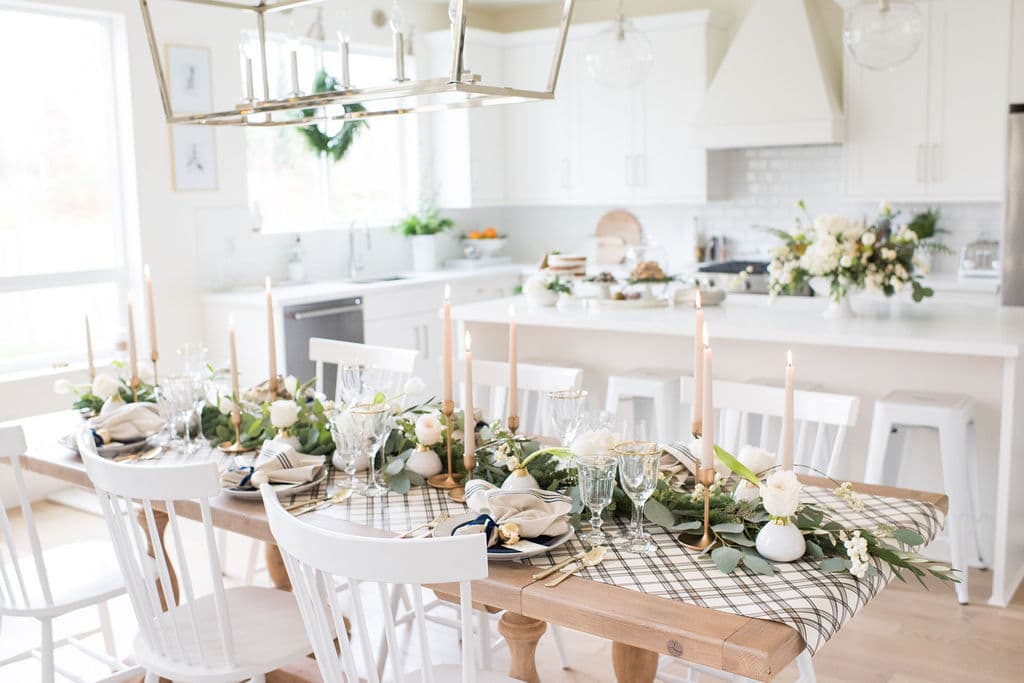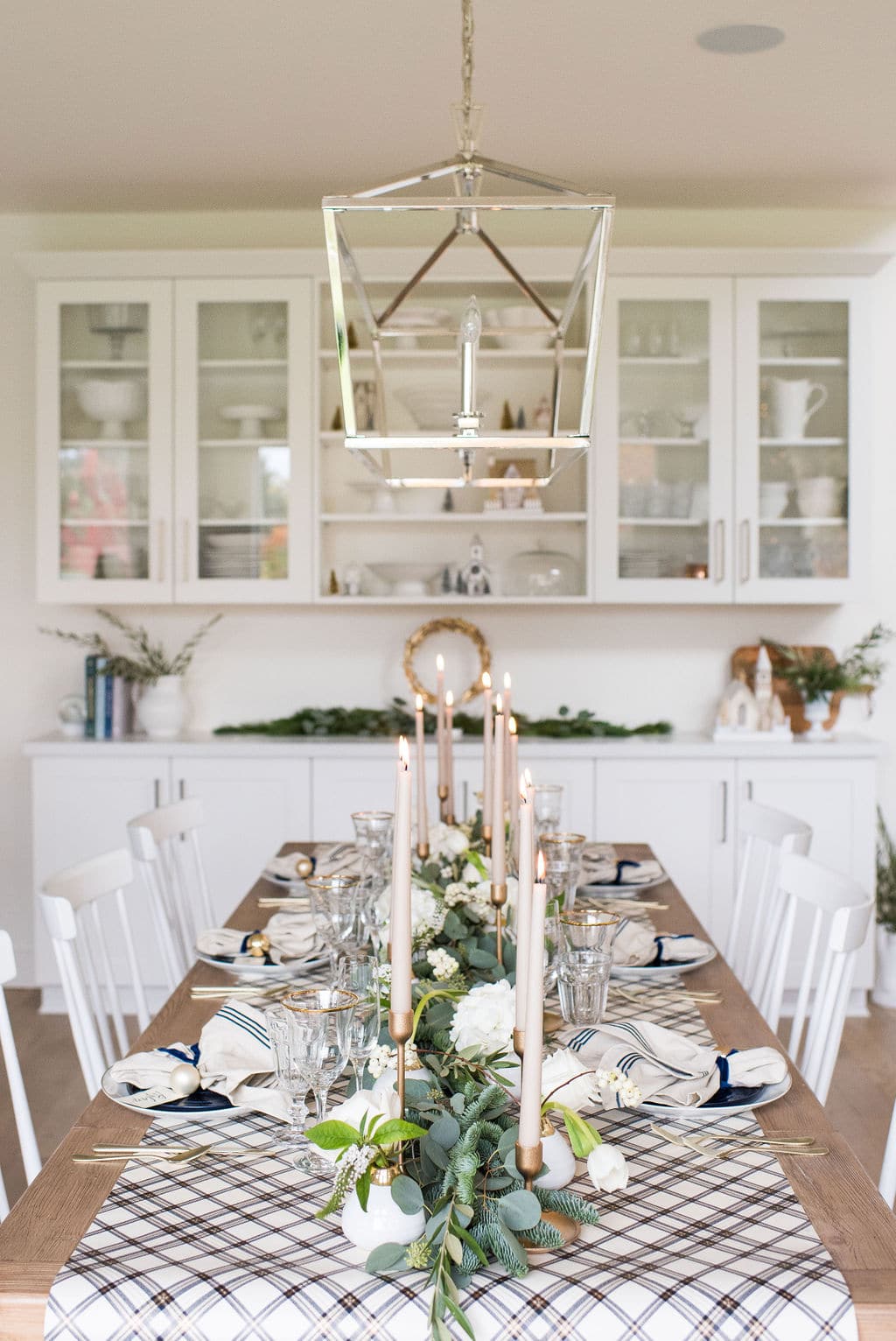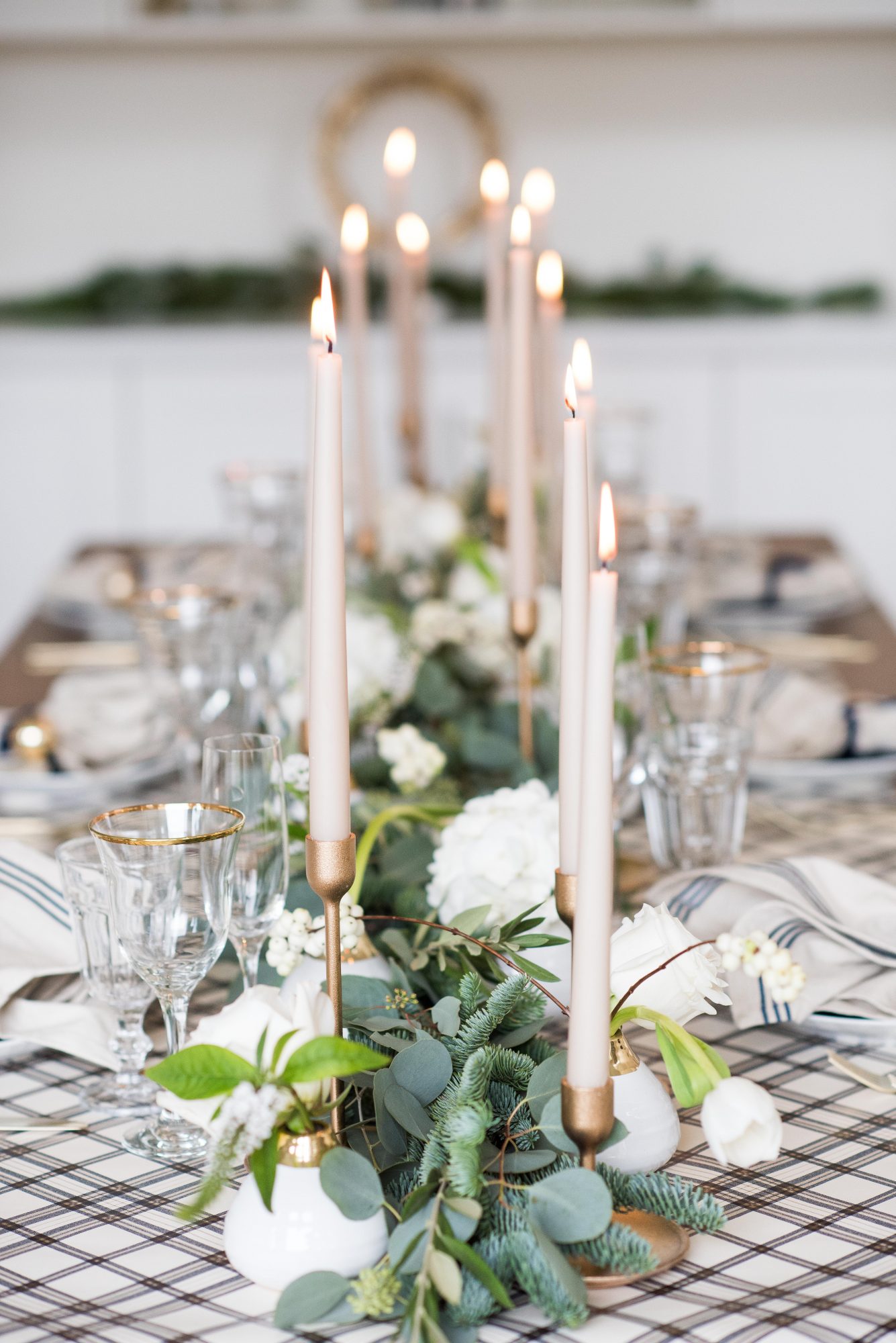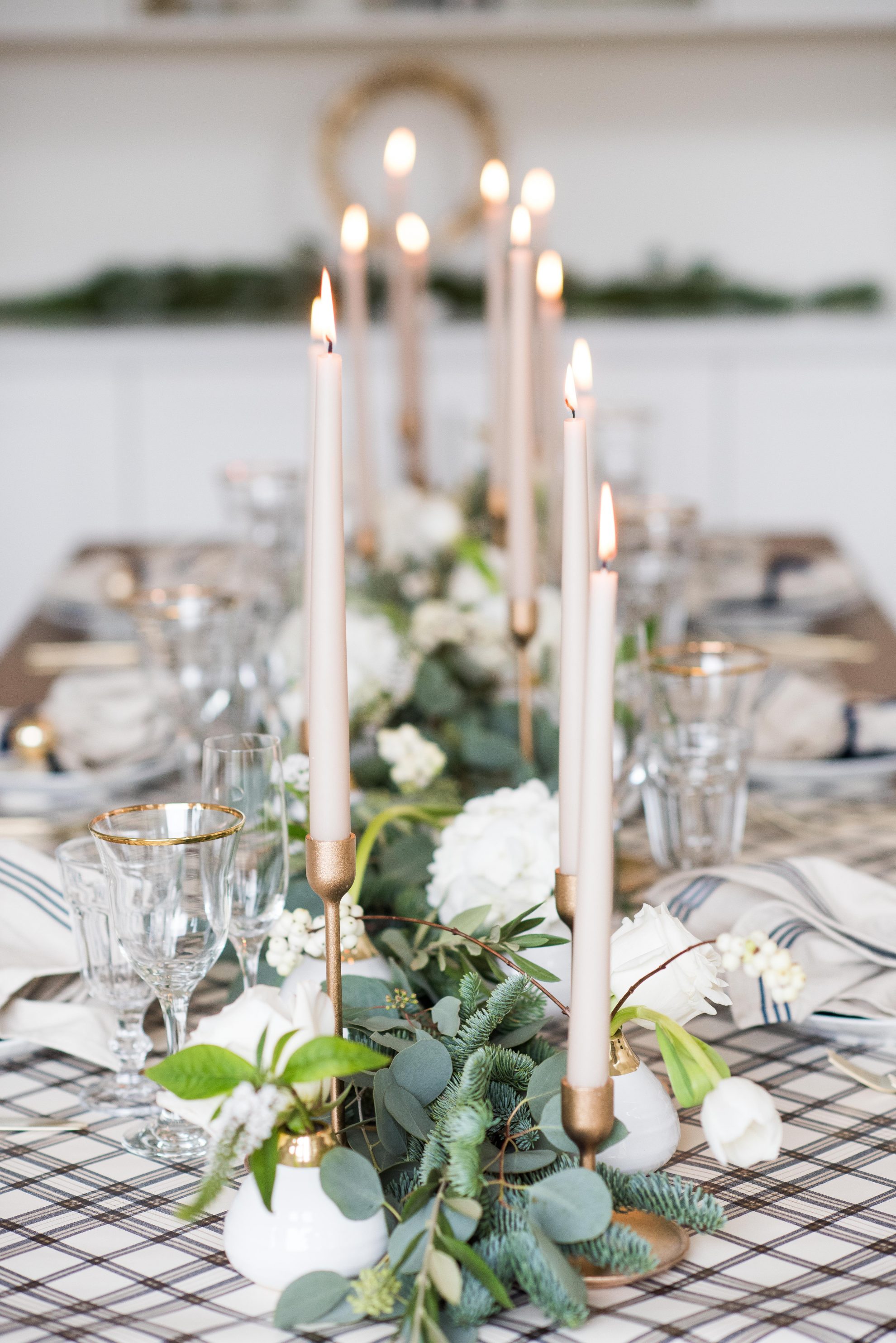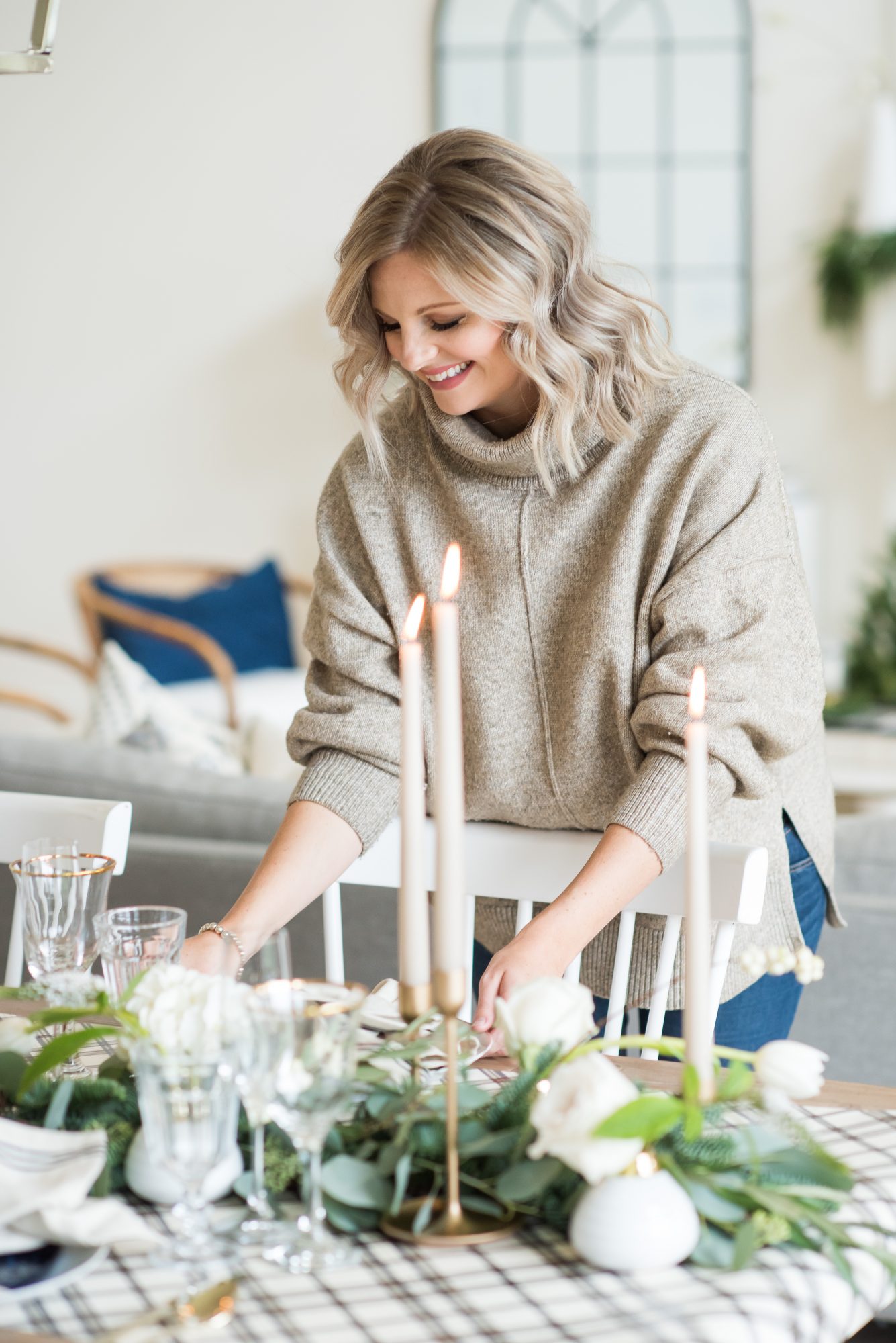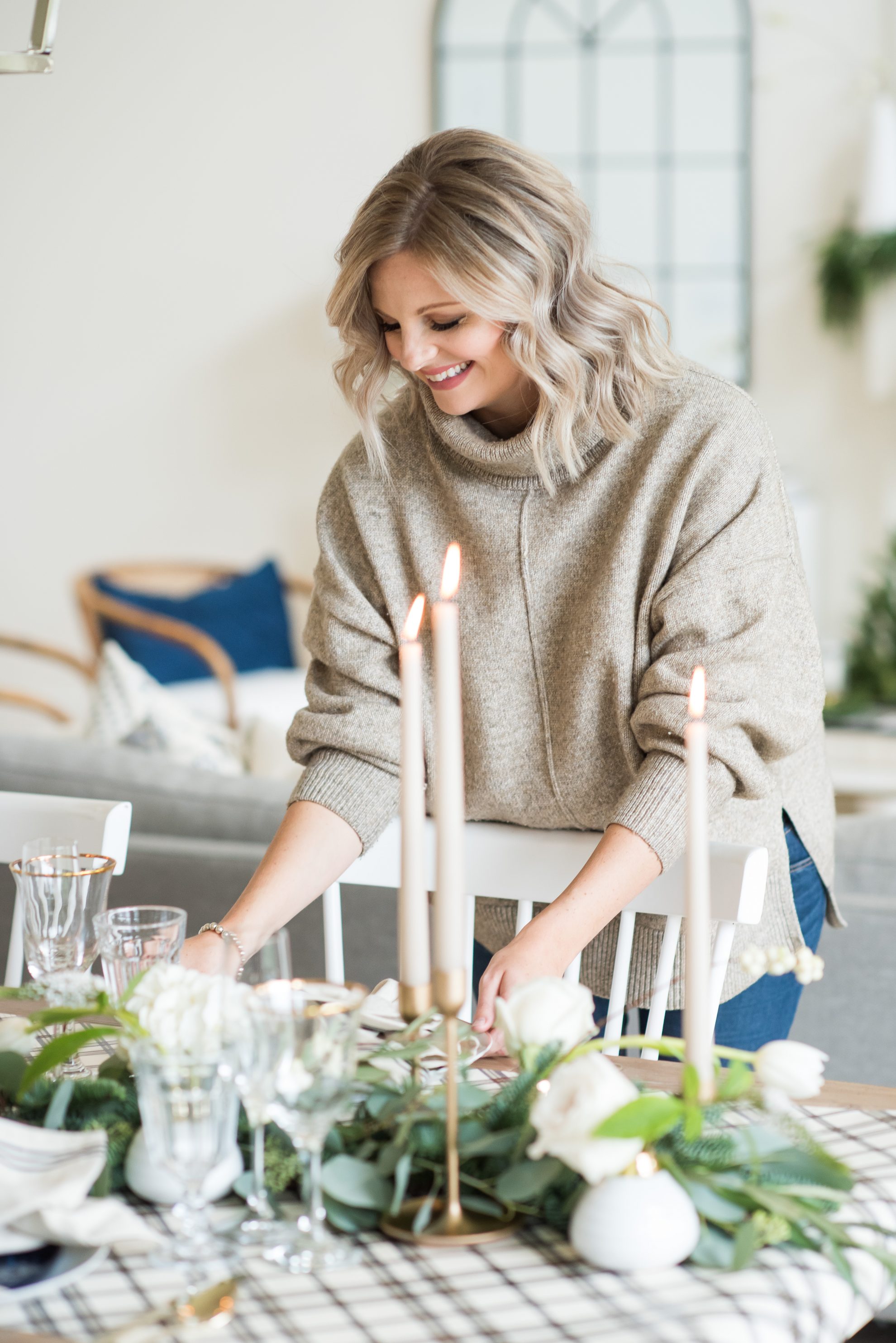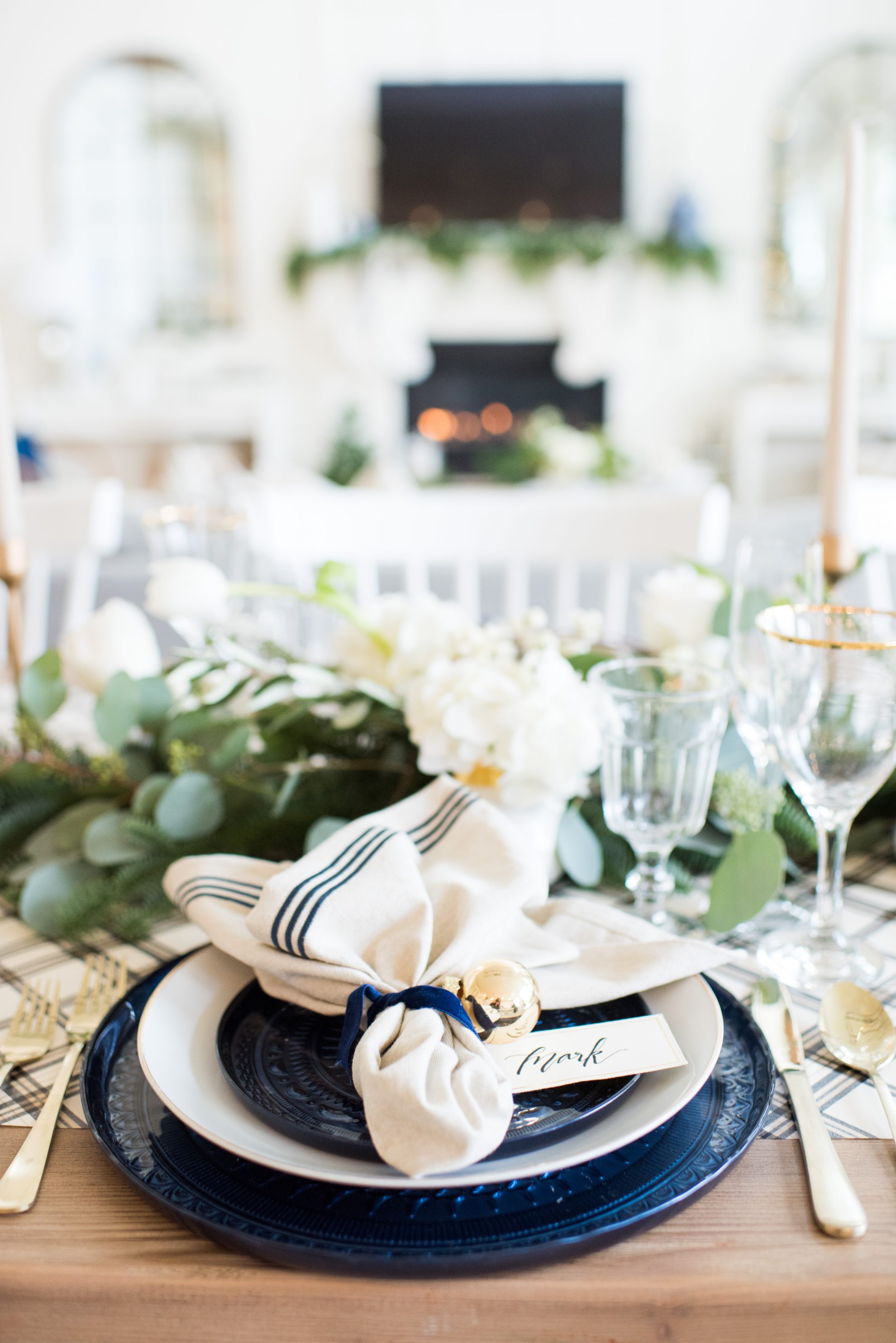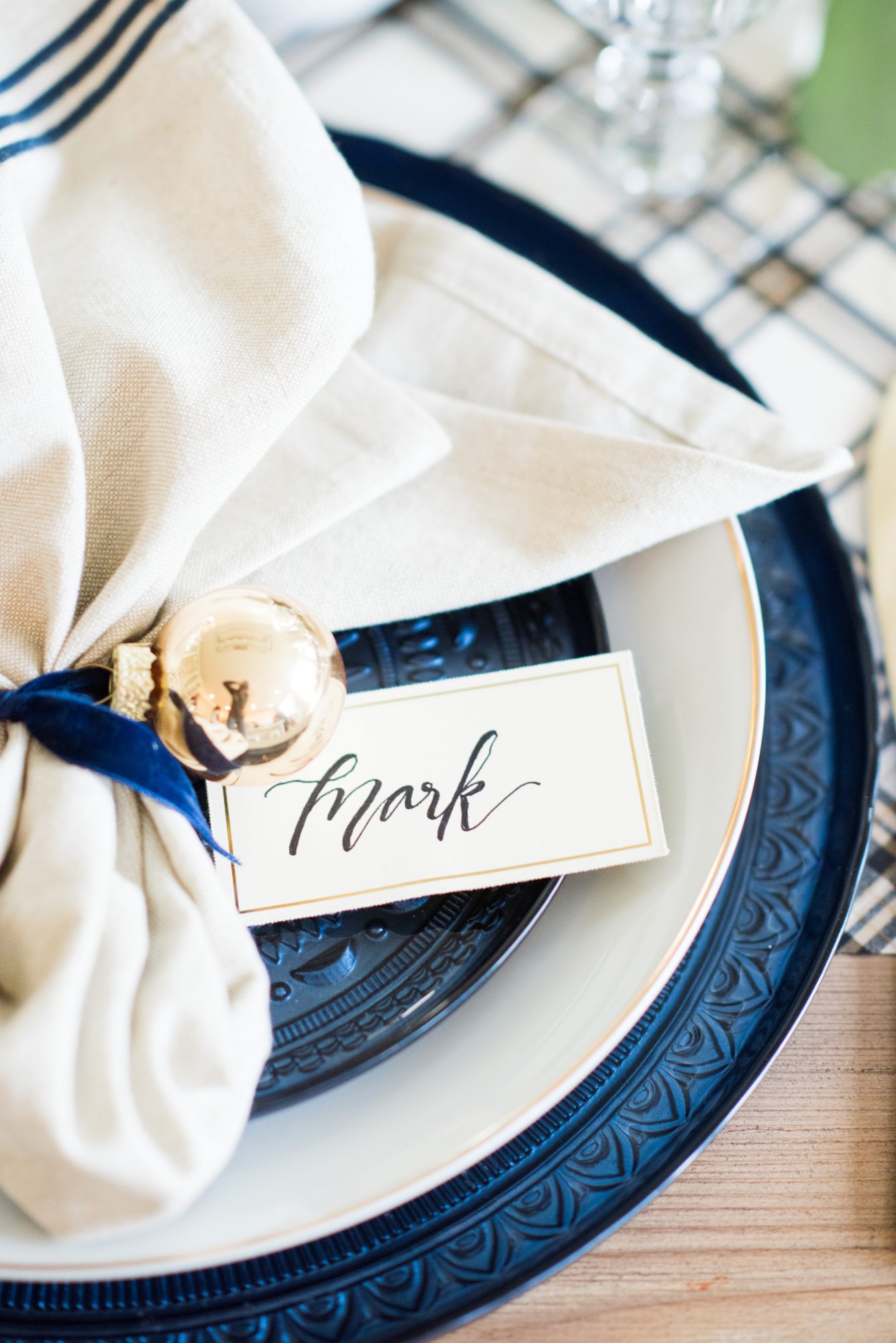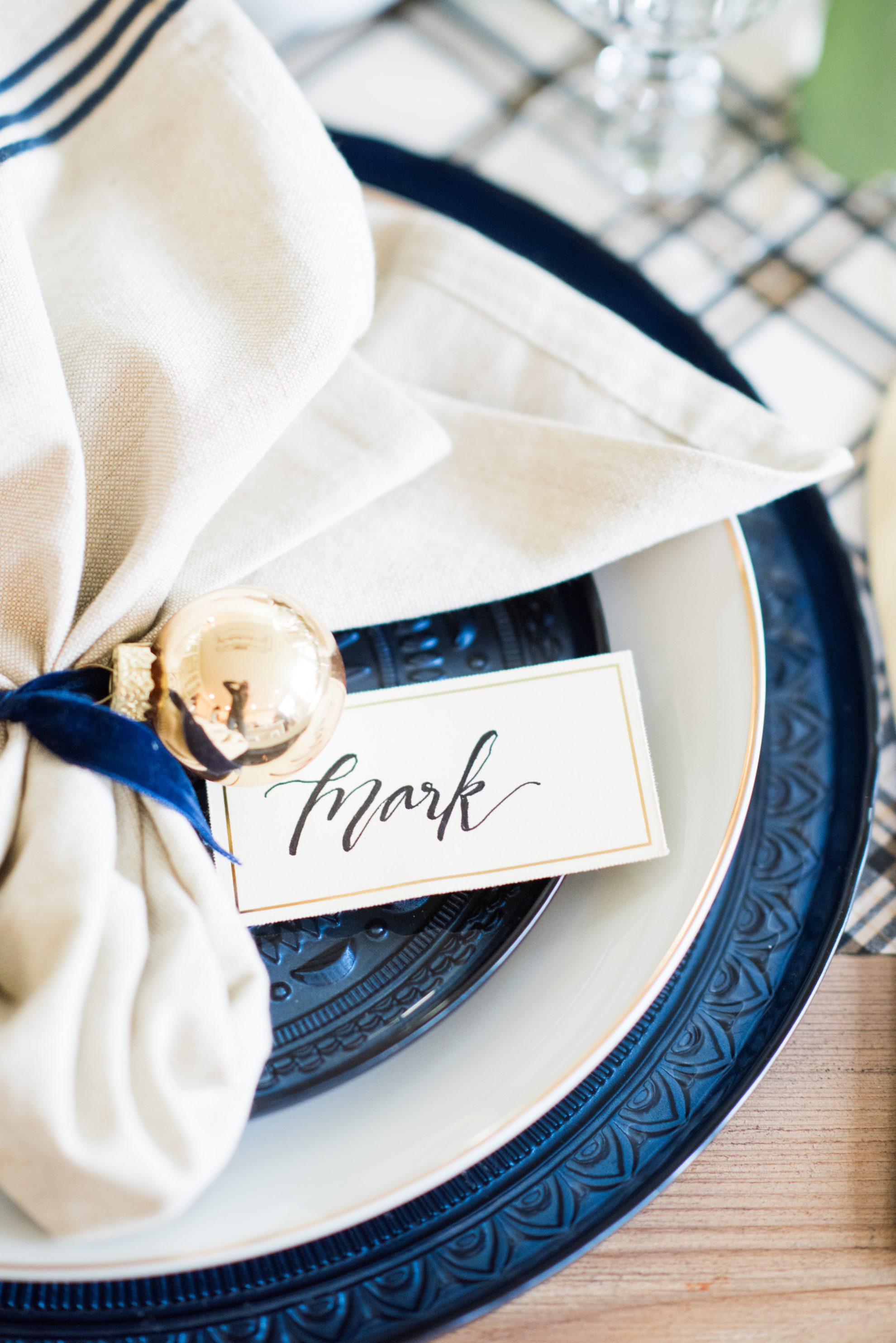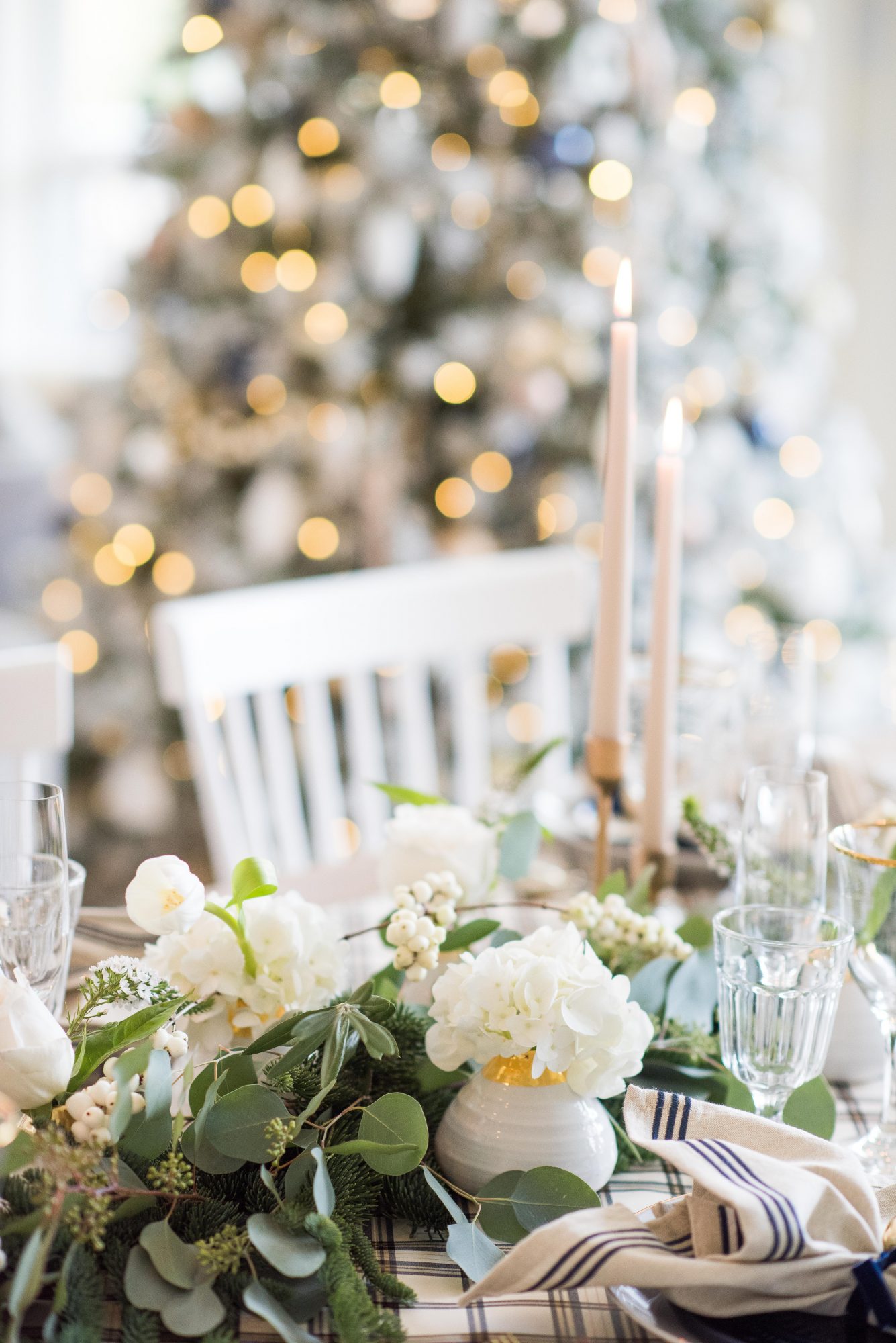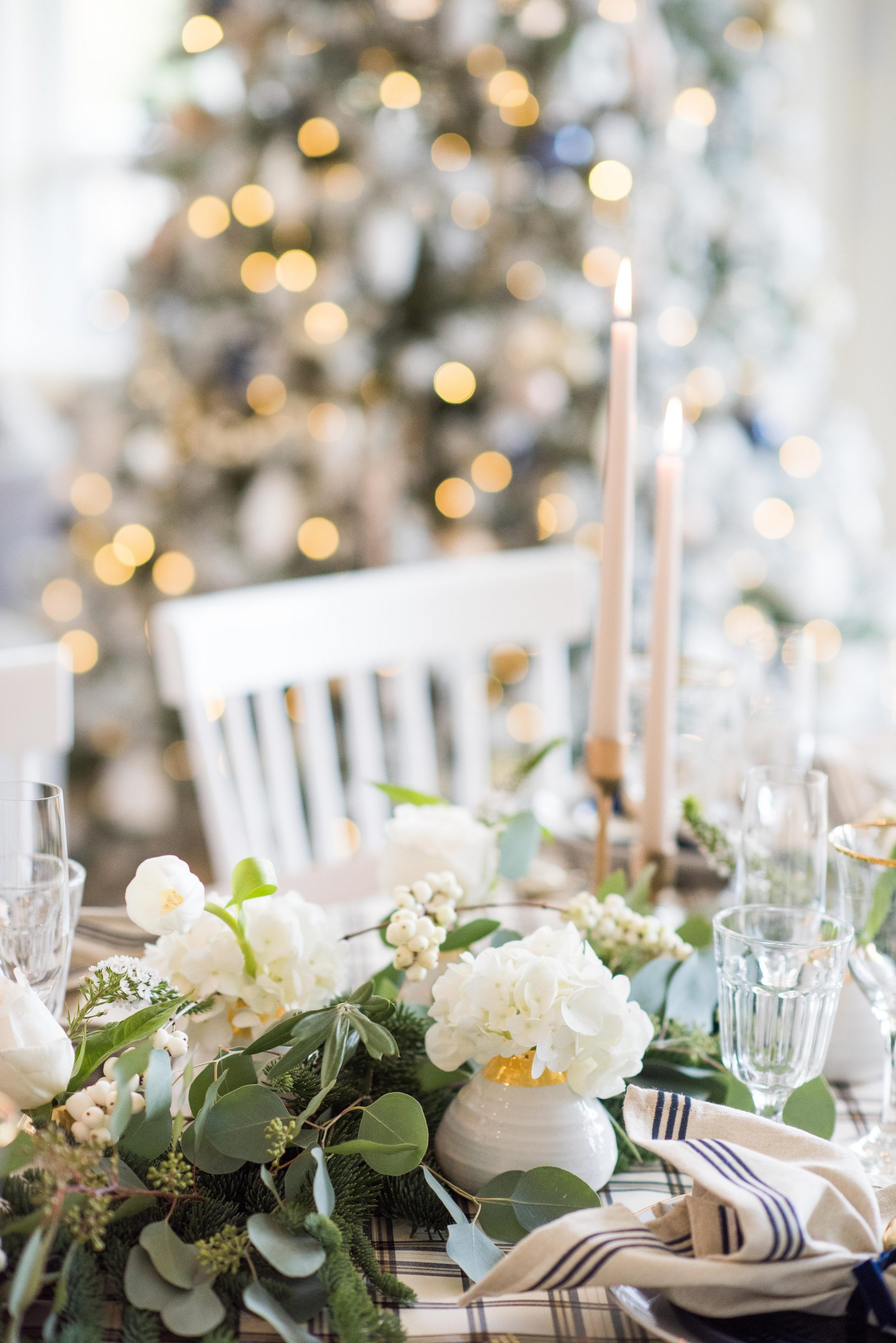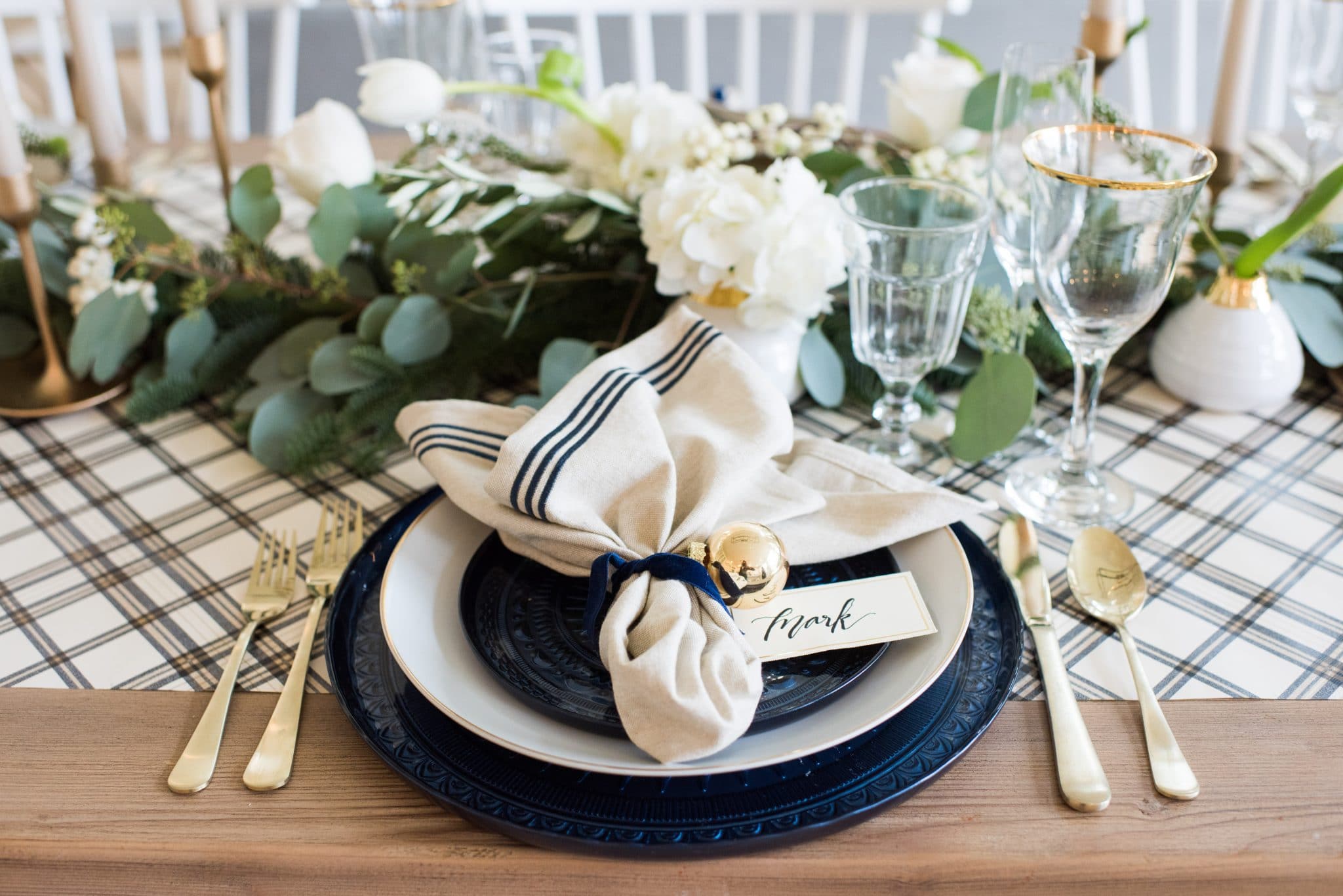 Photography: Brooklyn 
Florals: Deborah Li
Make Up:  Ax Art Atelier
SOURCES:
Table:
Chairs:
Pendant:
White Gold- Rimmed Plates and Ornaments: 
Superstore
Blue Charger, Side Plate and Runner (wrapping paper):
Home Sense
Napkins:
Pier One
Gold Cutlery:
Crate and Barrel
Candle Sticks:
Ikea (Sprayed Gold)
Glassware:
The Bay, Ikea
Candles:
Amazon
Name Tags:
Michaels
Velvet Ribbon:
Home Sense and Amazon
Carly's Sweater:
H&M
** For more sources see "Our Home for the Holidays"