Summer time is officially here! Bring on the heat wave and bring on a NEW recipe!
Don't get me wrong, I LOVE the heat and won't ever wish away sunshine, but when it comes to cooking in the summer… I feel a bit lost and unmotivated. If you've ever stood in the middle of your overheating house, with the oven on trying not to melt away slowly just to put a nice meal on the table… you will feel me on this. Recently, we shared some of our in-house recipes on I Like Her Style Vancouver for their readers. This dish is P-E-R-F-E-C-T for those of us who are/will be trying to battle the heat wave, but also want to prepare a meal and enjoy it sweat-free. No oven use = no kitchen heater. You heard that right! Our Tuscan Linguine is the ultimate summertime dish, using only the freshest ingredients to ensure a healthy and "cool" meal. Seen first on ILHSV's blog, we are now sharing it here as well for you to use this season.
Enjoy!!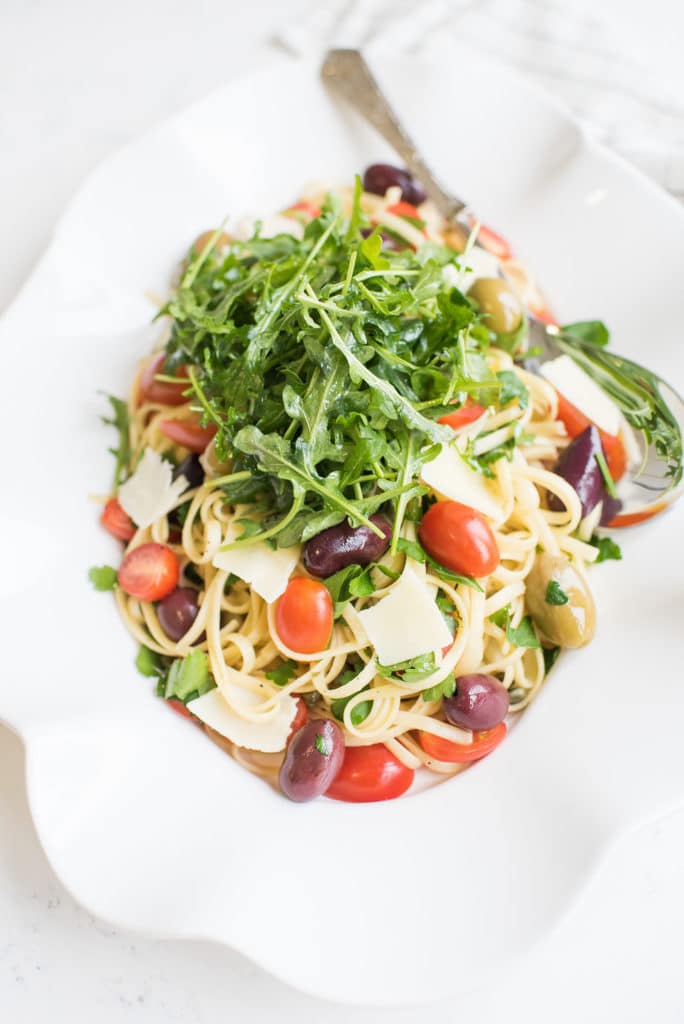 Tuscan Linguine Recipe
Ingredients (serves 4-6):
400 g linguine
3 tbsp extra virgin olive oil
3 tbsp olive oil
6 cloves garlic
1 shallot
1/2 pint of grape tomatoes
400 g mixed olives
1 bunch Italian parsley
3 juiced lemons
100 ml white wine
100 g parmesan
Salt and pepper
90 g arugula
Method:
Mince garlic and shallot and place into large fry pan with olive oil. Saute on medium heat with a pinch of salt.
Slice grape tomatoes in half lengthwise and place in pan with olives and white wine for 1 minute and set aside.
Chop Italian parsley roughly and place aside.
Boil linguine in salted water until tender, but firm. Strain and place hot in skillet.
Add half of the extra virgin olive oil, parsley, and half of the lemon juice together with linguine, tomatoes and olives. Toss in hot pan. Season to taste with Salt and fresh ground black pepper.
Plate on platter and garnish with fresh shaved parmesan and arugula tossed in remaining extra virgin olive oil, lemon juice and salt and pepper to taste.
Serve and enjoy!
Photography: Brooklyn D Photography