goal we've had since we moved into our new house was to plant a vegetable garden and with all this extra, we finally did it! Kale is something we eat a lot of, so naturally, we decided to grow it.
Classic caesar salad is always a crowd-pleaser, but as a catering company, we know that for large crowds it's not always the best option as it's difficult to keep crisp and fresh. Romain lettuce wilts very quickly once dressed, so when making caesar salad it's important to serve fairly quickly after tossing it. This can be problematic for both events such as bbqs with friends when food is often let out for a while.
So with health and freshness being two major priorities in both our family life at home and White Table Catering, we decided to make a twist on the popular classic salad and create a Kale Ceasar Salad with crispy chickpeas instead of croutons and pickled red onion for that acidic twist. It has become one of our signature salads and most popular menu items on our buffets and family-style menus. The Kale not only makes it a healthier option but it also holds way better allowing for all your guests to have a fresh salad without having to wolf it down in the first 10 minutes!
It's perfect for summer and hearty enough to last and be left out at a potluck or for a patio dinner in the warmer weather. With many of our clients and friends being vegan, we also created this delicious vegan Caesar dressing, making this new recipe a healthy staple for your family and crowd pleaser for all to enjoy!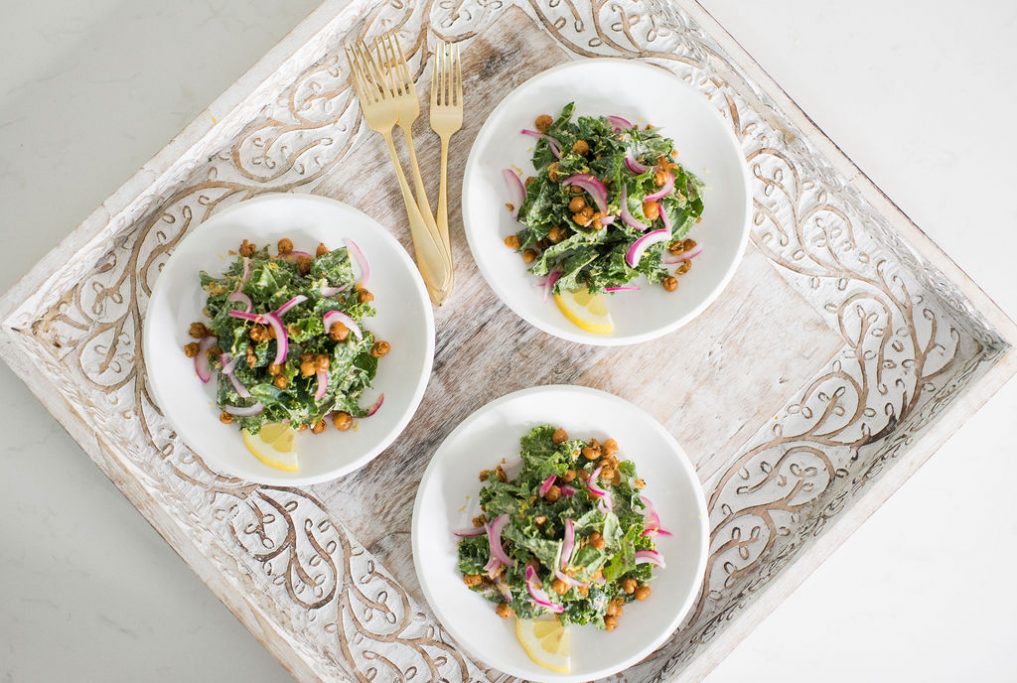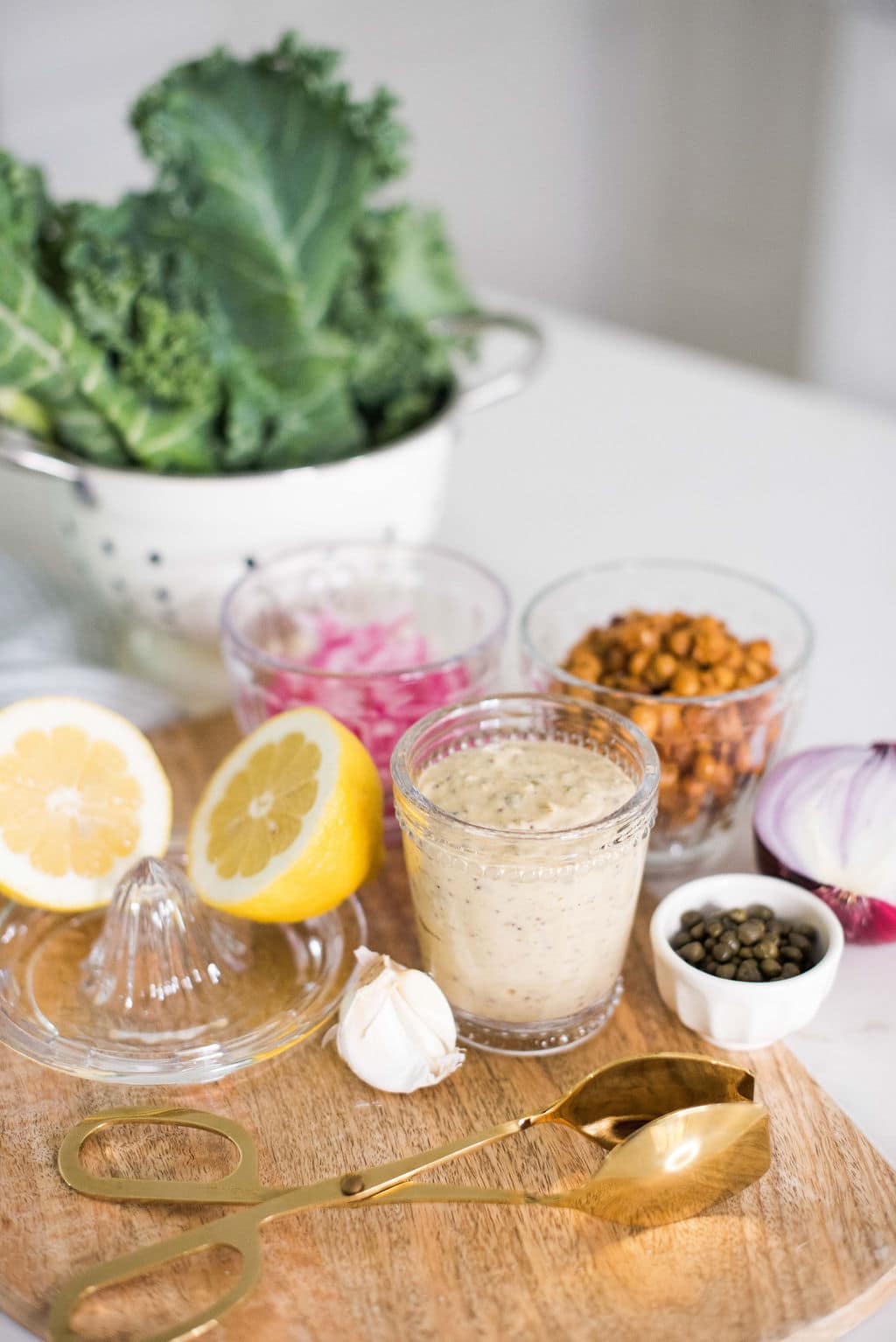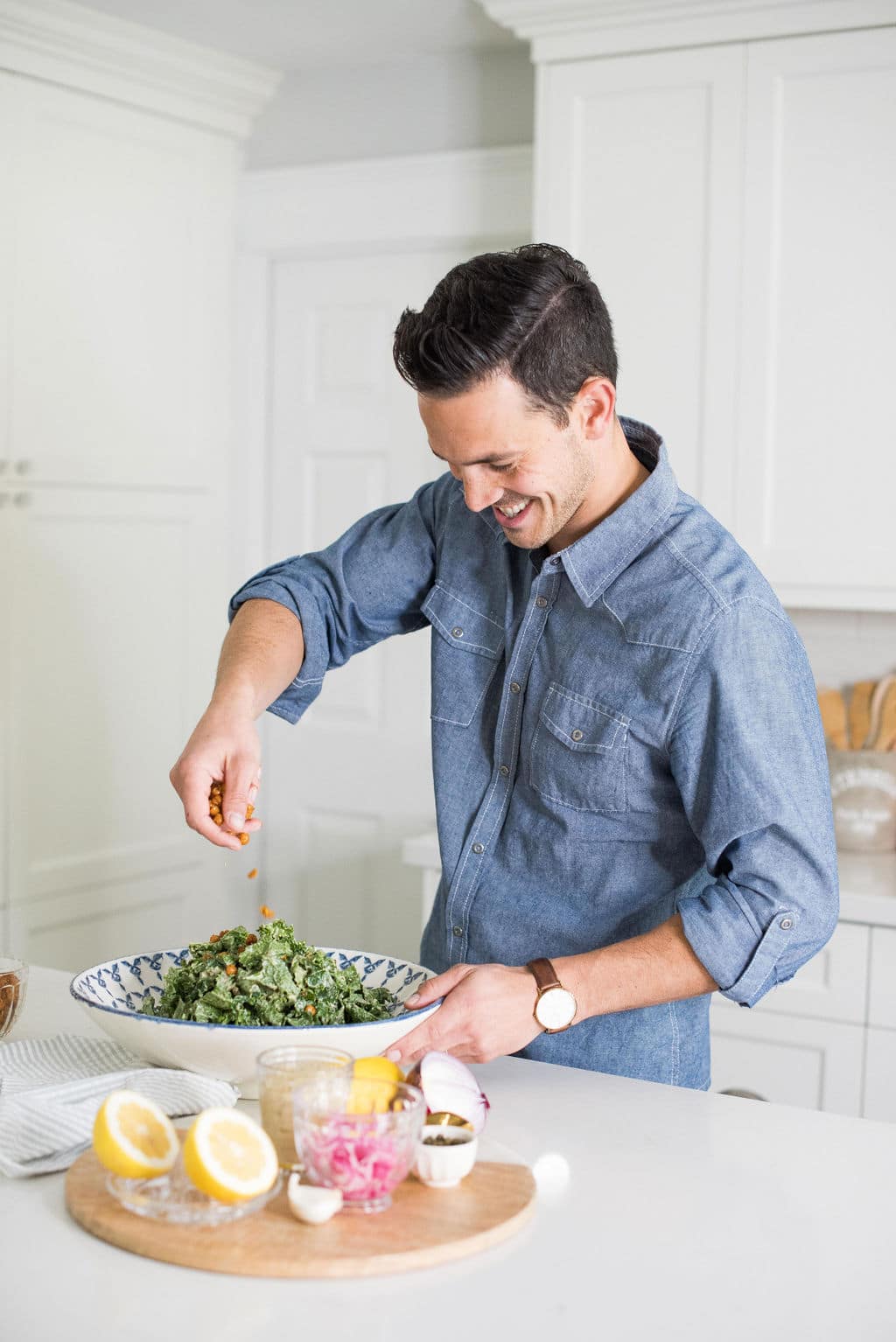 Vegan Kale & Roasted Chickpea Caesar Salad
Serves 4 -6
Ingredients:
1 Can Chickpeas
½ Cup Olive Oil
3 cloves Garlic
1 Tbsp Capers
1 Tsp Grainy Dijon
1/2 Red onions
2 oz White Vinegar
¼ Cup Water
2 tbs Sugar
1 tbs Salt
2 Lemons
1 Large Bunch Kale
Salt and Pepper to taste
Directions:
Chickpeas:
Drain, rinse and dry chickpeas. Toss chickpeas in a bowl with two tbsp of olive oil and 2 whole cloves of garlic. Season with salt and pepper and roast for 10 min at 425f in a cast-iron skillet or silicone lined pan. Remove the chickpeas from oven after 10 minutes and place half of the chickpeas and all of the roasted garlic and place it into a blender for the dressing. The remaining half goes back into the oven for approximately 10-15 minutes or until crispy.
Pickled Red Onions:
Slice your red onion into thin slices. Place the onion slices into a Ziploc bag with white vinegar, sugar and a pinch of salt. Massage the bag so that the vinegar is evenly distributed around the onion and place into a fridge for 30 minutes. Remove from the fridge when finished and strain.
Dressing:
Zest lemons and place the zest aside. Juice both lemons and add the juice into the blender with the roasted chickpeas and garlic. Add the remaining olive oil, one clove of fresh garlic, capers, grainy dijon and a pinch of salt and pepper. Use water to get your desired consistency. Adjust seasoning to taste. For a sharper taste add more capers, garlic or lemon juice.
Salad:
Wash kale well. Remove the stems by hand and cut the remaining kale into pieces. Massage the kale roughly with your hands. It will break down the fibres and be easier to eat. Toss the kale in the dressing and garnish with lemon zest, pickled red onions and crispy chickpeas.