Bringing the glam of 1960's Airline travel to a Modern Airplane Hangar Venue 
Inspired by the glam of 1960s airline travel, this editorial shoot featured in Wedding Bells Magazine and planned by the White Table Team, showcased the modern and sleek "Airside Events Spaces" a new airplane hangar venue in Greater Vancouver, BC. The airplane hangar was the beginning canvas, and the design board stemmed from there. With this venue also being our "home" venue space where our kitchen is located, we wanted to really celebrate it!
The 1960's era is often described as "the golden age for travel" and is known to have brought glamour to international travel through Hollywood and jet-setting celebrities. It was such a revolutionary era, yet it still had held on to the importance of class and sophistication.
"With over 20 vendors involved, we wanted to bring the romantic and classic elements of 1960's jet travel to life while still making it sophisticated and tangible for today's modern bride," said Carlyanne, Shoot Producer and Creative Events Director at White Table Catering.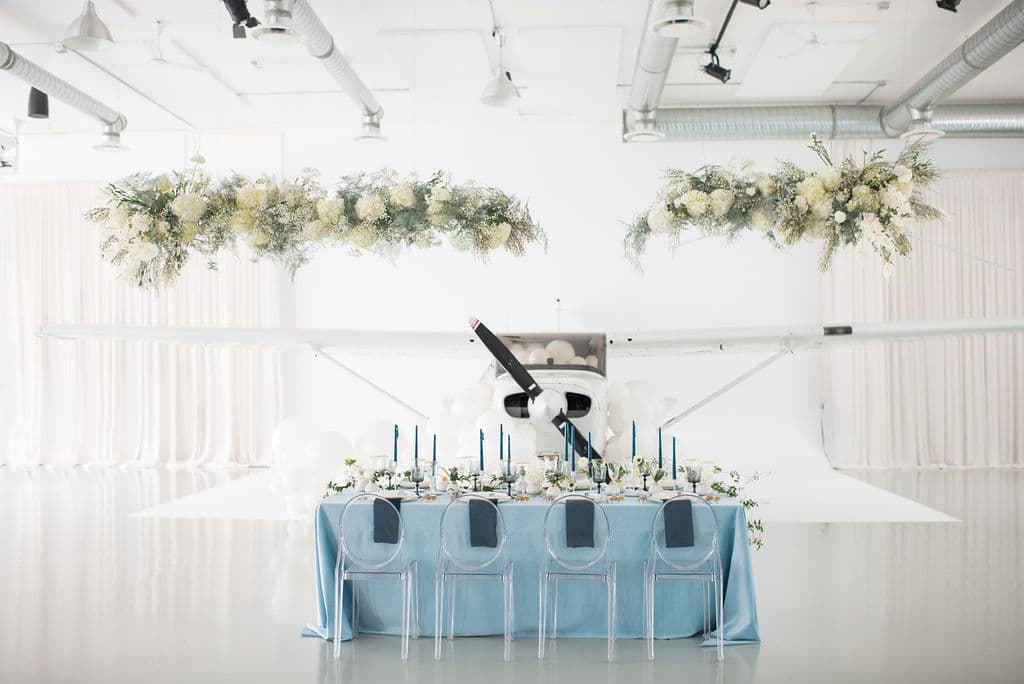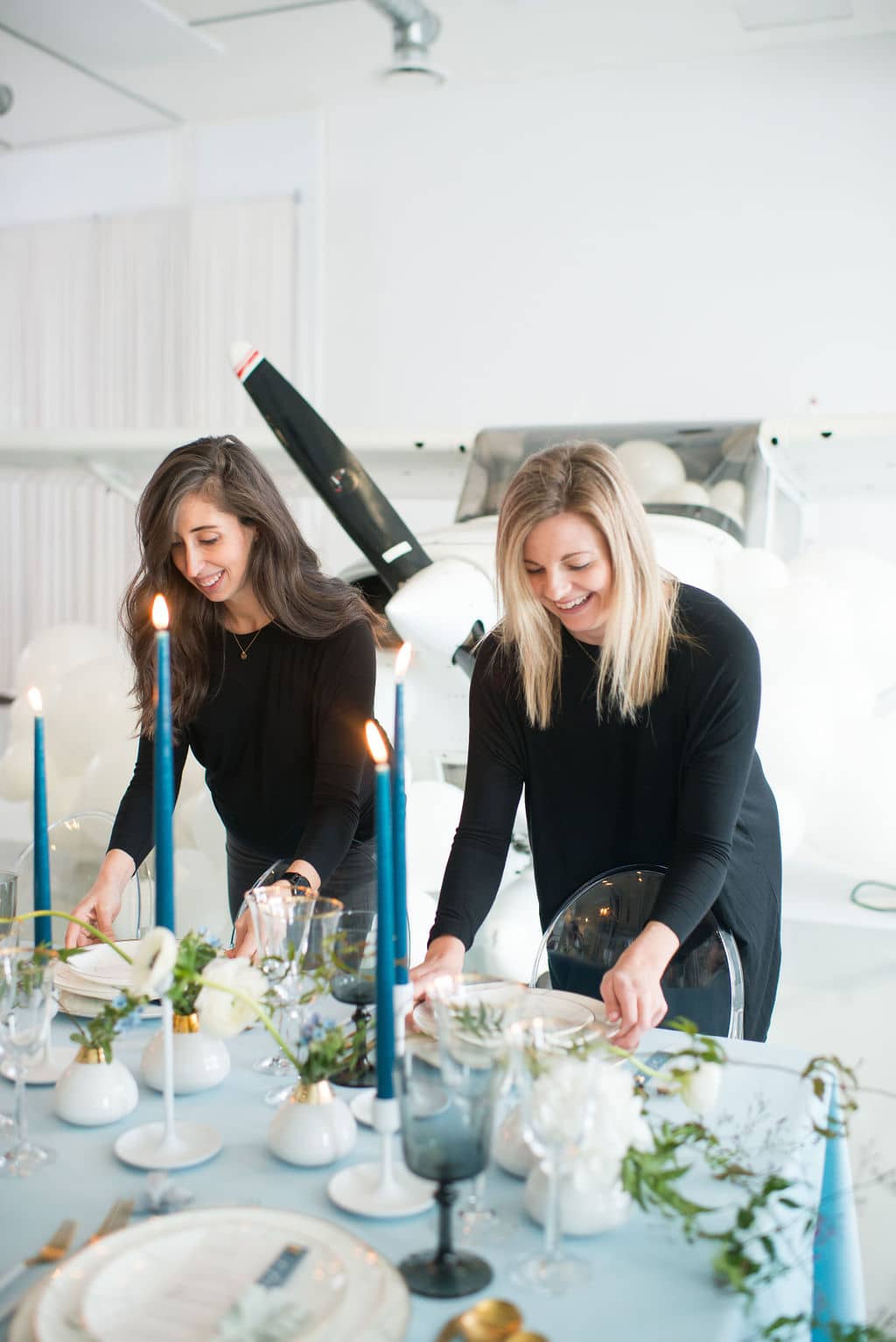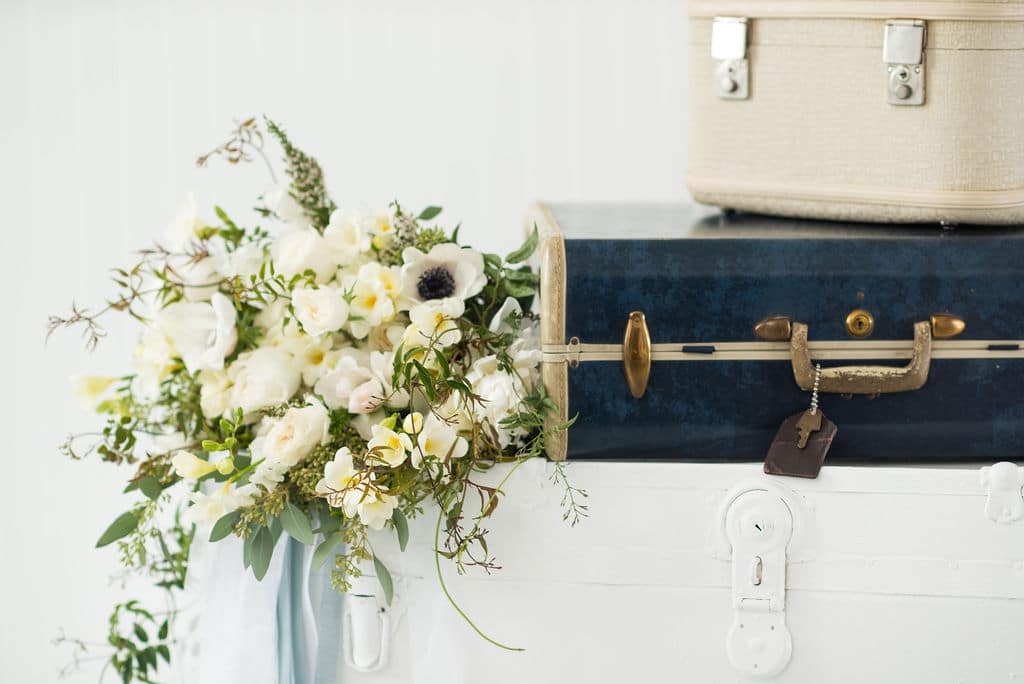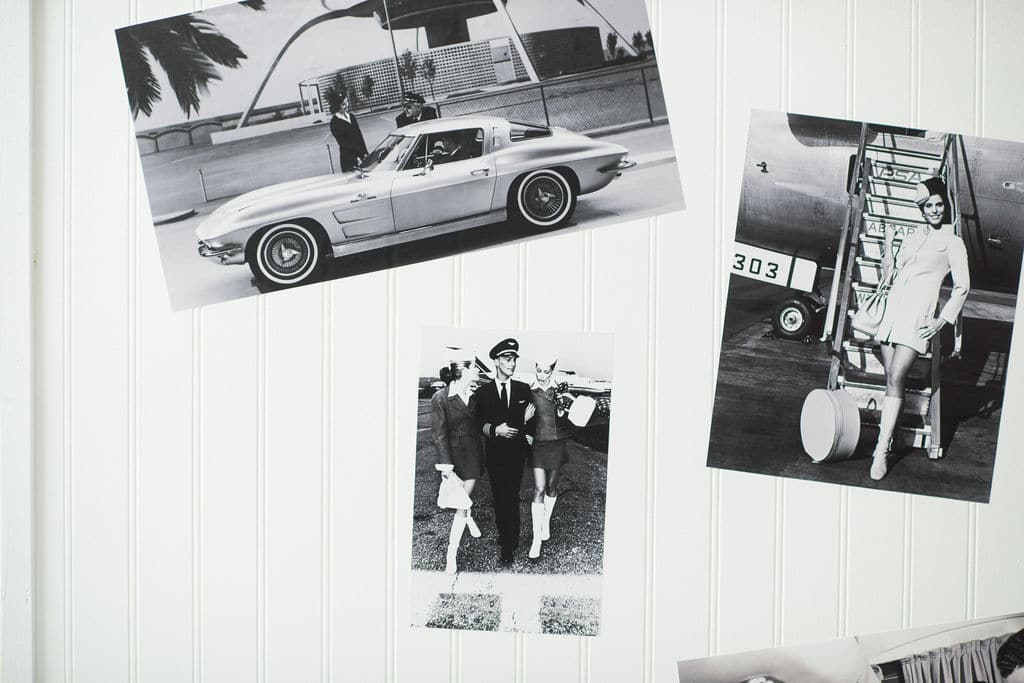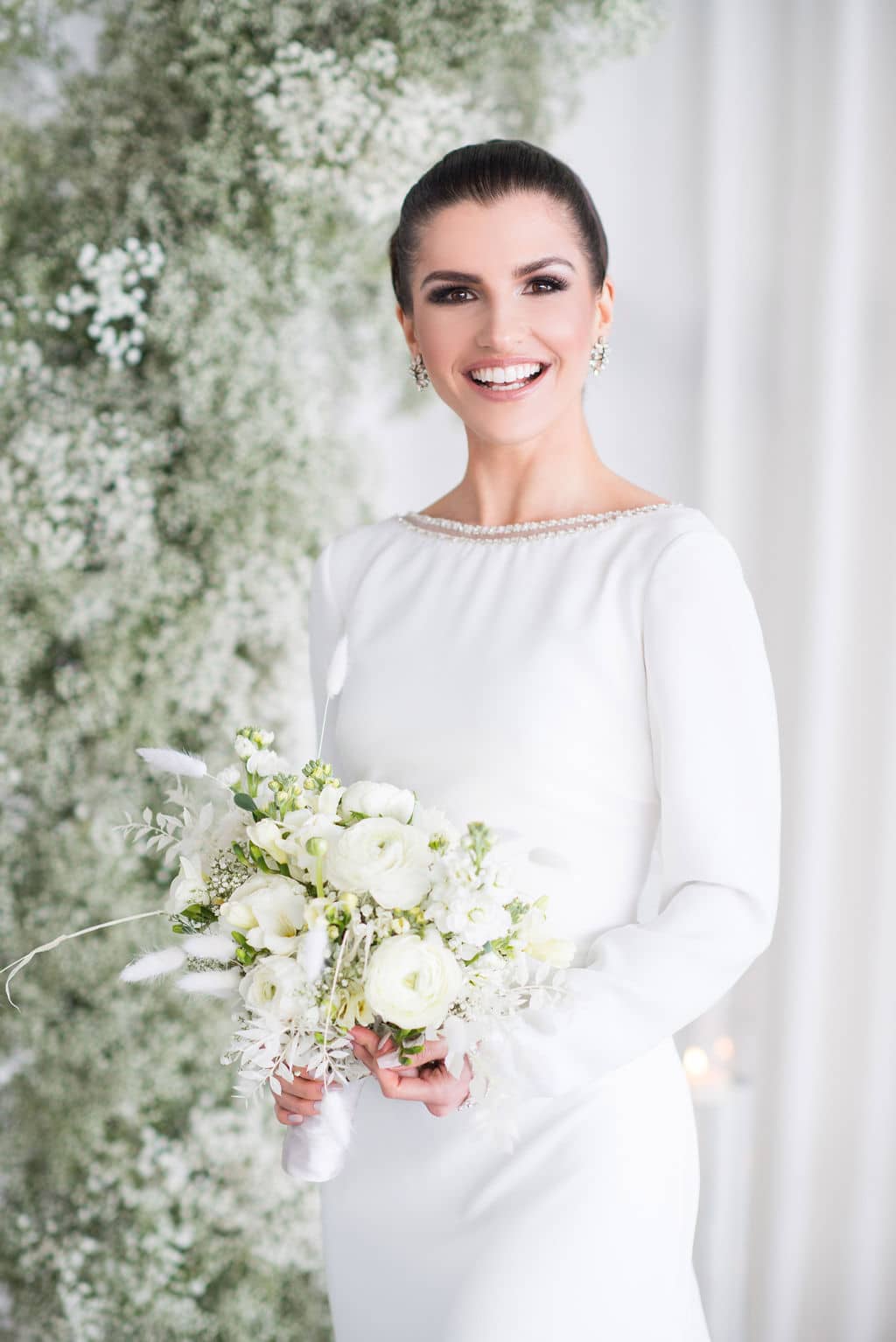 Focusing on a clean aesthetic with acrylic, marble and white, blue tones were added to bring a subtle nod to the "Pan Am" stewardess attire that was oh so trendy in the 1960s. There was a certain esteem and pride that came with being a stewardess in those days. It was new, modern, and glamorous. 
Incorporating some elements of the high-end flight service available in the 1960s was another important aspect of the shoot. A gold bar cart was used to display vintage decanters, glassware, and signature cocktails by White Table Catering, and a three tiered cake by Bake and Batter Co. Urban Walls provided the perfect backdrop for the bar and printed photo decals of actual archived 1960s aviation photographs placed on the bar like travel stamps. A vintage shelving unit from Bespoke Decor displayed glassware popular at the time and paid homage to the Art Deco revival of that era.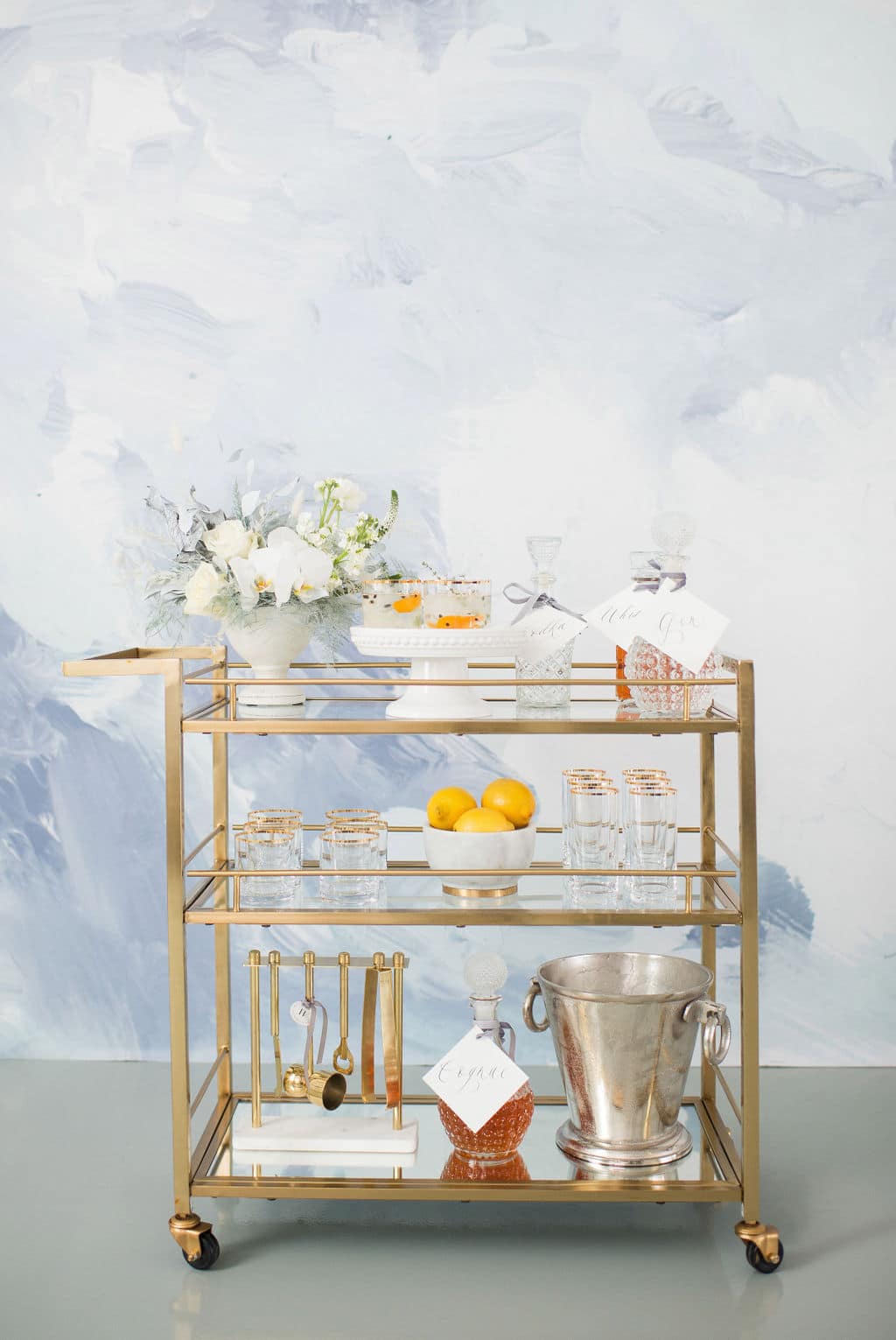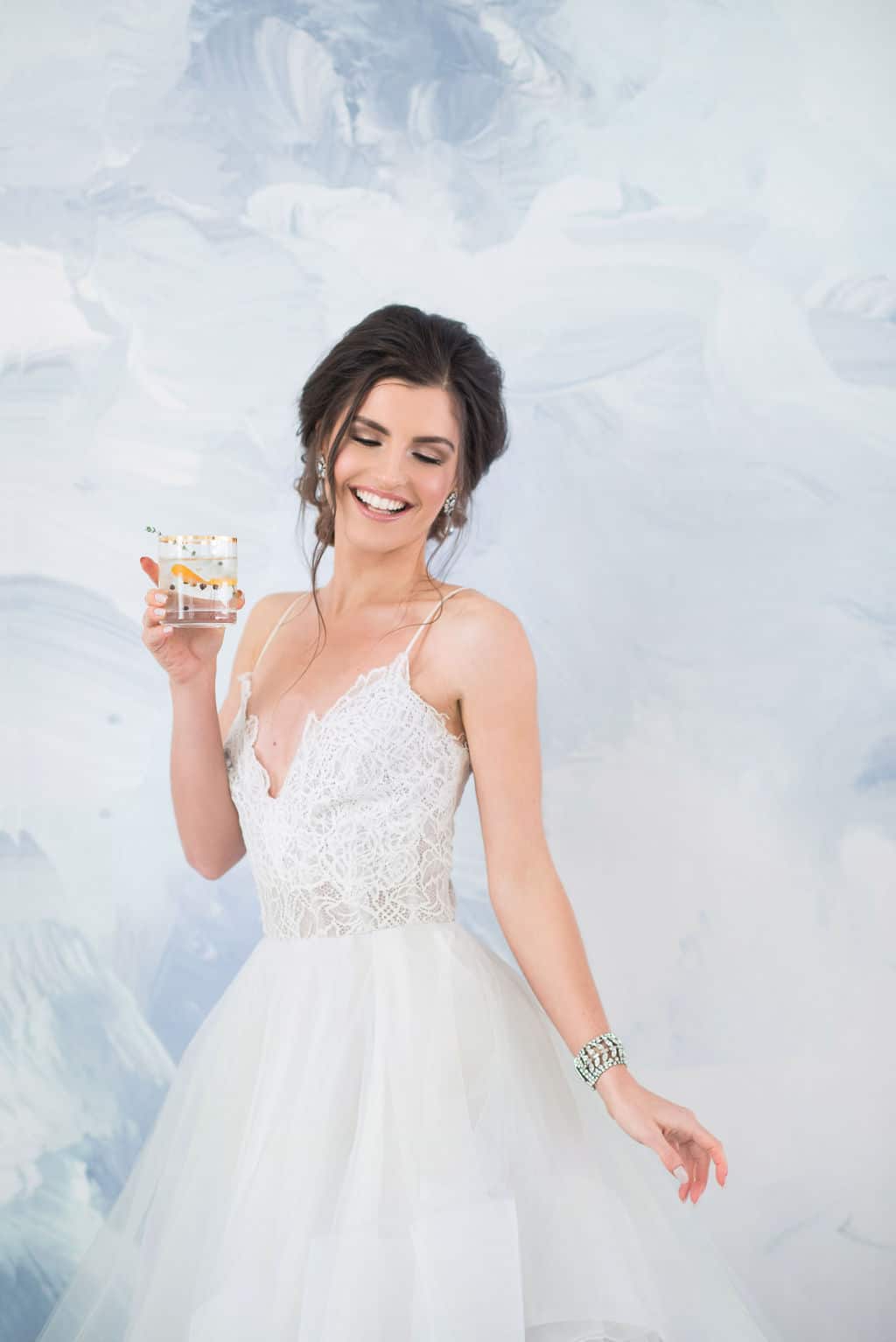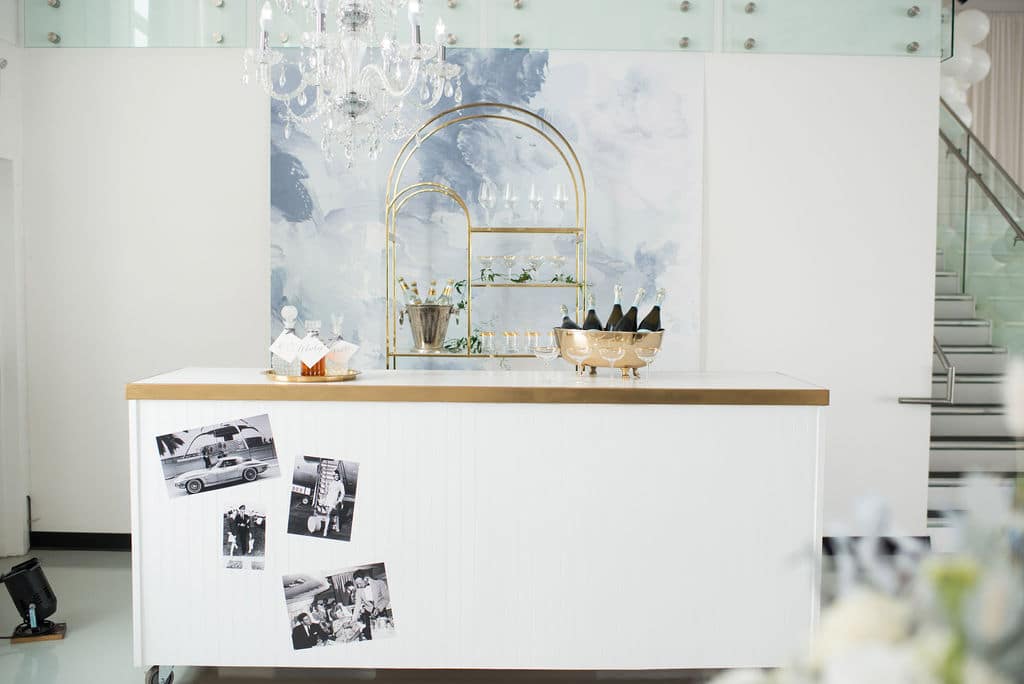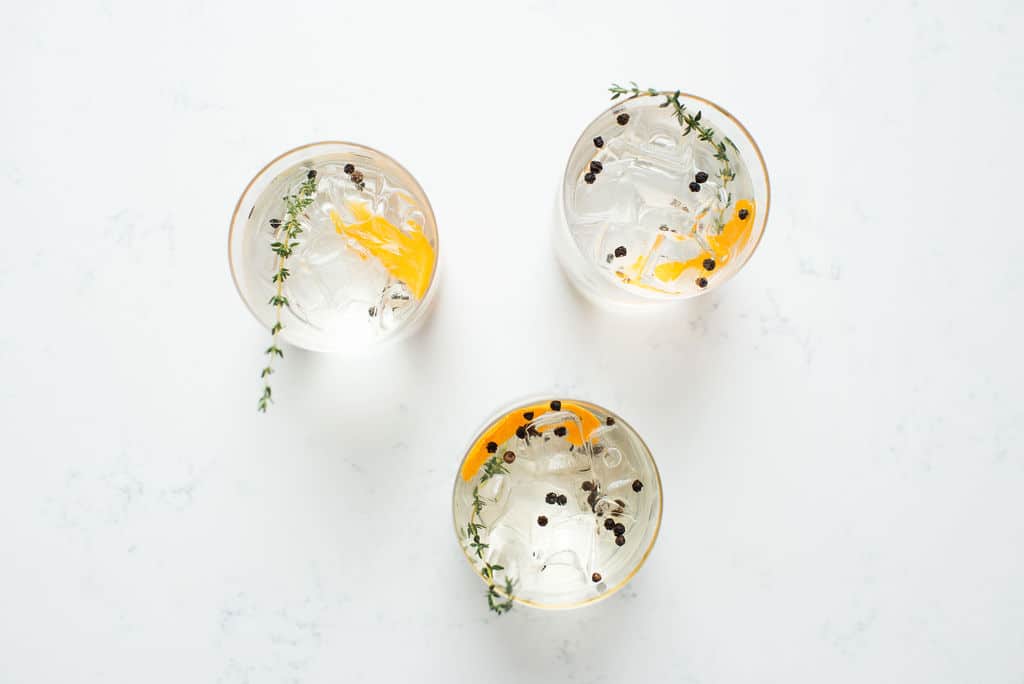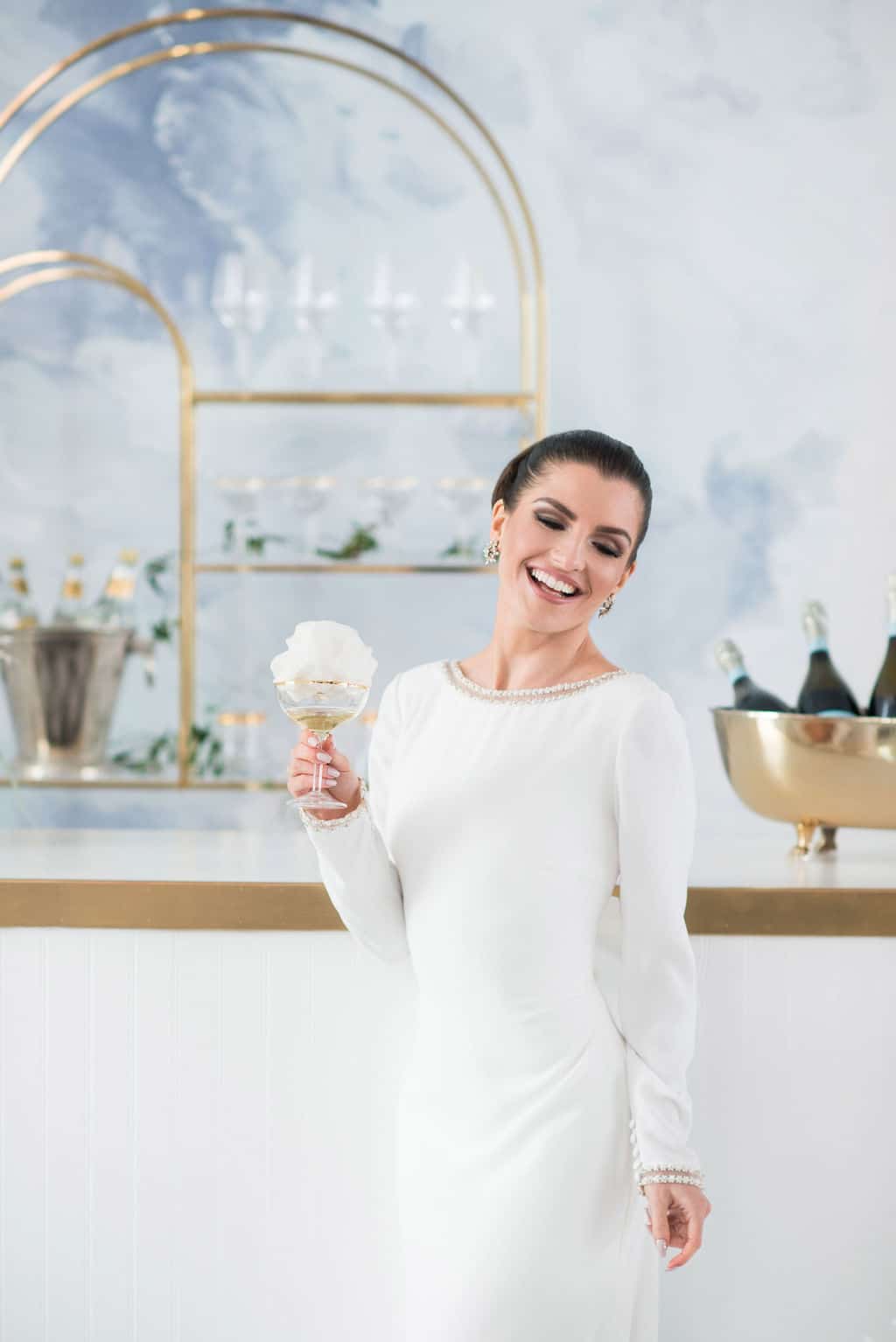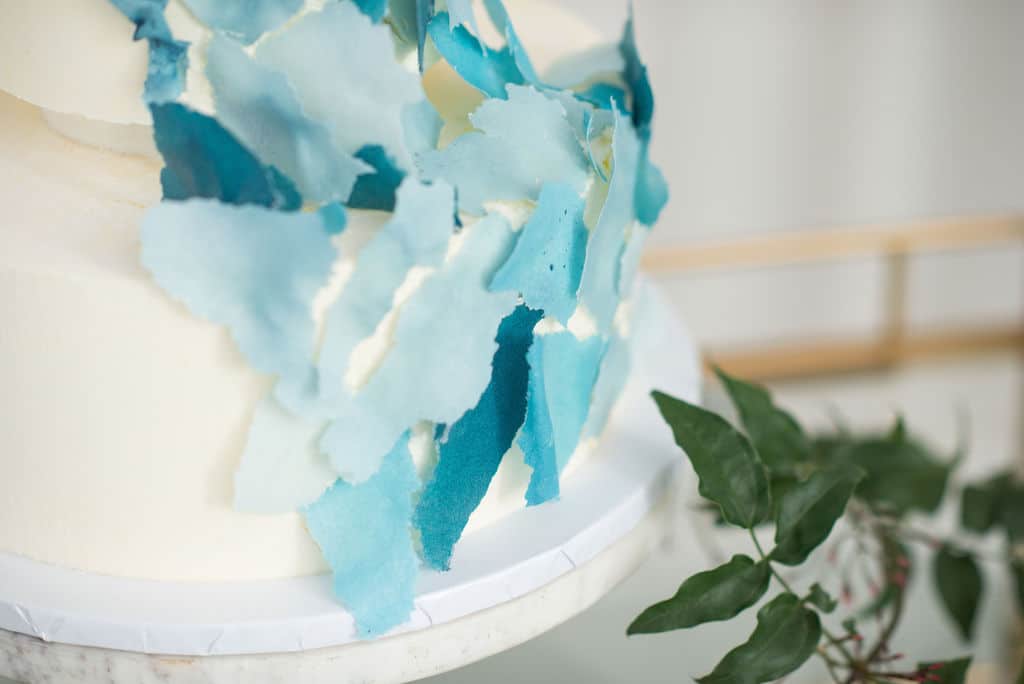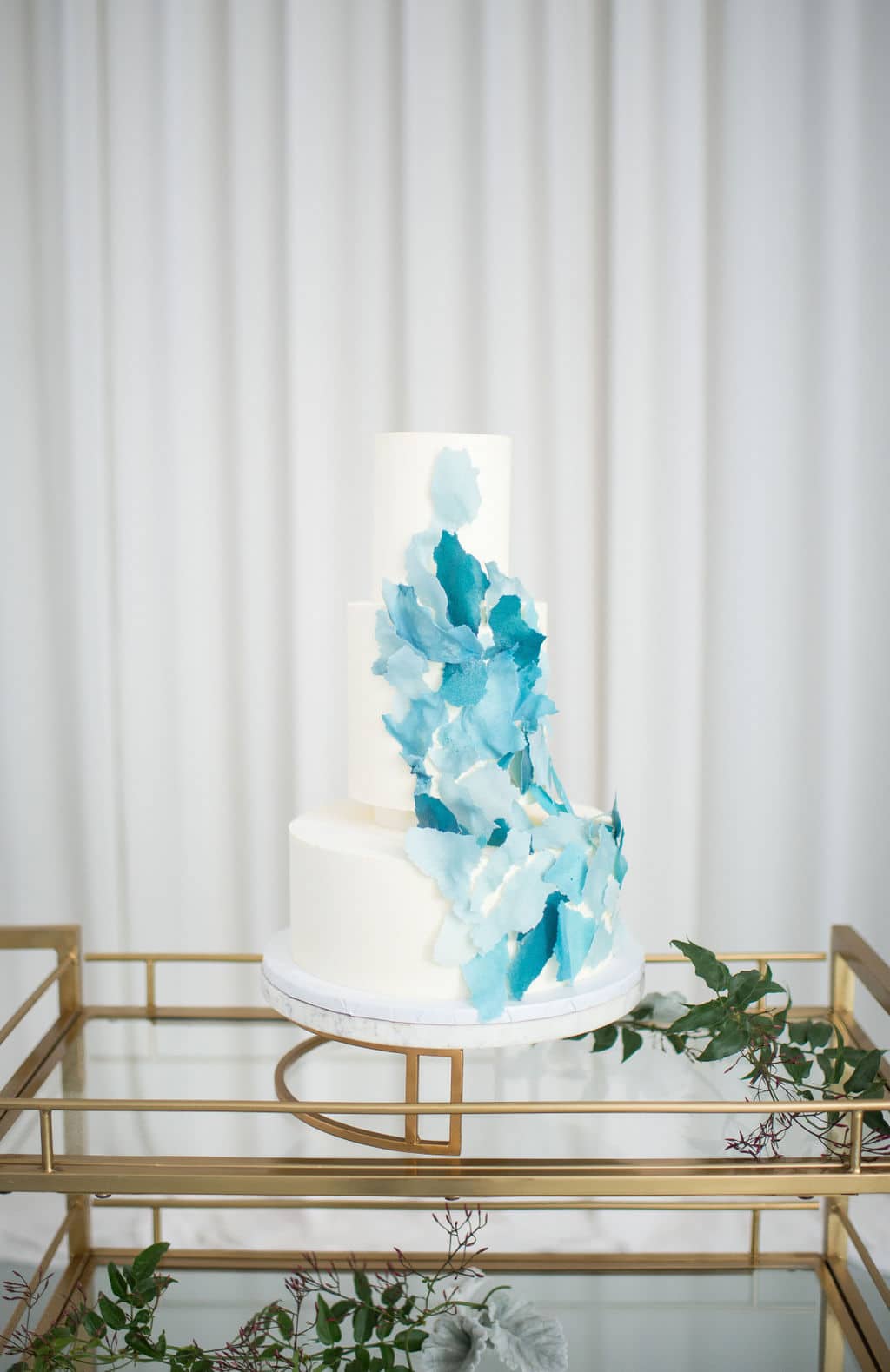 Clouds were the underlying theme in this editorial shoot and were brought to life through florals, wall decals, cotton candy cocktails, plated dishes, a baby's breath arch, and balloons. The food by White Table Catering showcased the theme with a flying duck entree served under a cloche of smoke with cloud pillow gnocchi and goat cheese foam was carefully plated on an artistic beet salad. A floating cloud-like floral structure hanging over the table and wing span created by Deborah Lee Designs helped elevate the theme, while the cloud balloon staircase by Frankie and Co. added more fun. The ceremony arch by Ruffled Rose was made of baby's breath and was classic and elegant.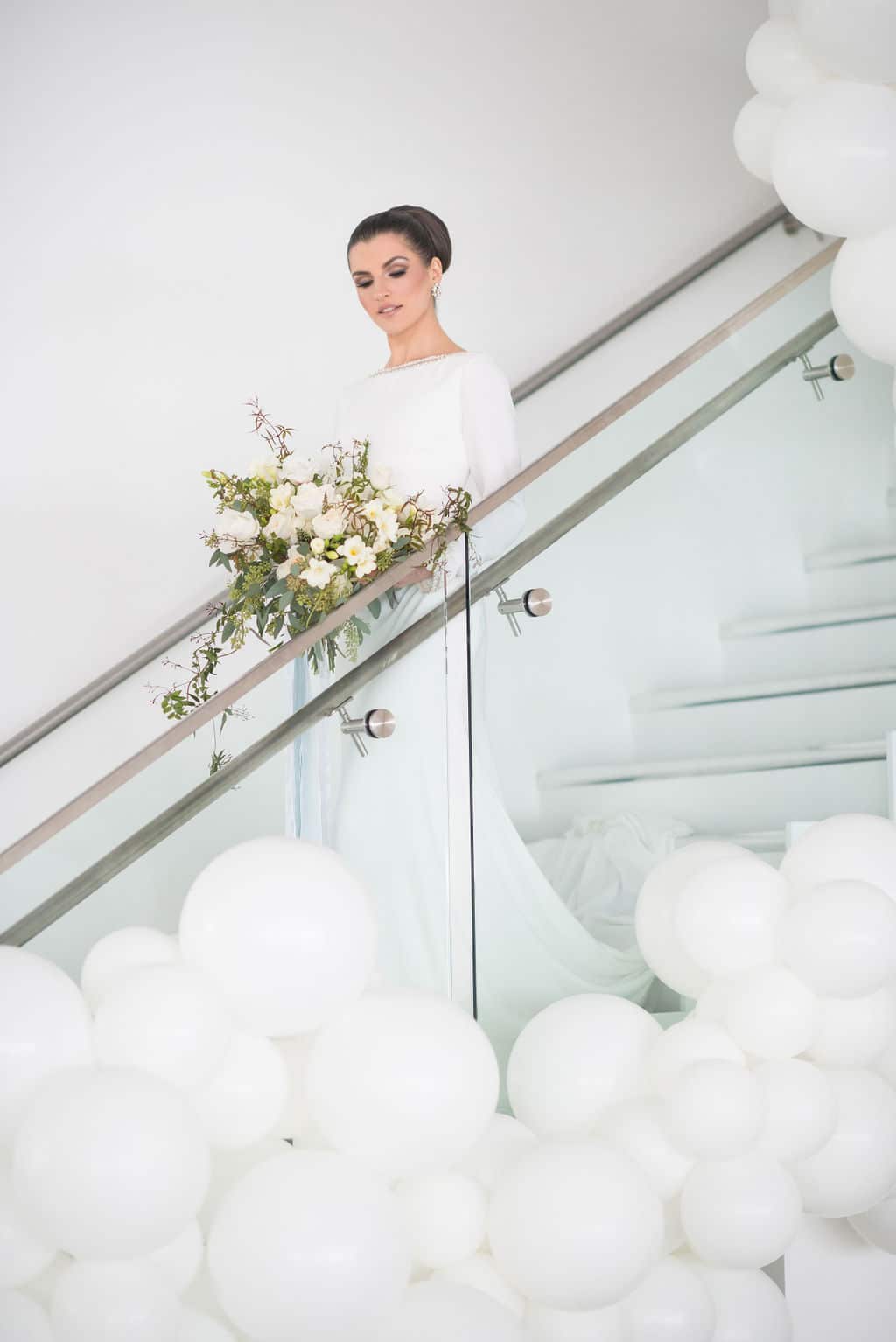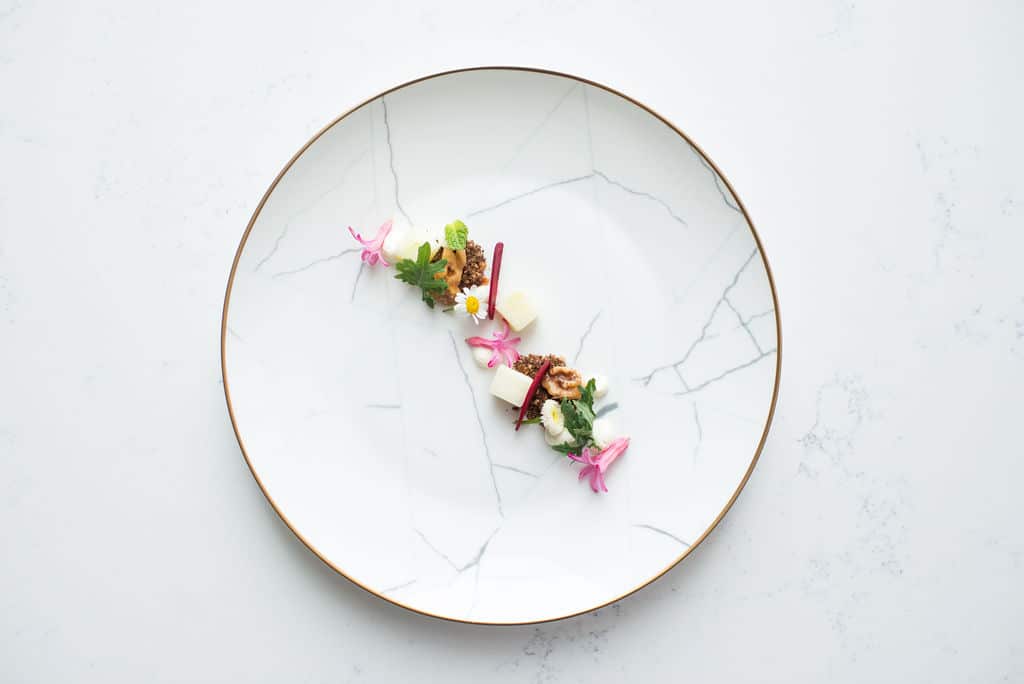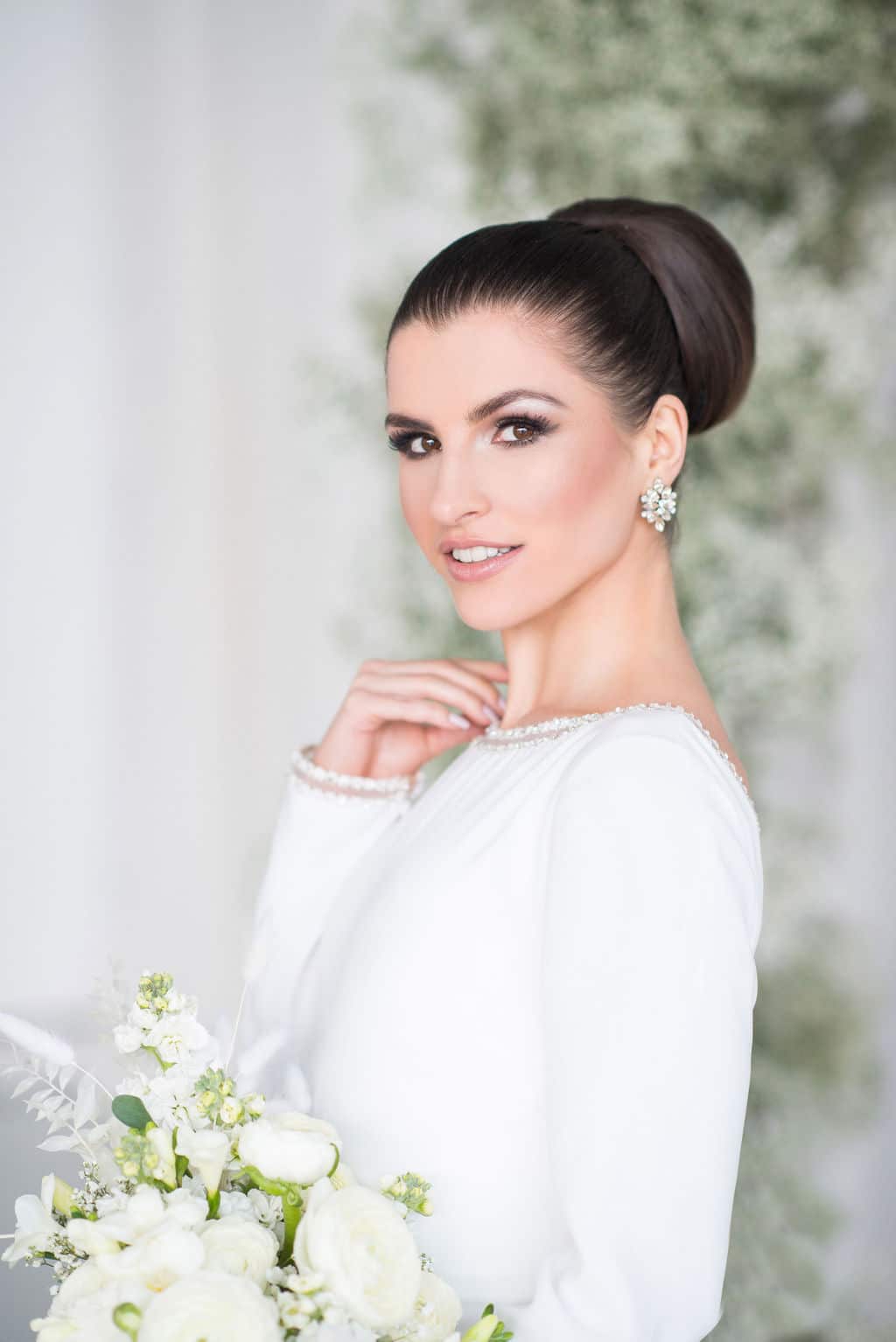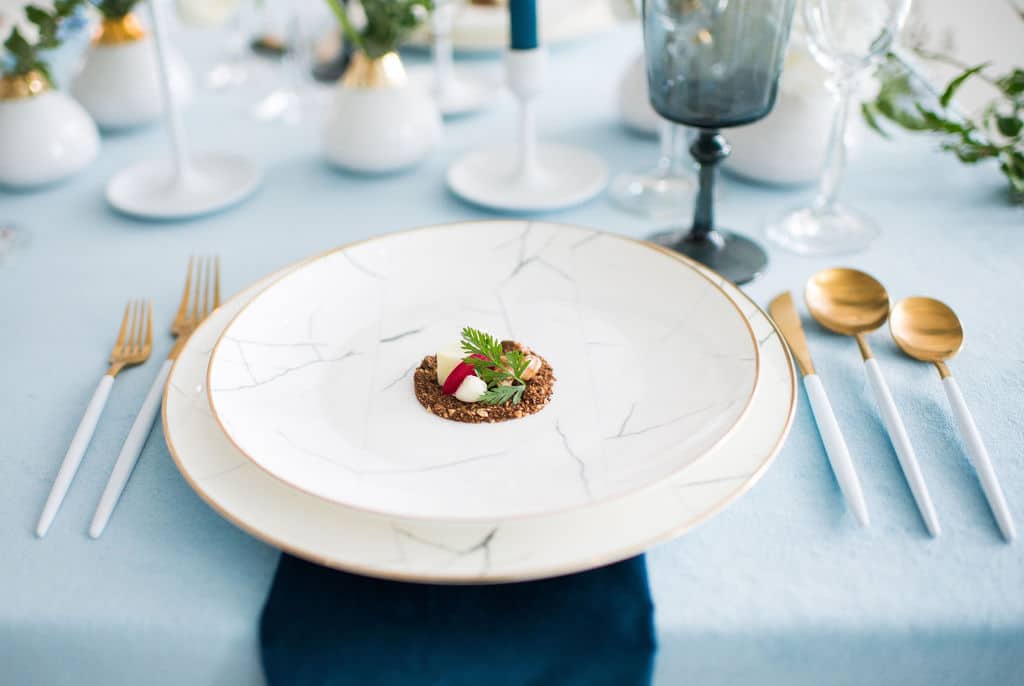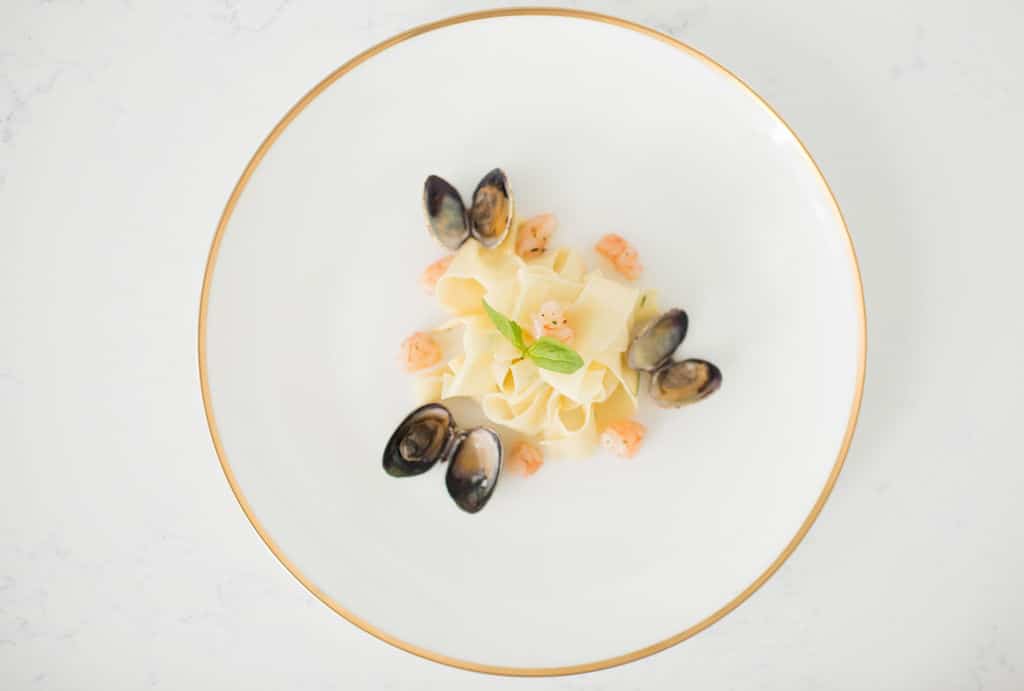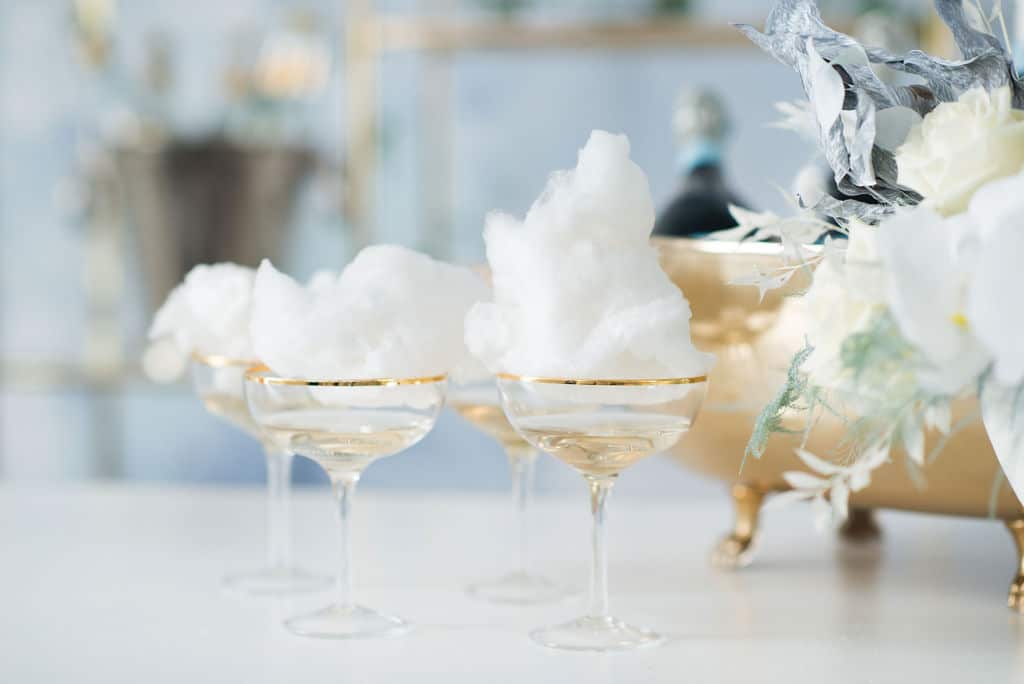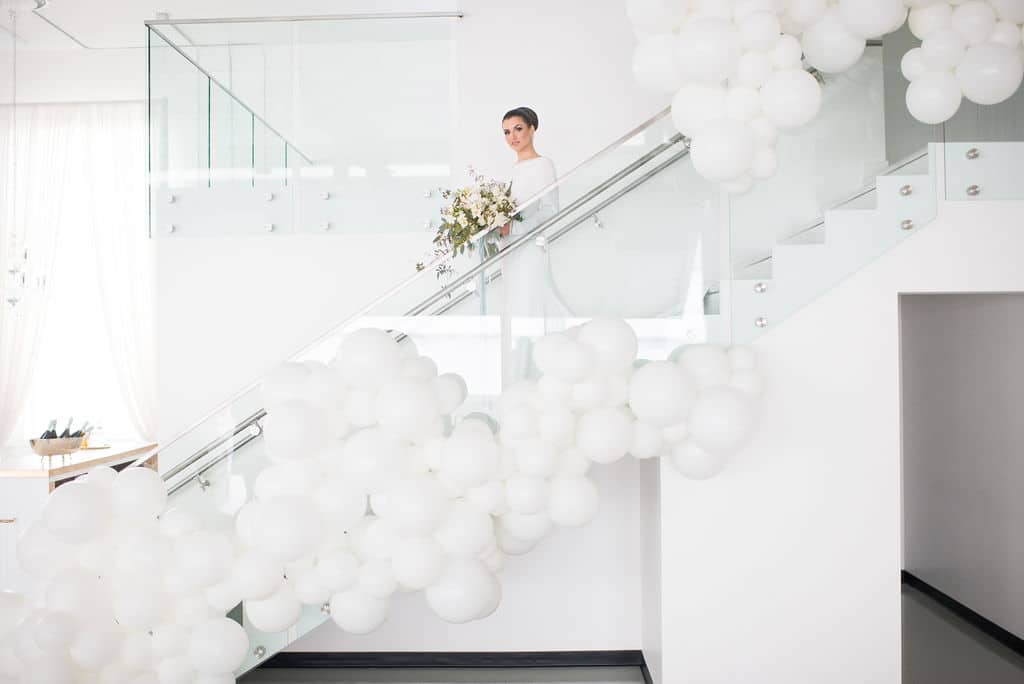 Winston's Table Curation created custom velvet blue tablecloths and napkins in complementary blue tones along with marble dishware, smoky goblets and gold flatware to help carry the "mod-ish" vibe throughout the table.  Custom acrylic luggage tags by Liza Child were used as place cards for guests.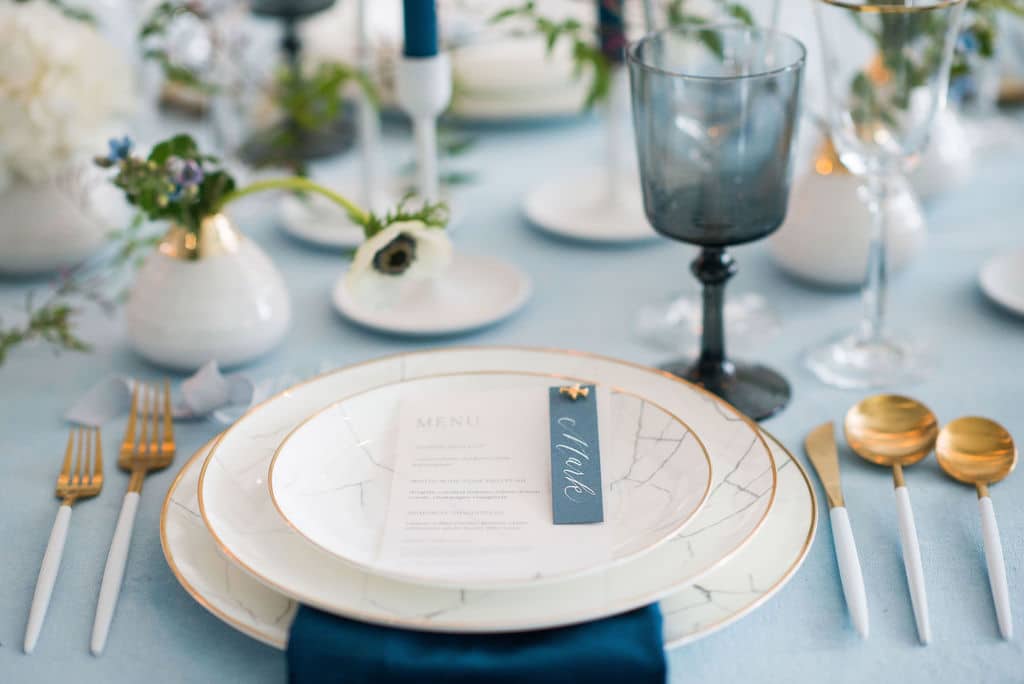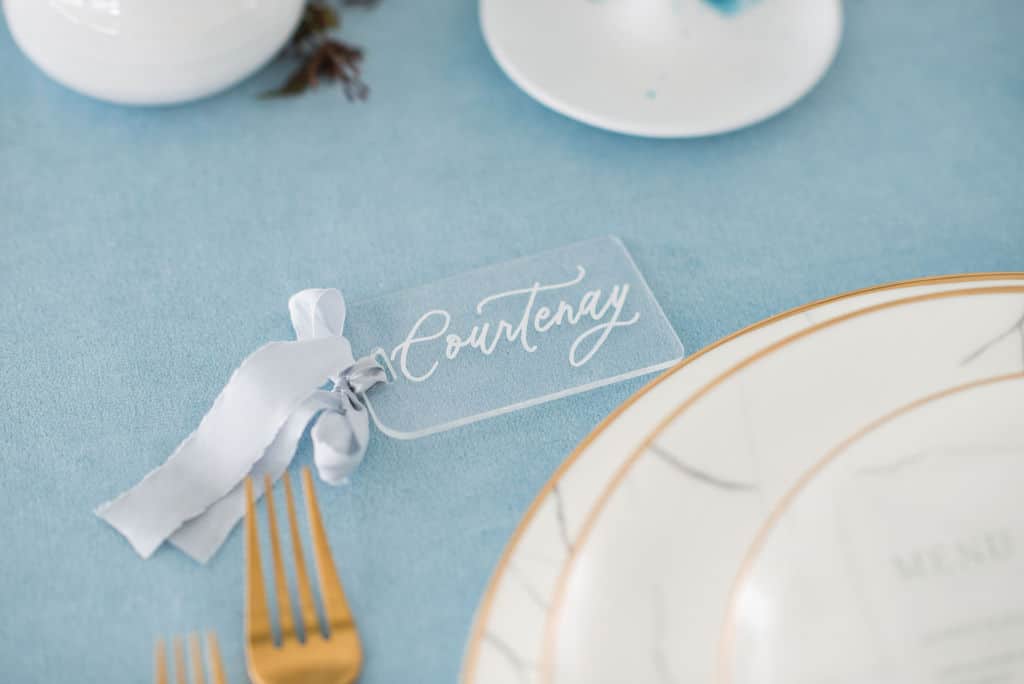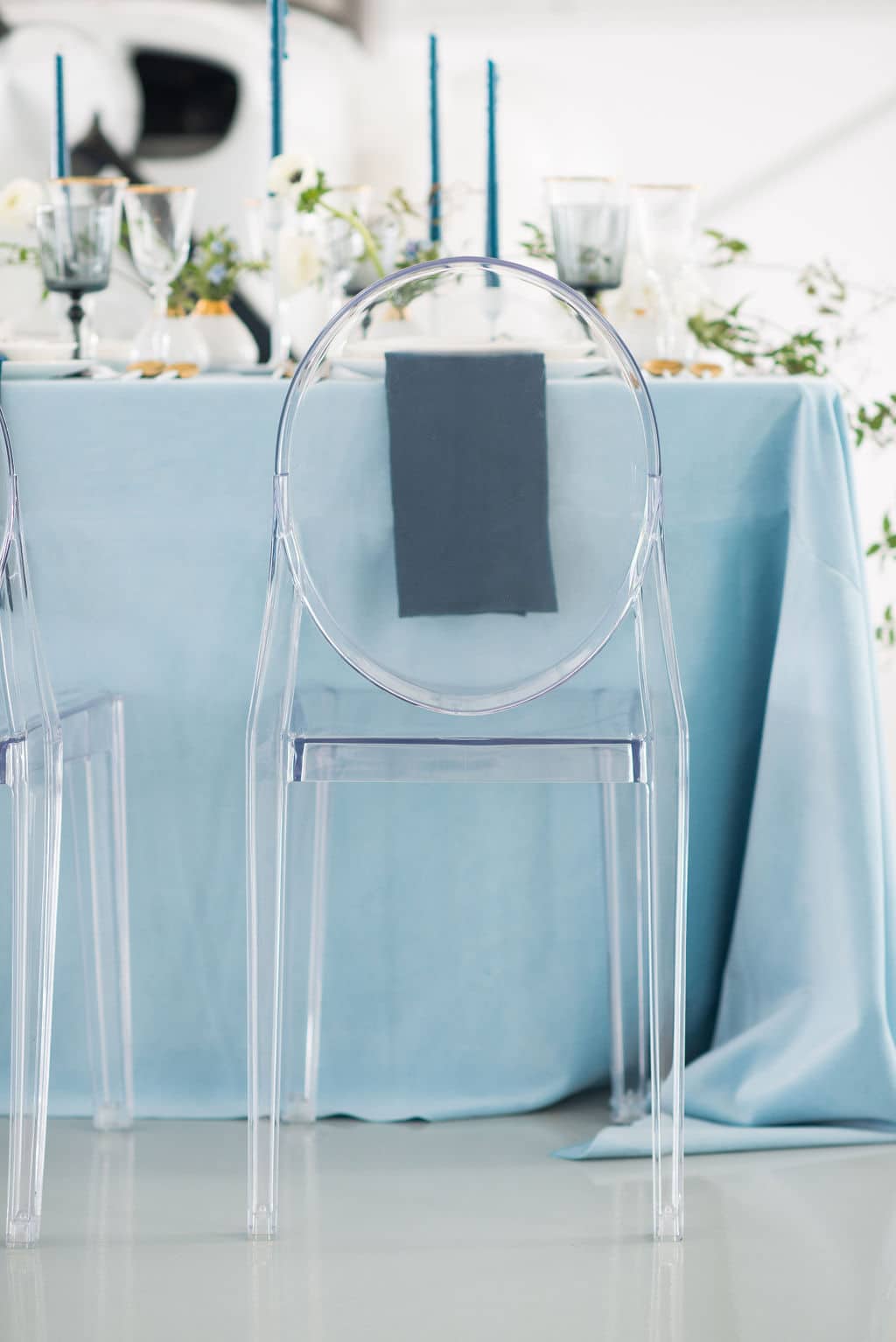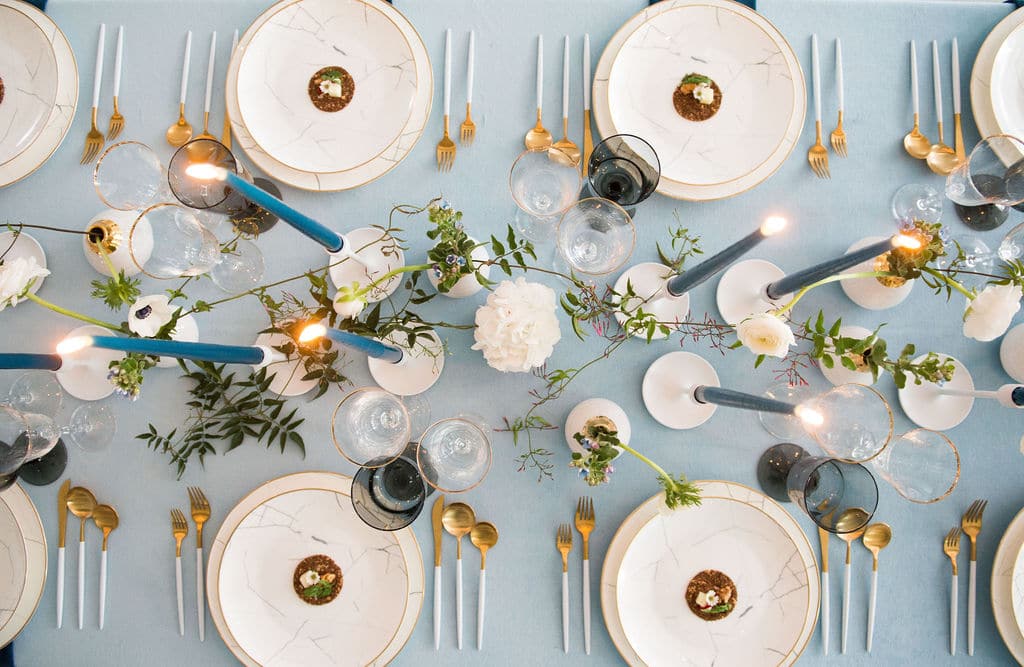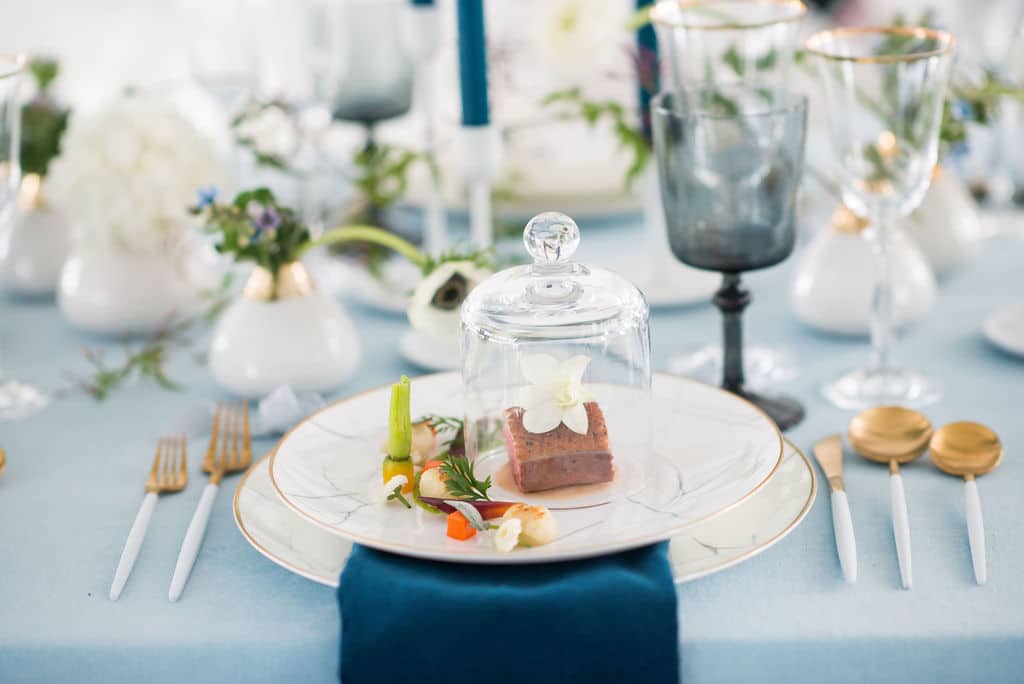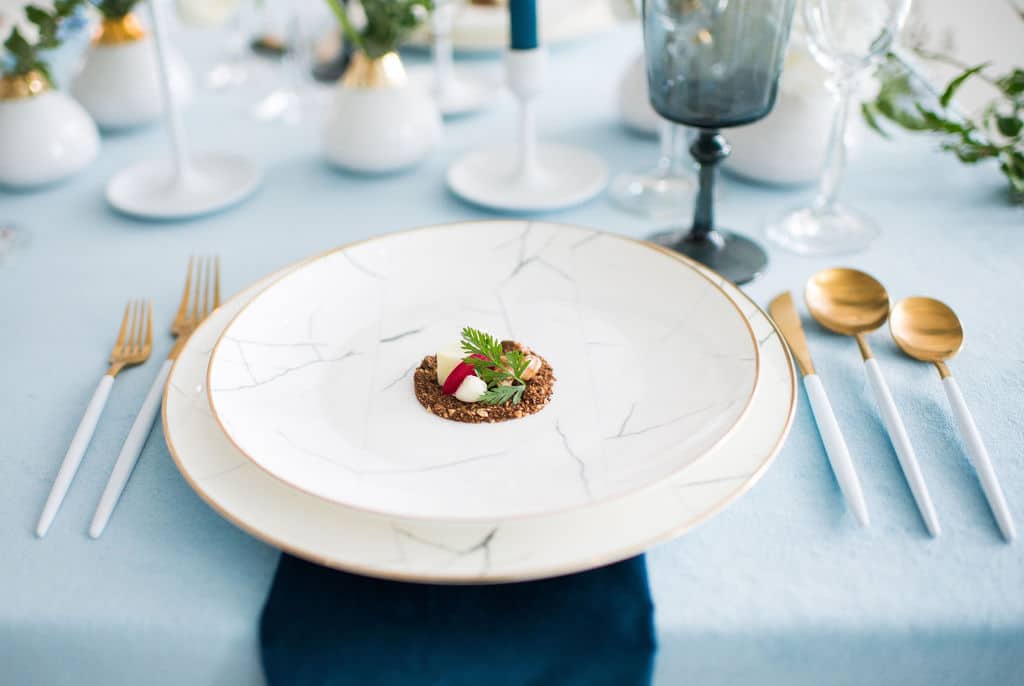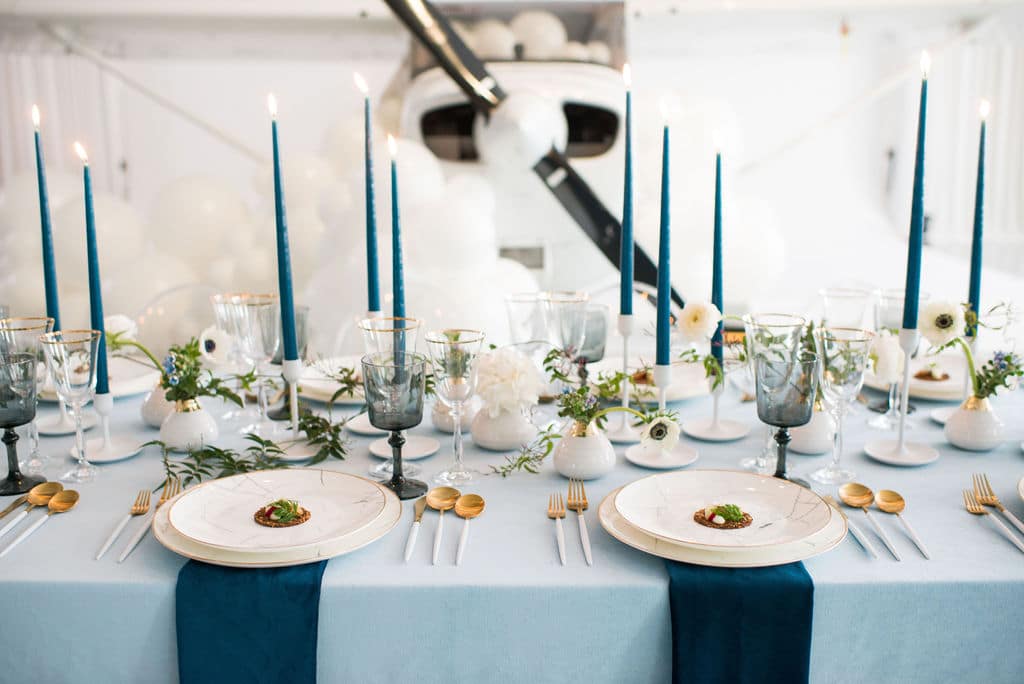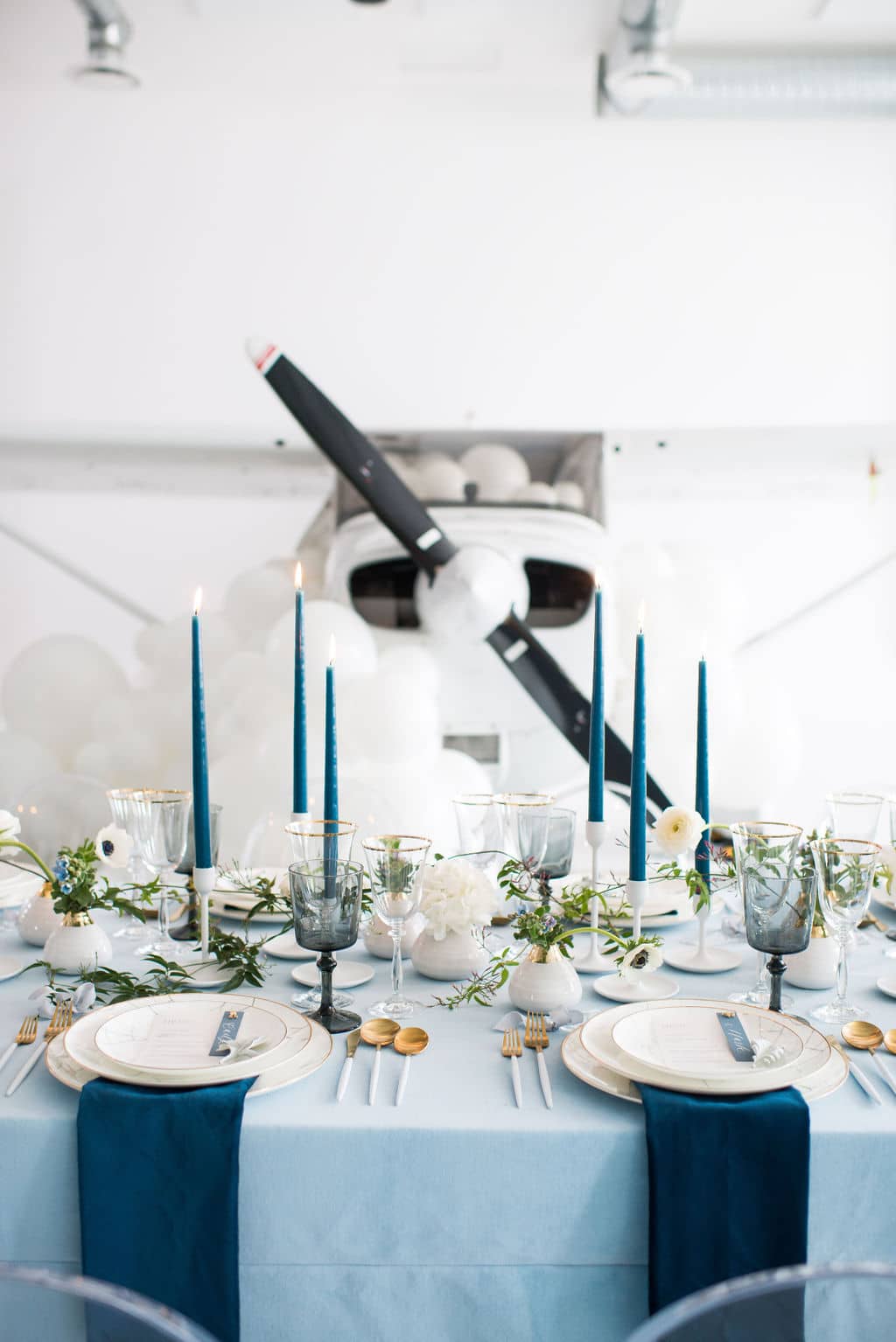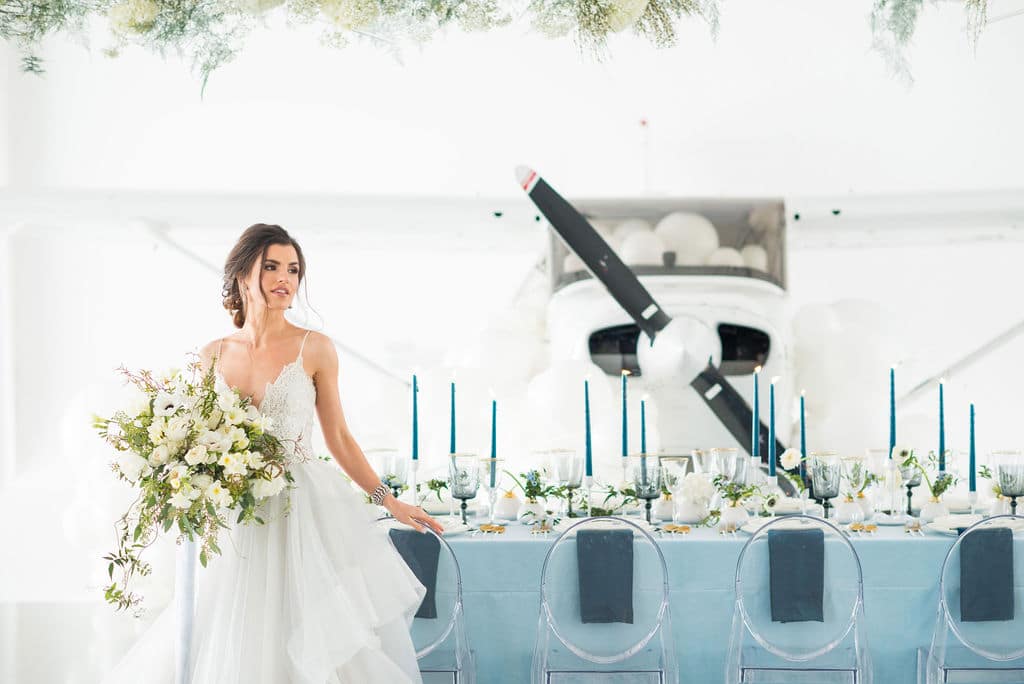 Three looks were chosen for the model to wear: one modern, one to enhance the blue soft tones and airiness of the theme, and one short dress to tie in the era of the 1960s fashion. Frank Sinatra's "Come Fly with Me" was even playing throughout the hangar while the shoot was taking place to bring the theme and era inspiration to life. Brooklyn from Brooklyn D Photography captured the moments and details. So much more than a photographer, she was involved in the details and cares about capturing every aspect and element that was carefully thought out and planned.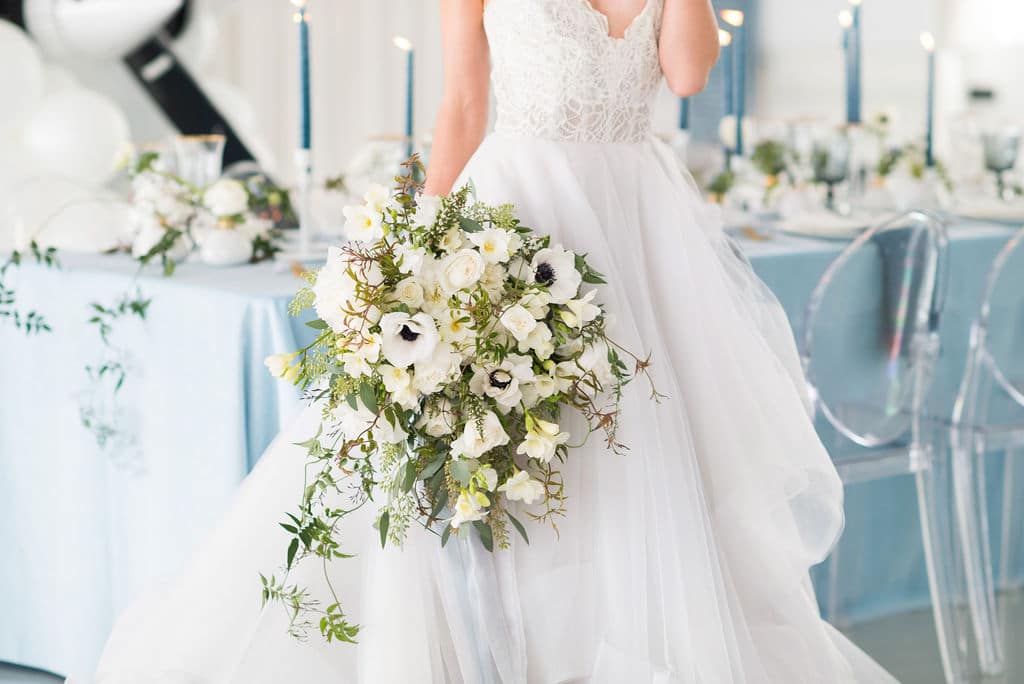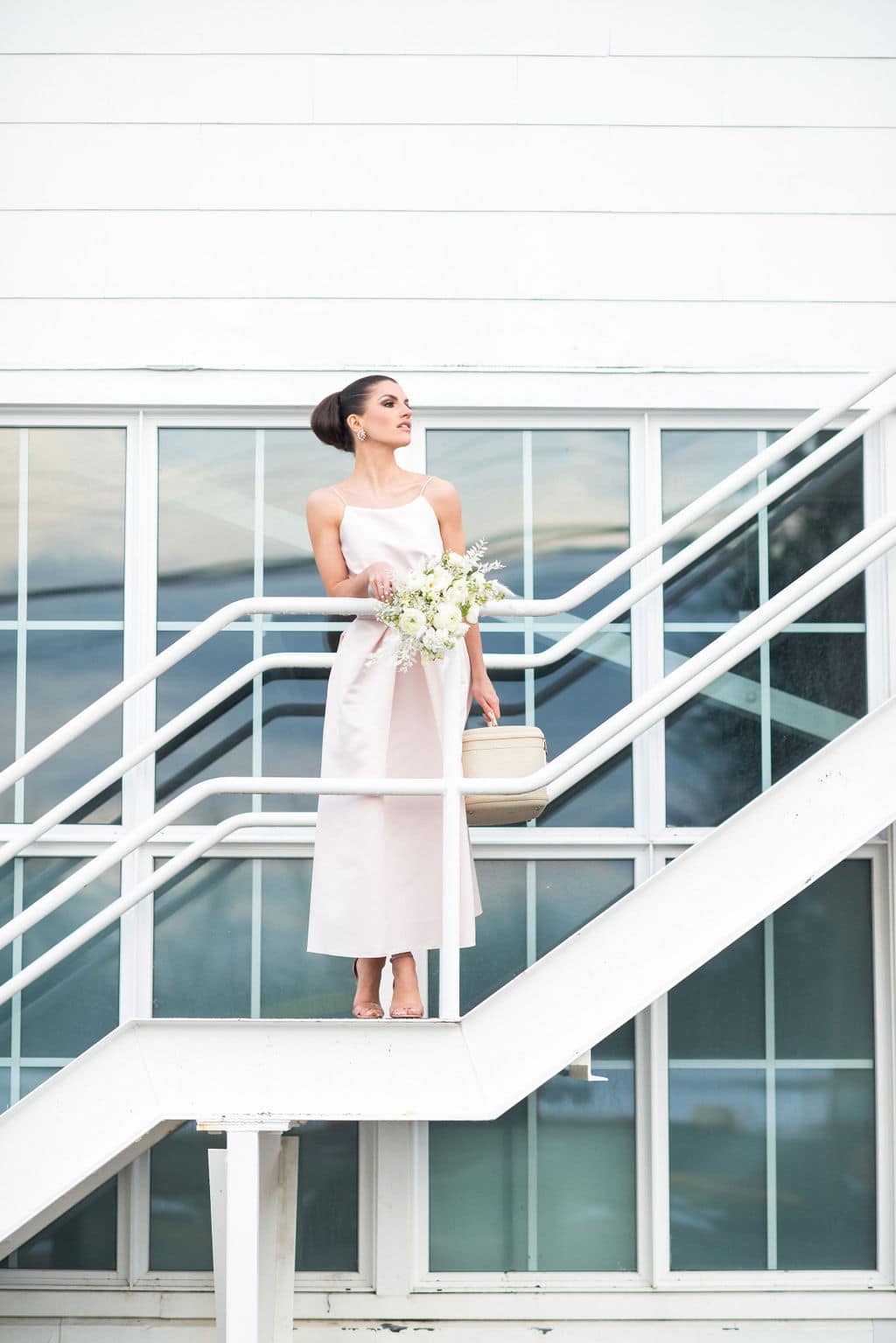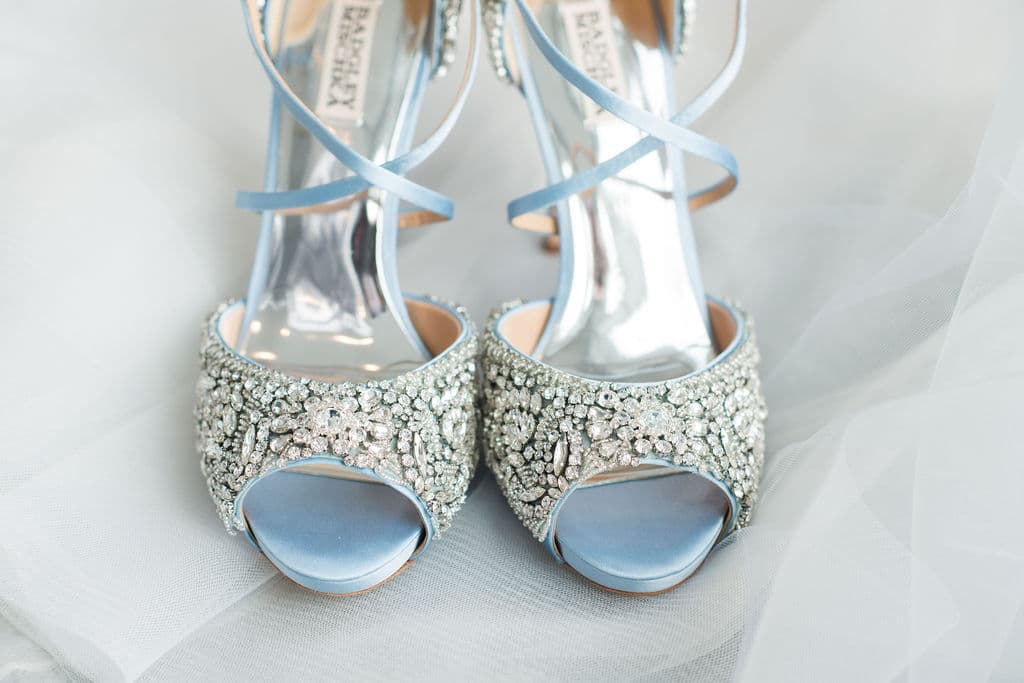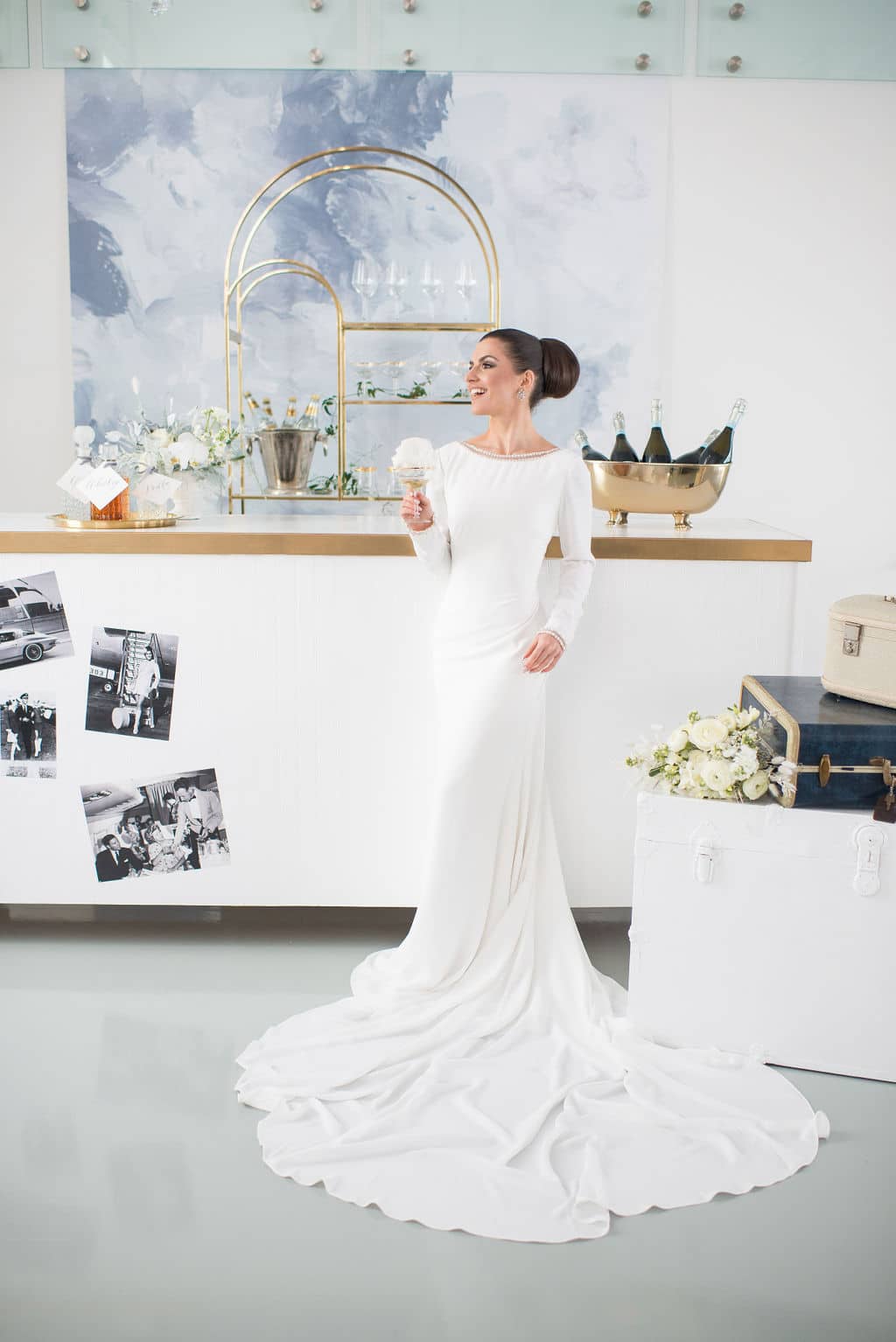 There were a couple "secret" elements incorporated throughout the shoot that added a personal touch. The names on the acrylic places cards set at the table were chosen carefully and included contributors to the shoot as well as Mark and Carlyanne, owners of White Table Catering, and Tylor and Kayla, owners of the Hangar Venue (Airside Event Spaces), to pay tribute to the launch of their business partnership as exclusive catering and venue partners. The wedding ring in the photo with the stationary invite is also Carlyanne's personal wedding ring and was actually designed and custom made by her dad, who is a jeweller. Liza Child also chose custom pins that were part of each menu card that represented each guest seated.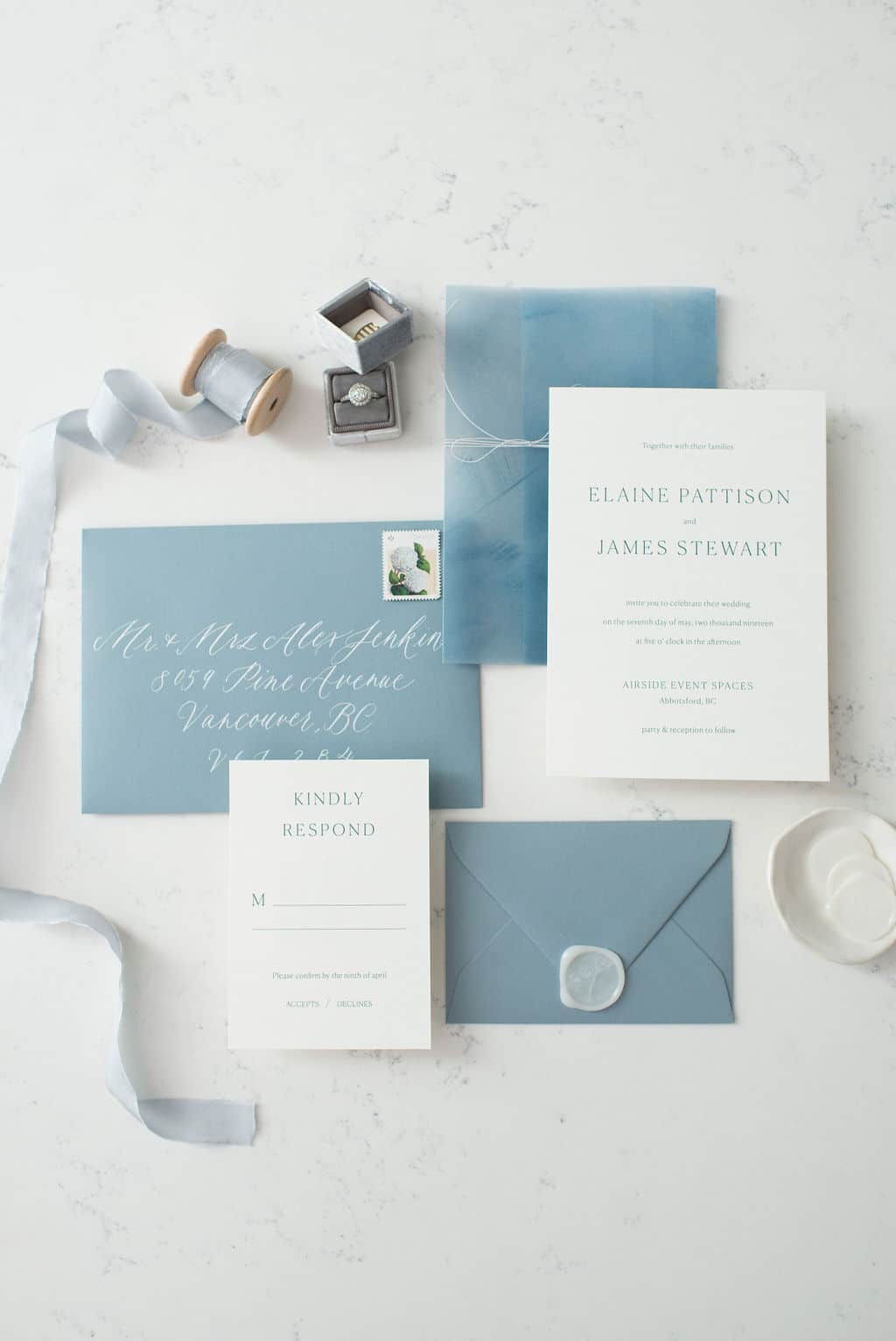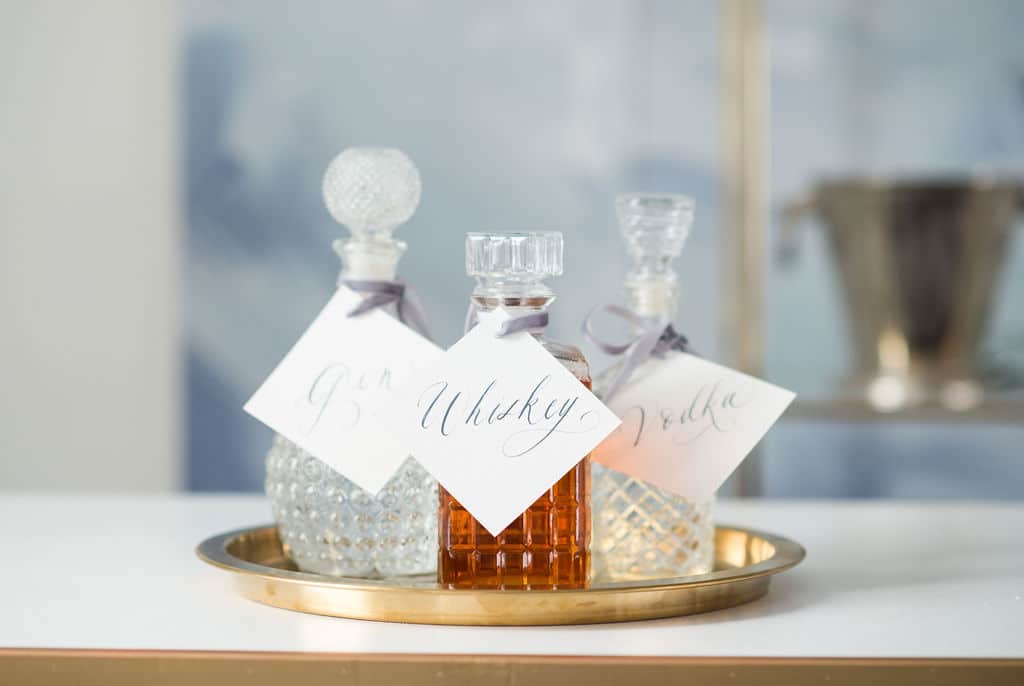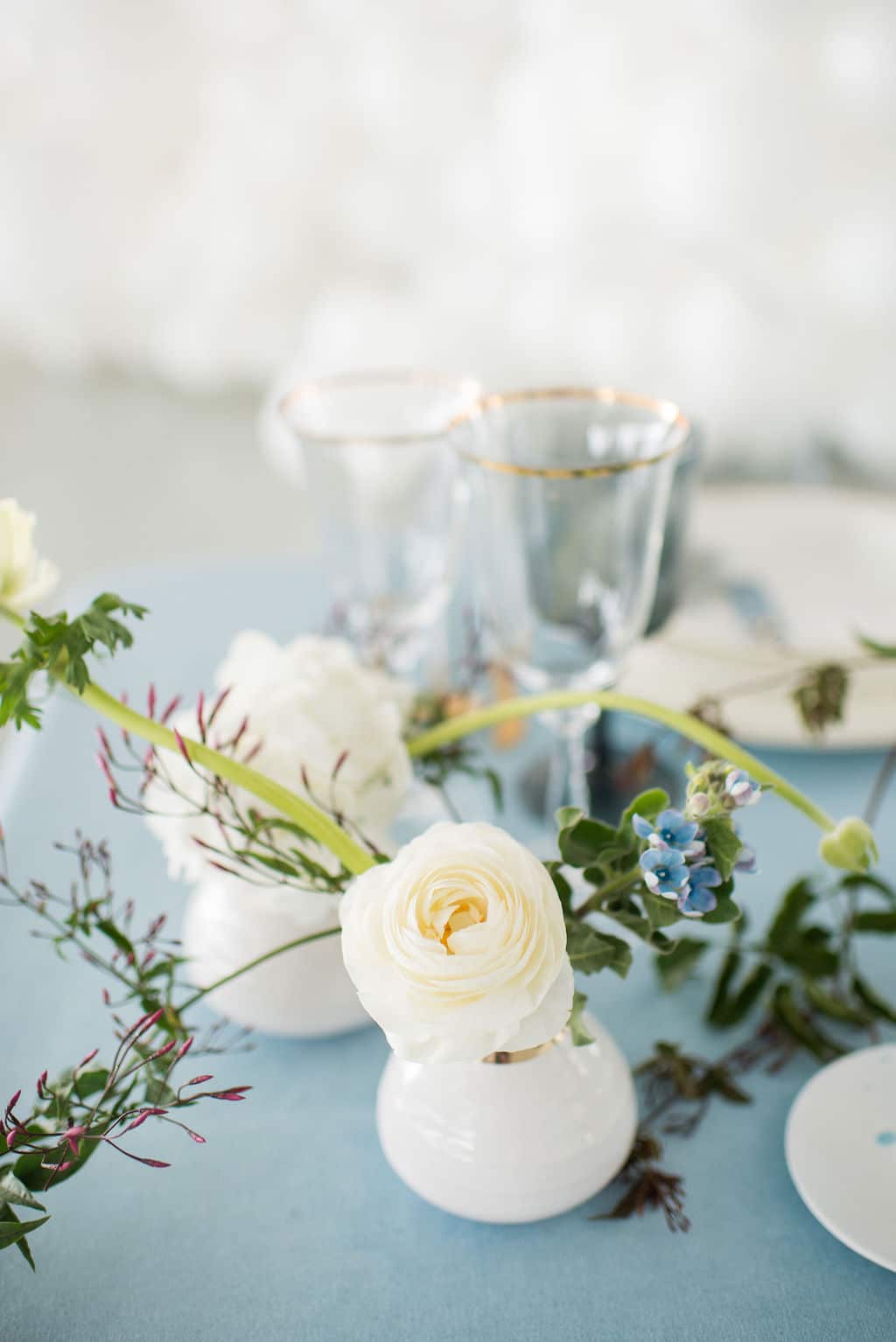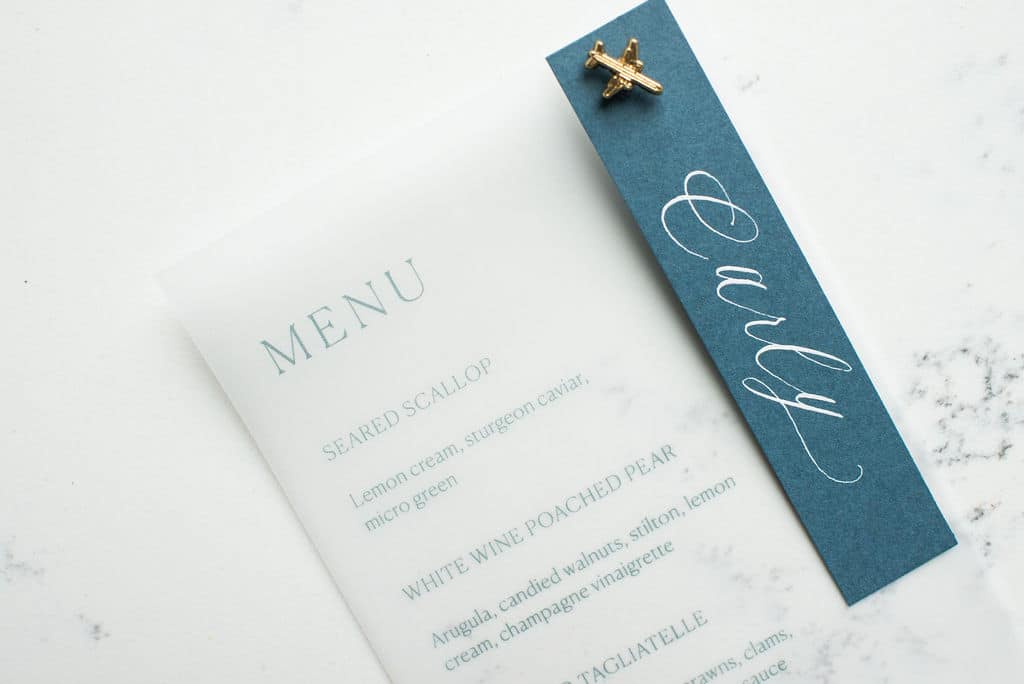 Creating a modern approach to the 1960s airline travel with such an extensive and incredible team of vendors and creatives from the Vancouver wedding industry, made this a special collaborative project. There was so much love and attention to detail incorporated into this shoot by every vendor involved, allowing the theme to really "take-off and fly!"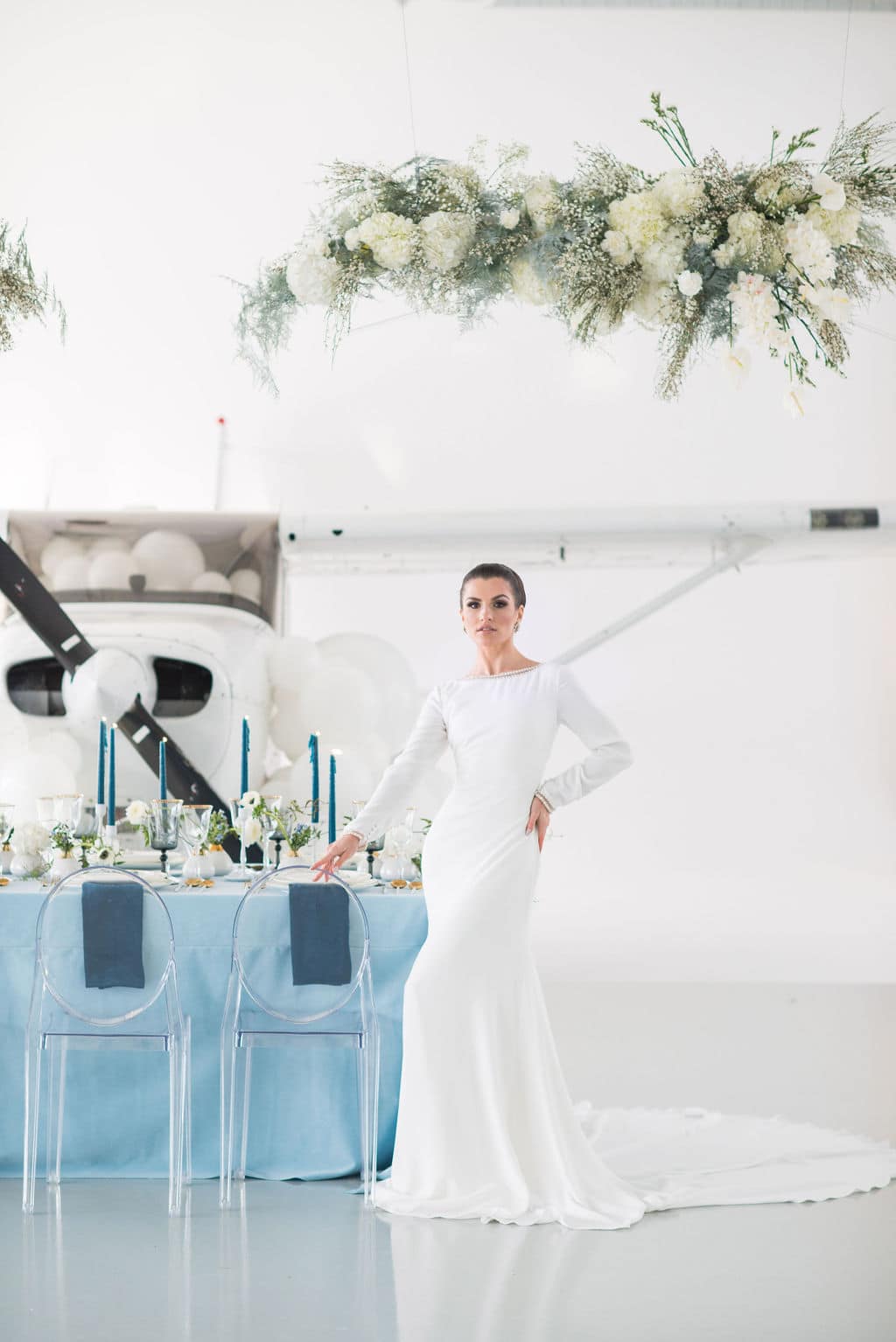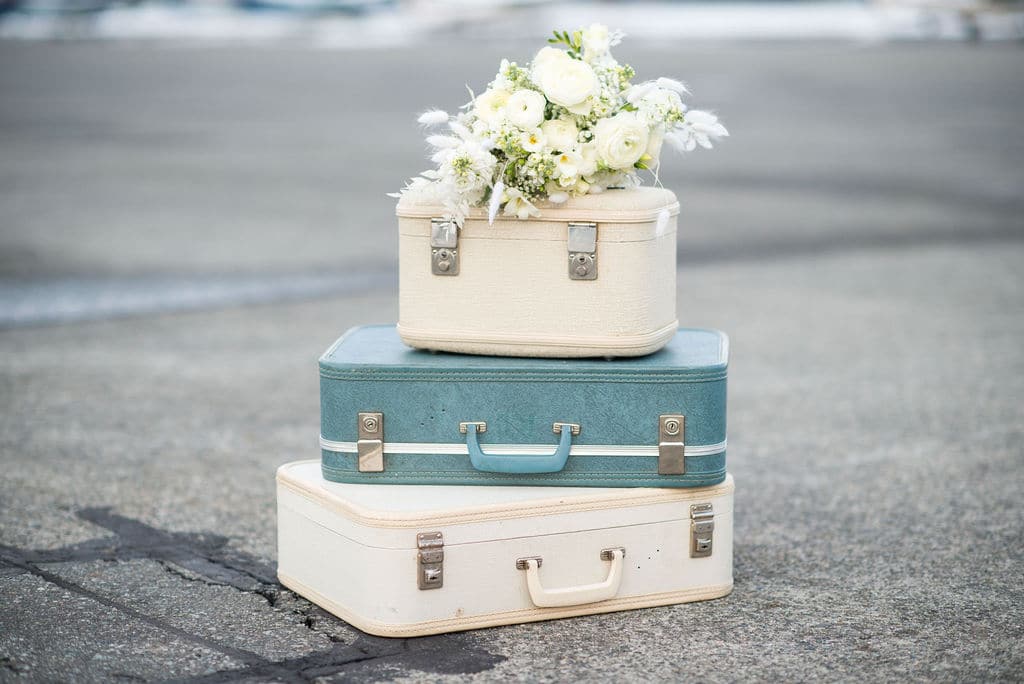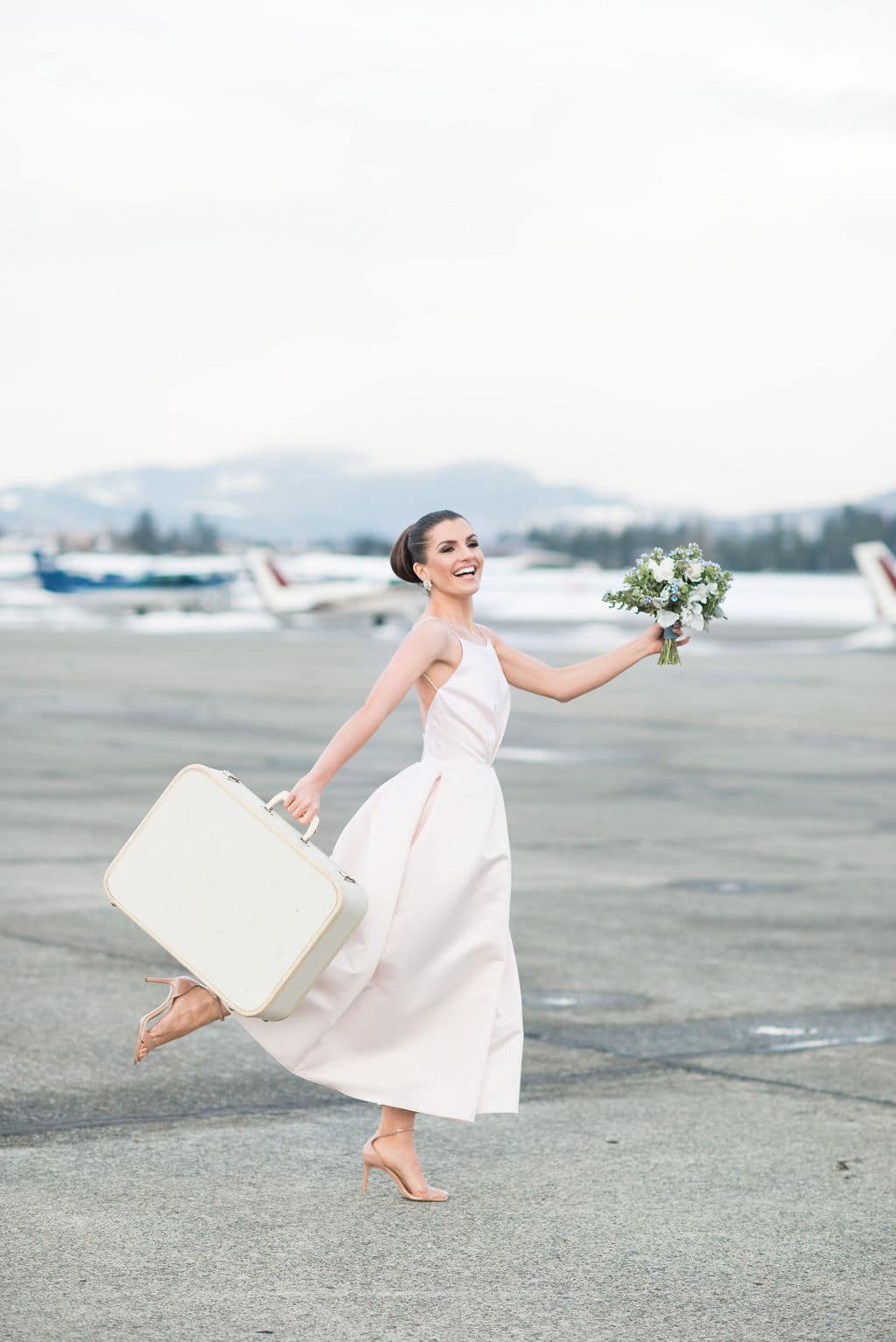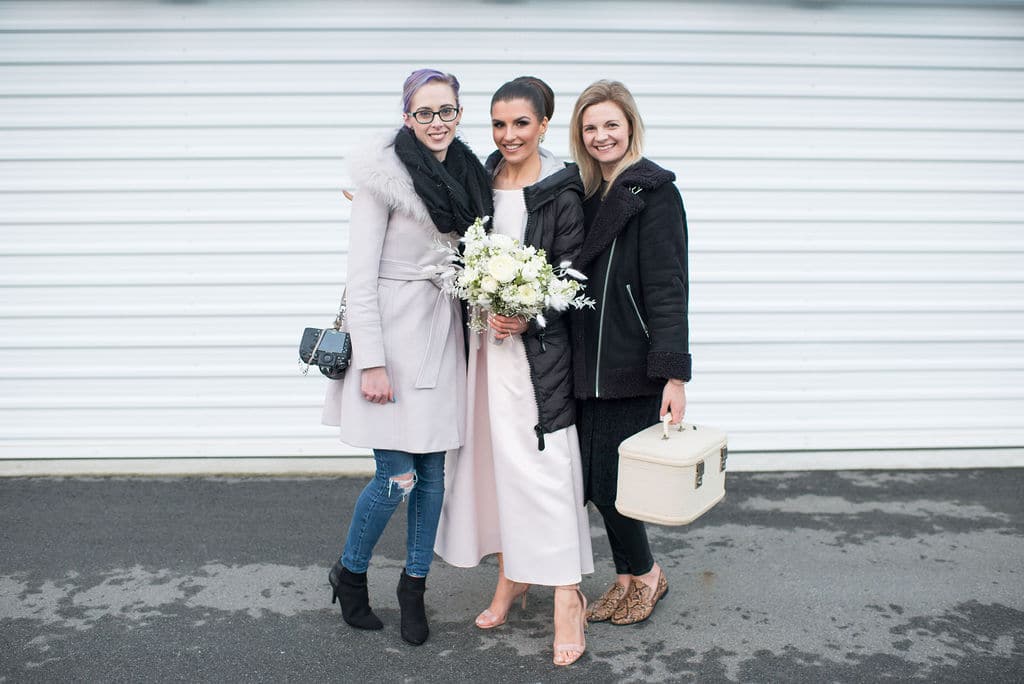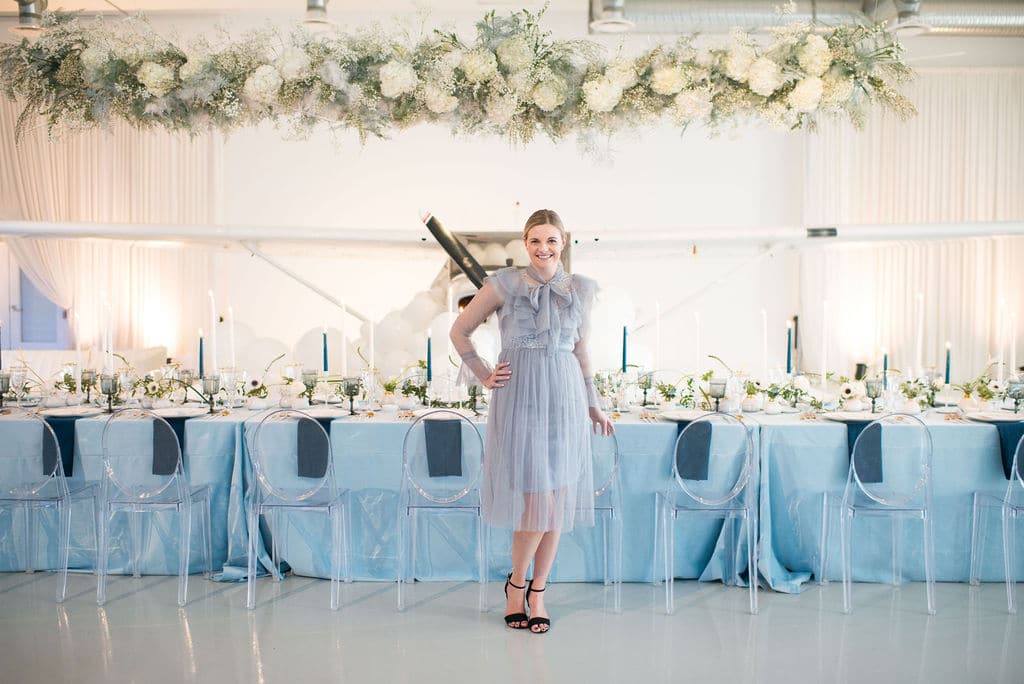 Creative Director: @carlyannepruger of @whitetablecatering
Model: @tangerinca
Hair: @hairbyjaimemarie
Make Up: @kelsey_dickson
Jewelry: @jeweliettejewellery
Dress: @blush_bridal
Check out the feature in Wedding bells Magazine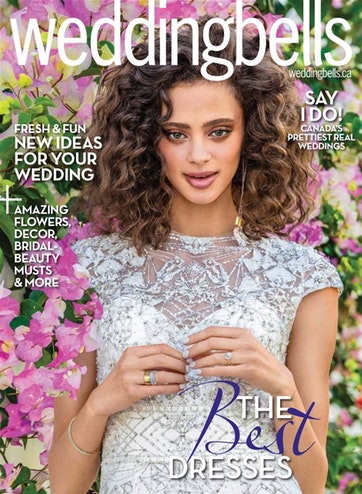 or on WeddingBells.com as well:
A Glam Styled Shoot Inspired By 1960s Jet Travel